Allow Yourself the Space to Find Out How Your Soul Likes to Play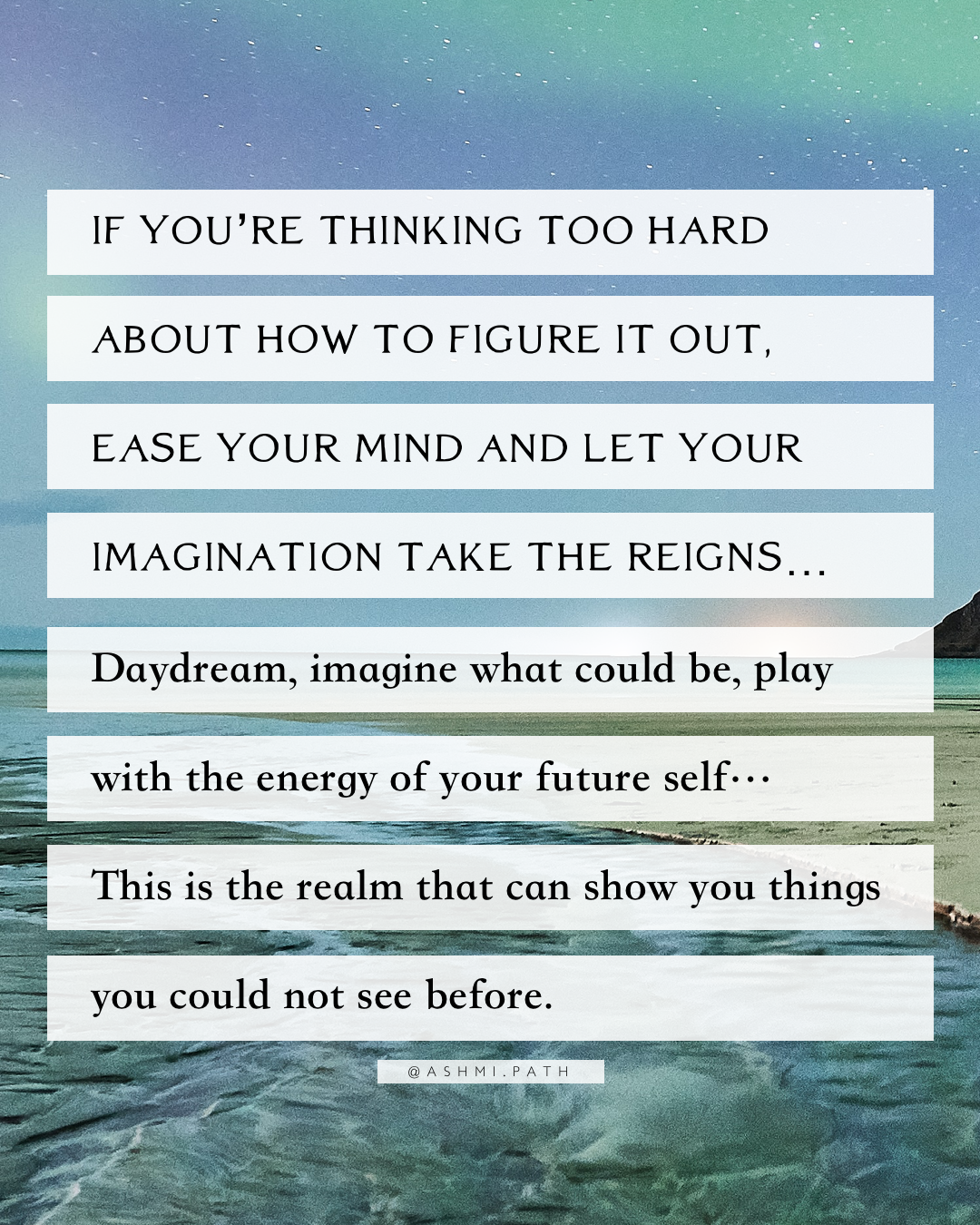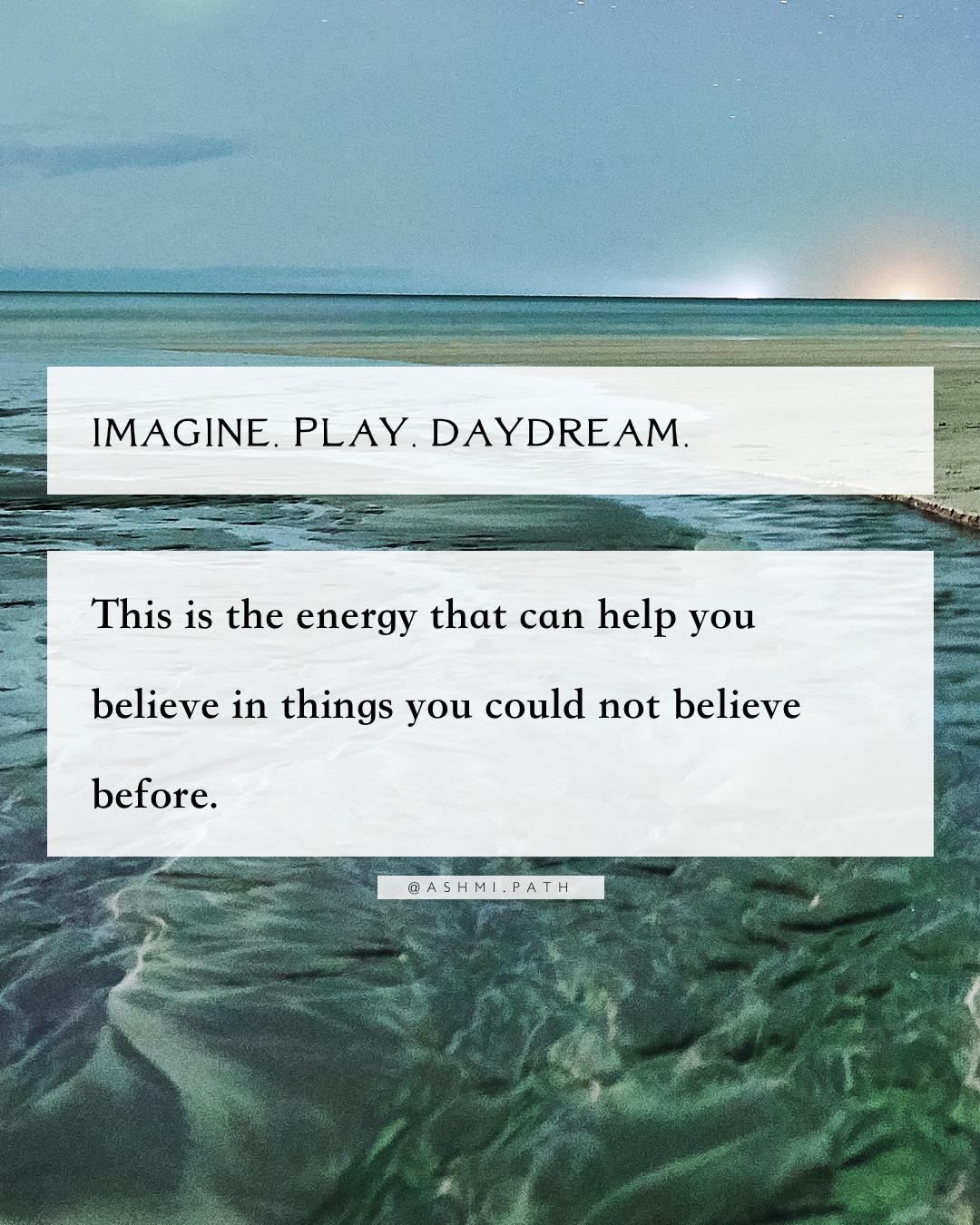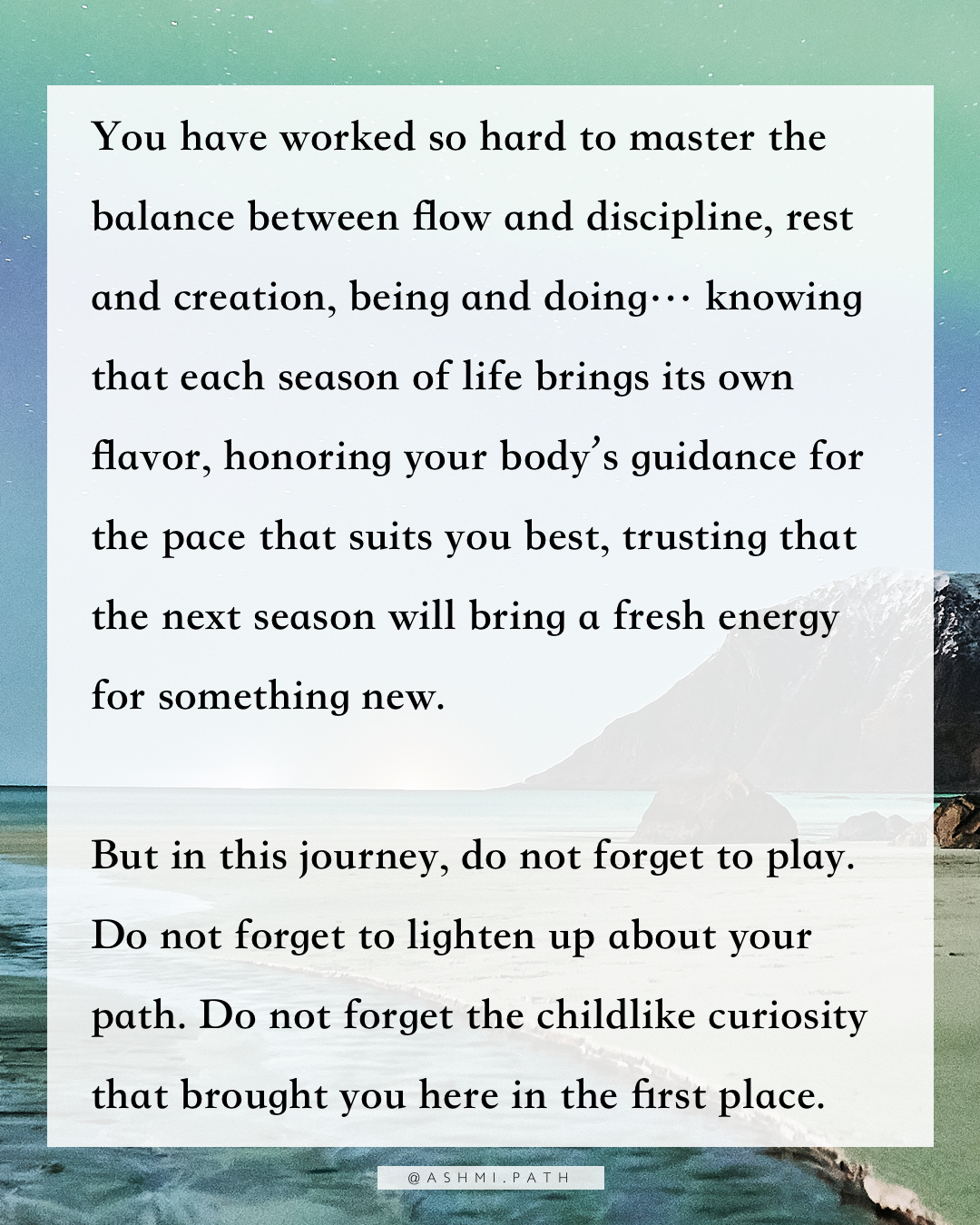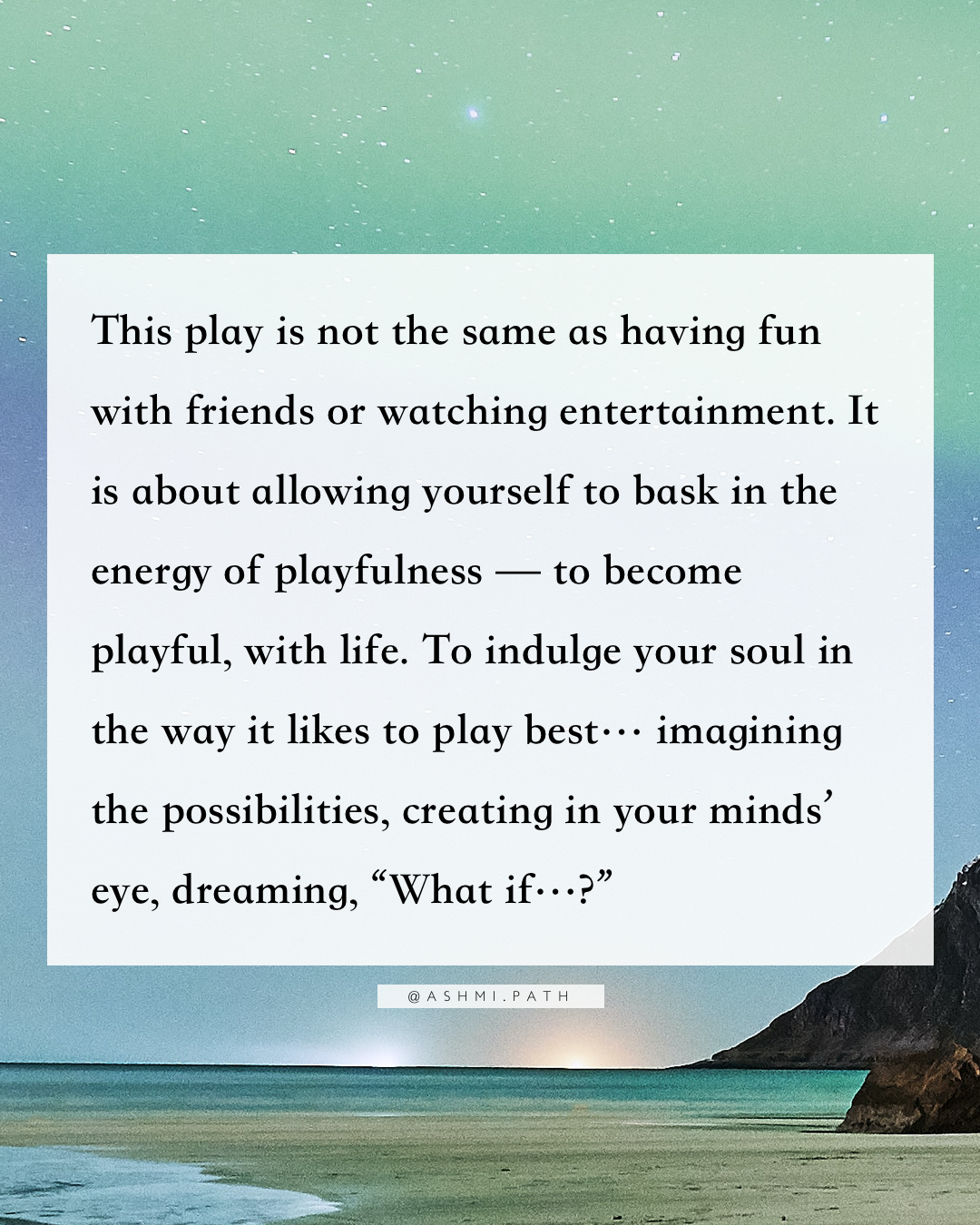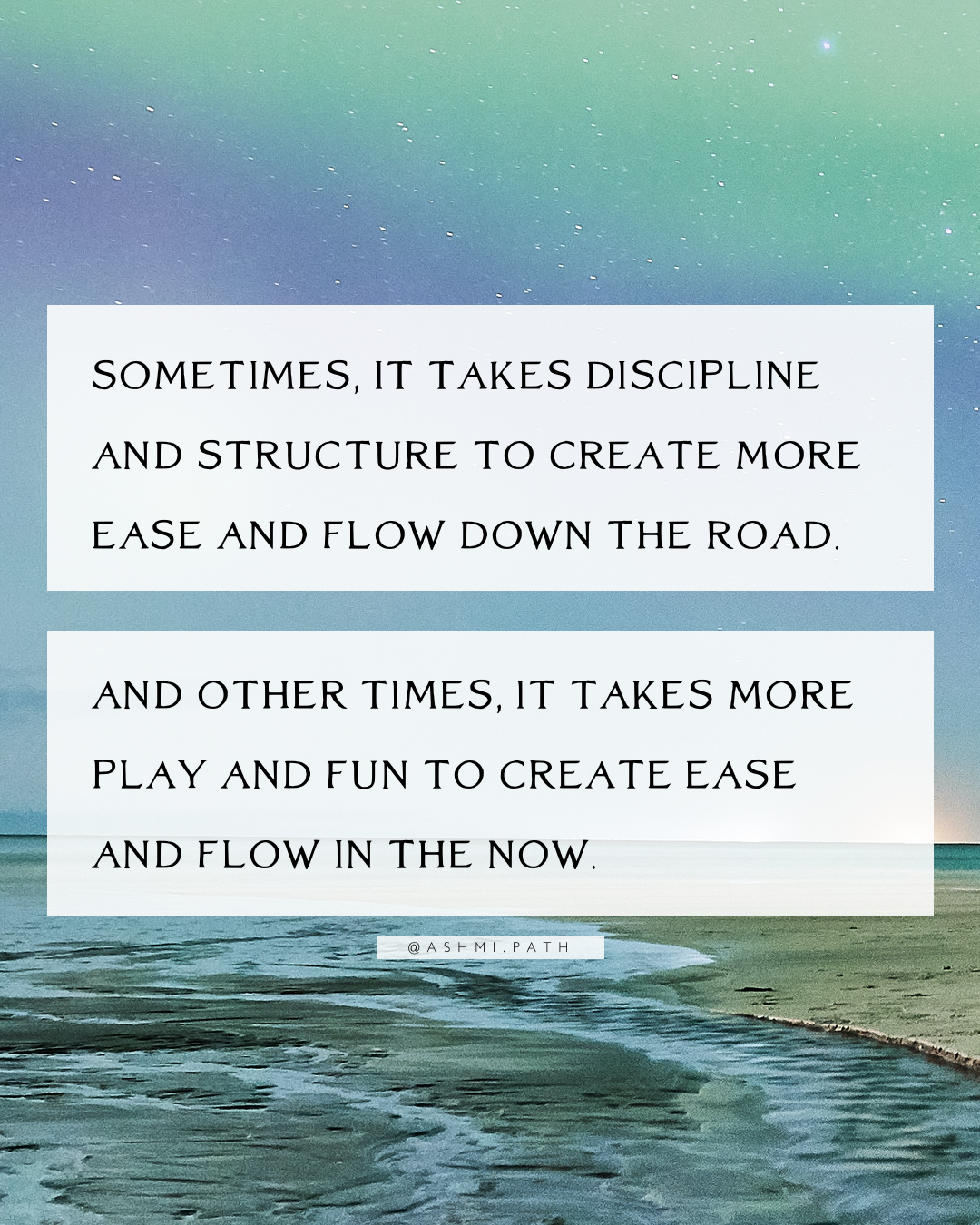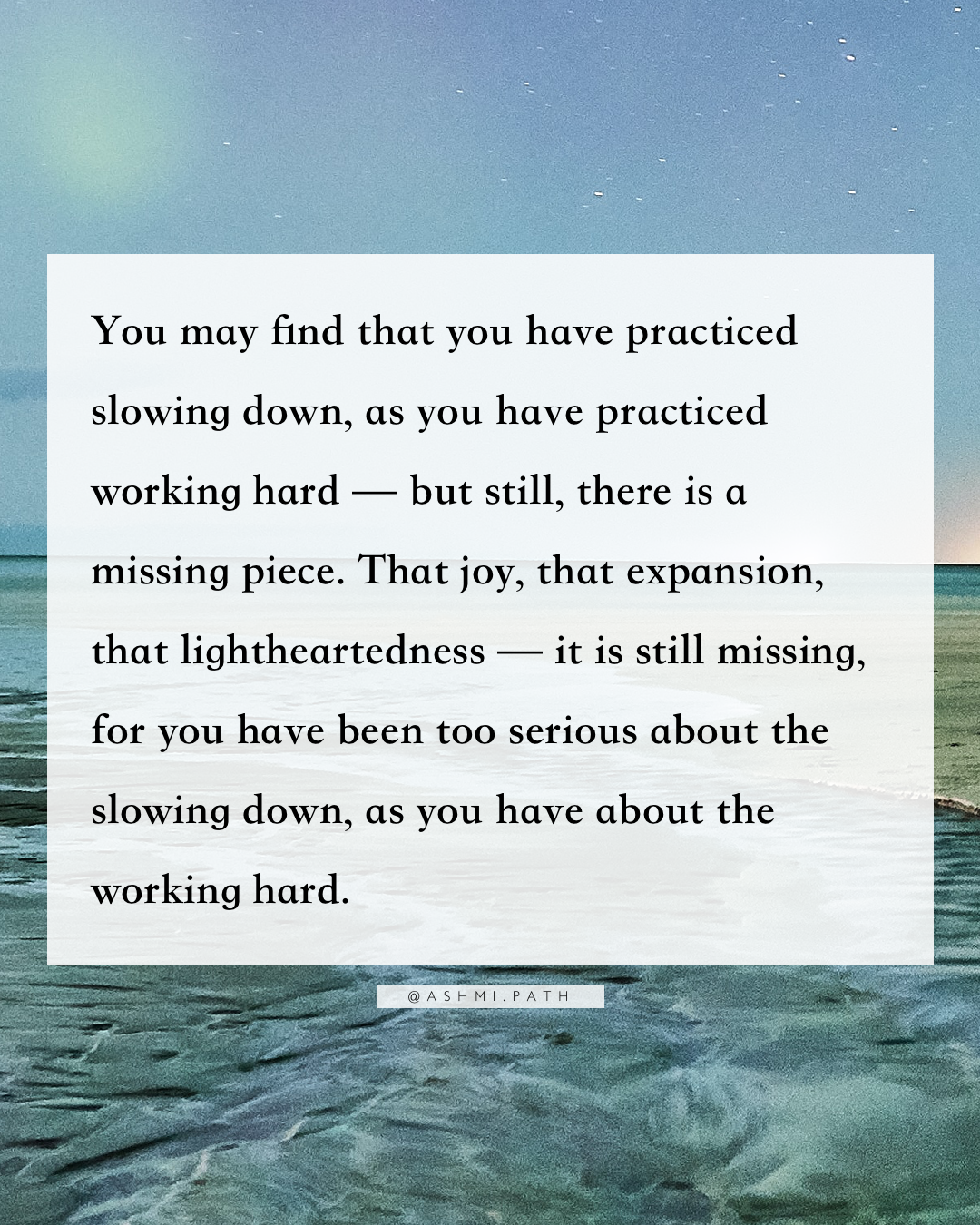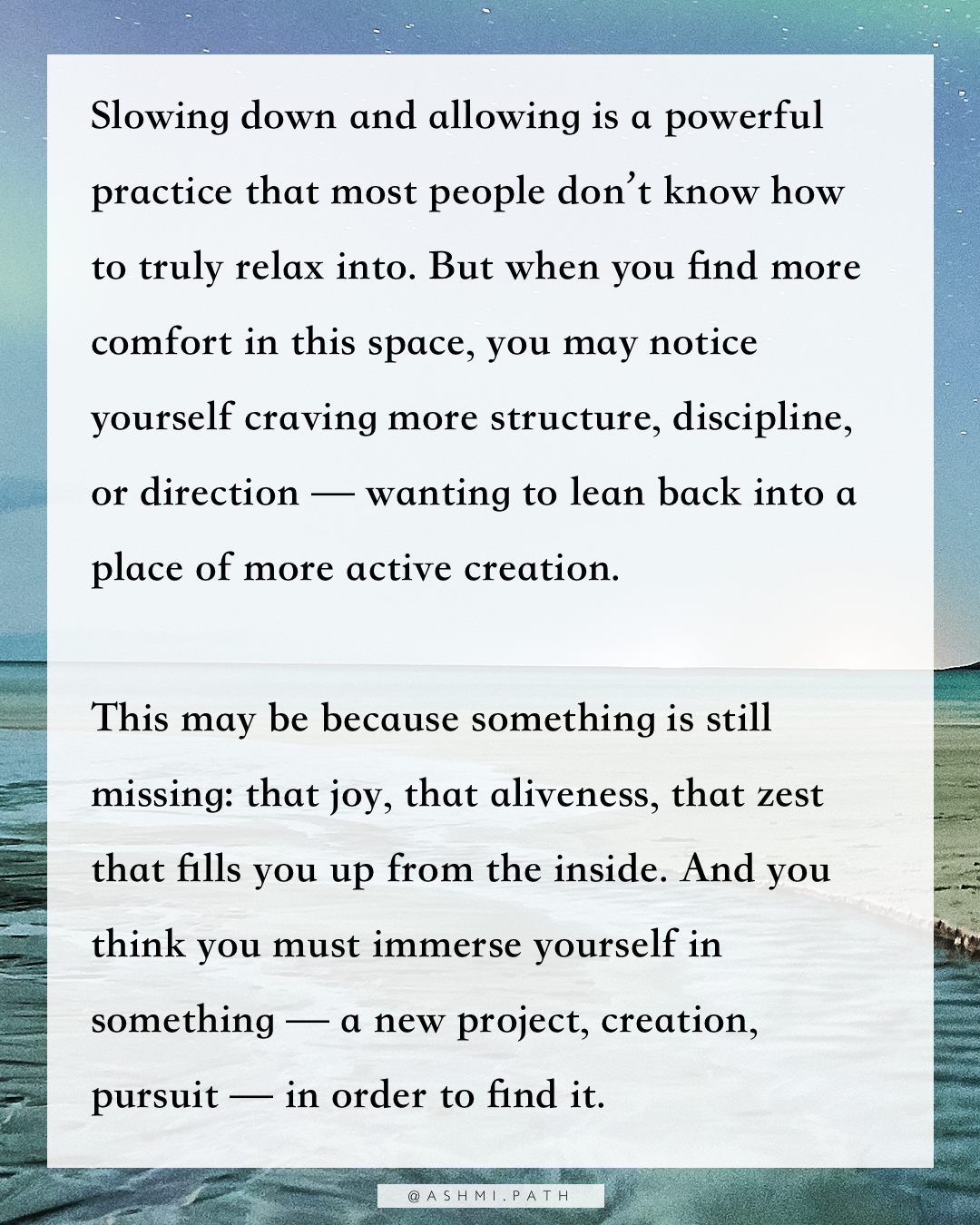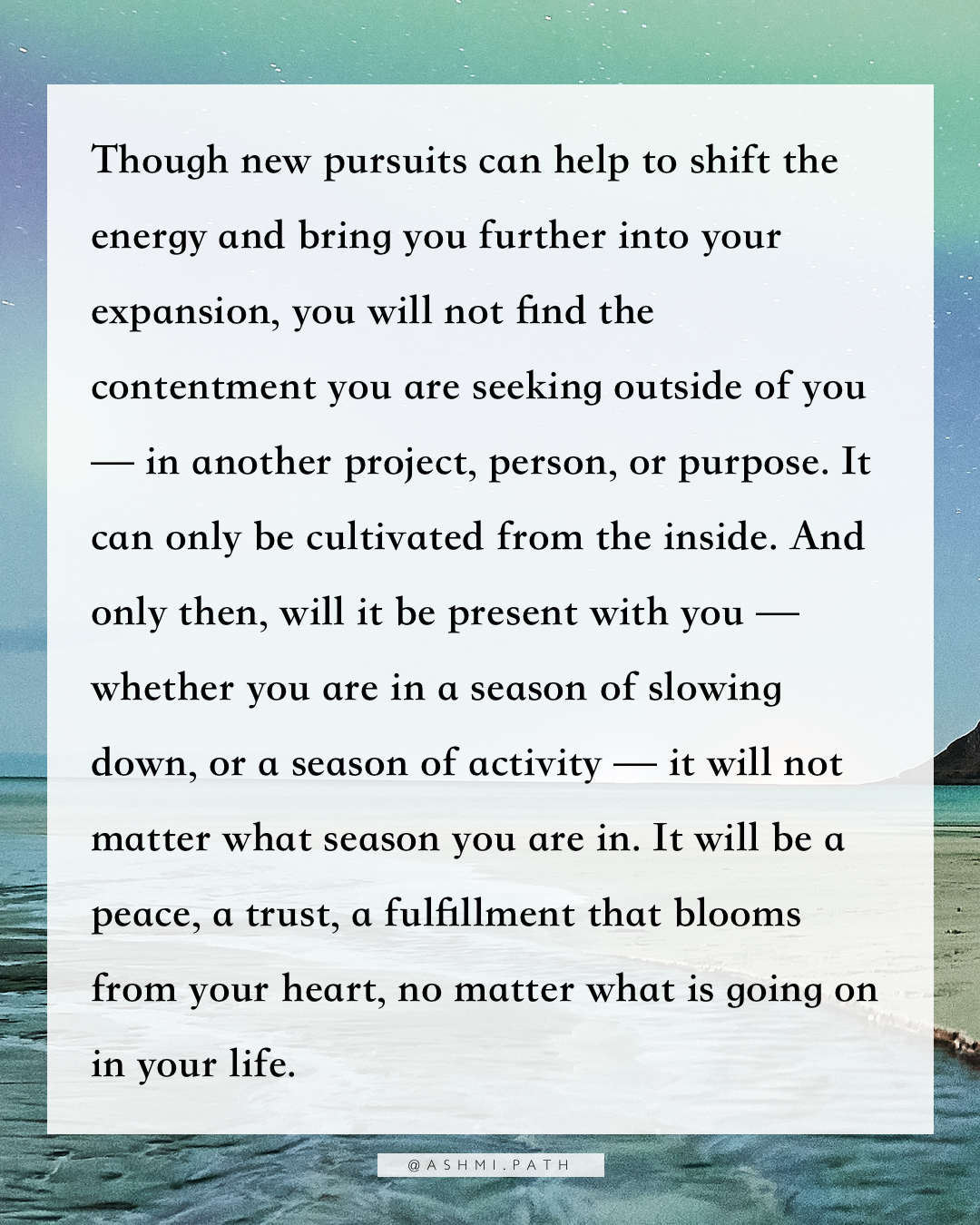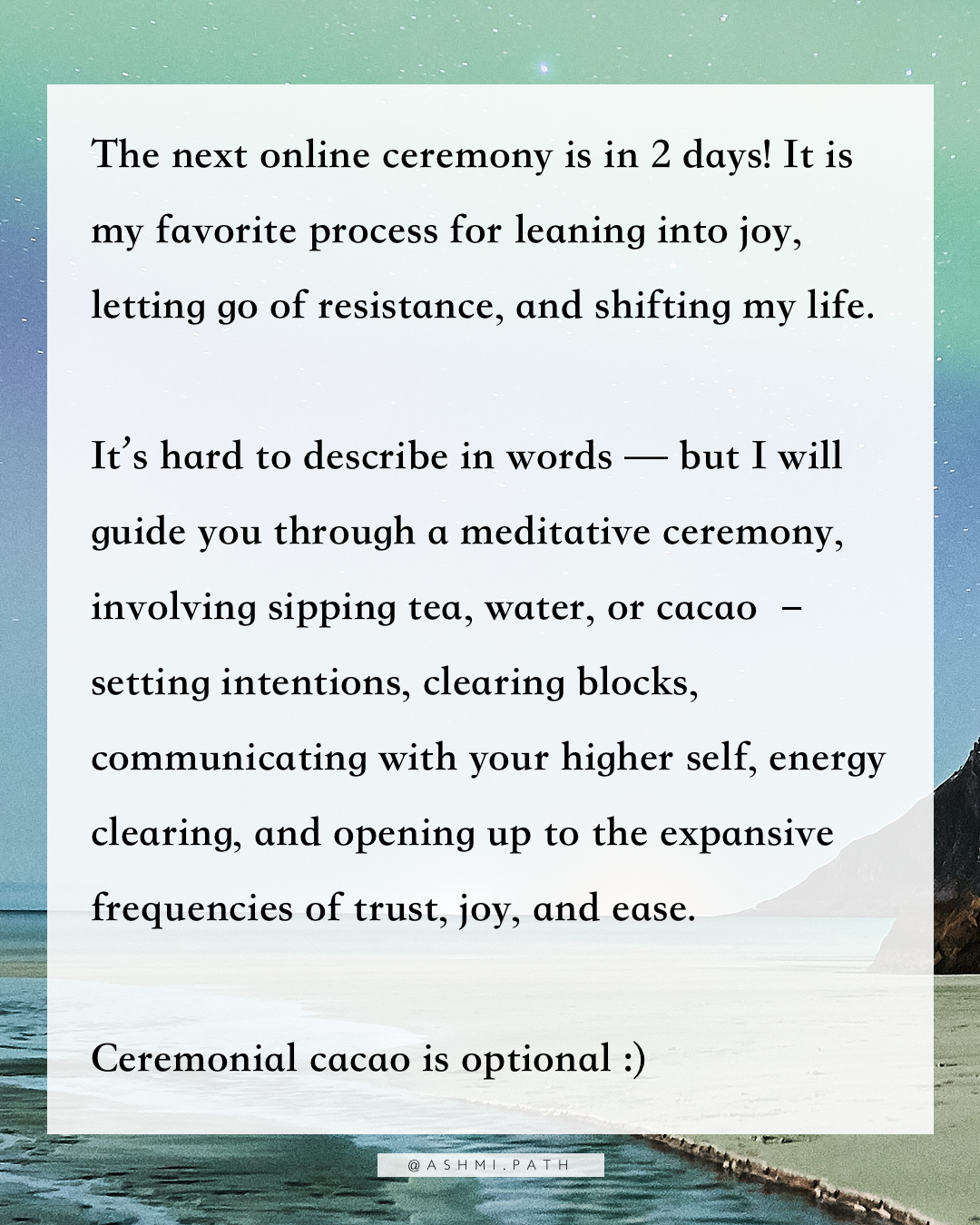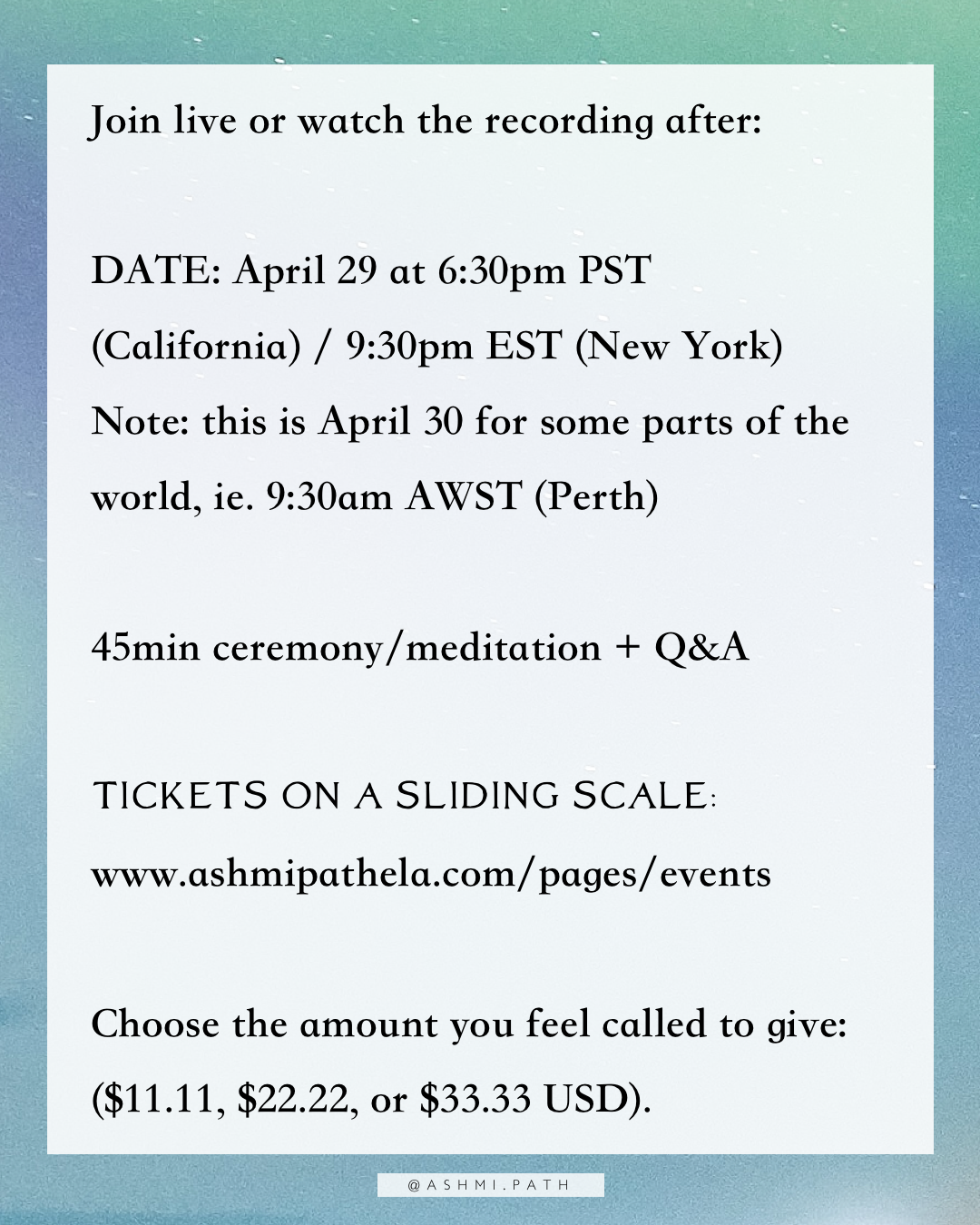 If you're thinking too hard about how to figure it out, ease your mind and let your imagination take the reigns... Daydream, imagine what could be, play with the energy of your future self…
This is the realm that can show you things you could not see before.
IMAGINE. PLAY. DAYDREAM.
This is the energy that can help you believe in things you could not believe before.
You have worked so hard to master the balance between flow and discipline, rest and creation, being and doing… knowing that each season of life brings its own flavor, honoring your body's guidance for the pace that suits you best, trusting that the next season will bring a fresh energy for something new.
But in this journey, do not forget to play. Do not forget to lighten up about your path. Do not forget the childlike curiosity that brought you here in the first place.
This play is not the same as having fun with friends or watching entertainment. It is about allowing yourself to bask in the energy of playfulness — to become playful, with life. To indulge your soul in the way it likes to play best… imagining the possibilities, creating in your minds' eye, dreaming, "What if…?"
SOMETIMES, IT TAKES DISCIPLINE AND STRUCTURE TO CREATE MORE EASE AND FLOW DOWN THE ROAD.
AND OTHER TIMES, IT TAKES MORE PLAY AND FUN TO CREATE EASE AND FLOW IN THE NOW.
You may find that you have practiced slowing down, as you have practiced working hard — but still, there is a missing piece. That joy, that expansion, that lightheartedness — it is still missing, for you have been too serious about the slowing down, as you have about the working hard.
Slowing down and allowing is a powerful practice that most people don't know how to truly relax into. But when you find more comfort in this space, you may notice yourself craving more structure, discipline, or direction — wanting to lean back into a place of more active creation.
This may be because something is still missing: that joy, that aliveness, that zest that fills you up from the inside. And you think you must immerse yourself in something — a new project, creation, pursuit — in order to find it.
Though new pursuits can help to shift the energy and bring you further into your expansion, you will not find the contentment you are seeking outside of you — in another project, person, or purpose. It can only be cultivated from the inside. And only then, will it be present with you — whether you are in a season of slowing down, or a season of activity — it will not matter what season you are in. It will be a peace, a trust, a fulfillment that blooms from your heart, no matter what is going on in your life.
The next ceremony is in 2 days!
It's hard to describe in words — but I will guide you through a meditative ceremony, involving sipping tea, water, or cacao – setting intentions, clearing blocks, communicating with your higher self, energy clearing, and opening up to the expansive frequencies of trust, joy, and ease.
Calling in Joy and Play — Online Guided Ceremony
A guided journey and energetic shift into:
— Calling more joy and play into your life now
— Letting go of fears and blocks that hold you in a lower frequency
— Remembering your childlike zest for life
— Allowing life to be great NOW, instead of waiting for things to get better
—  Opening your heart to receive more joy
— Receiving messages from your higher self about your path
— Giving yourself permission to follow your joy
— Envisioning your highest timeline of expansion
JOIN LIVE OR WATCH THE RECORDING
DATE: April 29 at 6:30pm PST (California) / 9:30pm EST (New York)
Note: this is April 30 for some parts of the world, ie. 9:30am AWST (Perth)
You can watch the recording afterward if you cannot make it live. It will be emailed to all, and you can watch it as many times as you want.
Format: 1.5 hour group video call on Zoom
Guided ceremony/meditation: 45 minutes
Open sharing and Q&A: 45 minutes
You are welcome to join via video or just listen in, whatever feels best to you! Ceremonial cacao is optional  — you can find it at a natural food store near you.
TICKETS
www.ashmipathela.com/pages/events
There is a sliding scale for tickets.
Choose the amount you feel called to give: ($11.11, $22.22, or $33.33 USD).
THIS CEREMONY IS INCLUDED FOR THOSE WHO ARE PAID MEMBERS — The Zoom link and recordings are always uploaded here: https://www.ashmipath.com/tag/monthly-ceremonies/
Written with love,
Ashmi