Letting Go of Taking Things Personally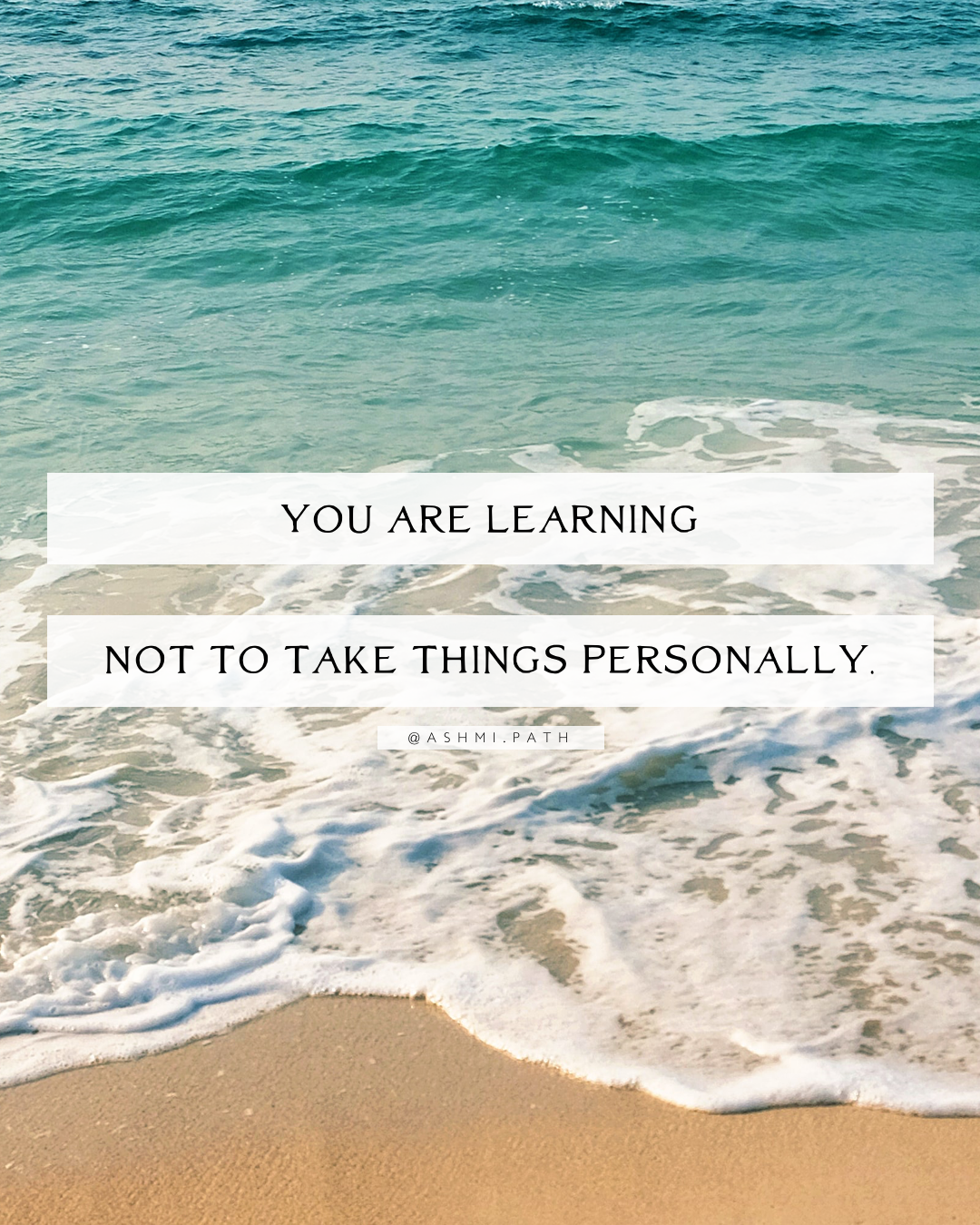 It's therapeutic for me to write like this and find patterns, a deeper perspective, in what I'm going through.
Reminder: You can always change your email subscription settings (receive emails daily or weekly) in the "Upgrade or Sign In" tab: https://www.ashmipath.com/
~~~
YOU ARE LEARNING NOT TO TAKE THINGS PERSONALLY.
It takes a deep rewiring of the brain and heart, to create new narratives about yourself and the actions of others.
But for this rewiring to happen, the old hurts and heavy feelings may come up to be seen.
You may feel…
— Left out or afraid of being left out
— More self-doubt and criticism
— Worried about how others may take your words
— Noticing more rejection around you or your work
— Reading into what others are saying / not saying
— More sensitive to others' emotions and actions
At the same time, you may have glimpses of:
— Not caring about what others think
— Not needing to be seen or heard, to love yourself
— Being more intentional about where / with who you spend more time
— More self-compassion and kinder self-talk
— Less reactive to others' judgments and perceptions
— Aware of others' emotions/thoughts, but also able to detach from them
IT CAN FEEL WEIRD, TO HAVE THIS HEIGHTENED AWARENESS OF OTHERS' PROJECTIONS, WHILE AT THE SAME TIME, A GREATER ABILITY TO DETACH FROM THEM.
You may notice you used to take things more personally… And now, when something hurtful happens — you can find a greater self-acceptance. Instead of making it mean something negative about you, you are able to see the situation more objectively.
Ask yourself…
Am I upset about this / worried about this because the old me would feel this way, or am I actually upset / worried about it?
All of your feelings are valid.
But be aware of whether they are an echo, a knee-jerk pattern, of the past — or an actual experience that is wanting to be seen and felt now.
Ask yourself:
What am I making this experience mean about me?
Is it true? Does it have to be true?
Written with love,
Ashmi