Your Connection is Instant: A Transcript from my Spoken-Word Channeling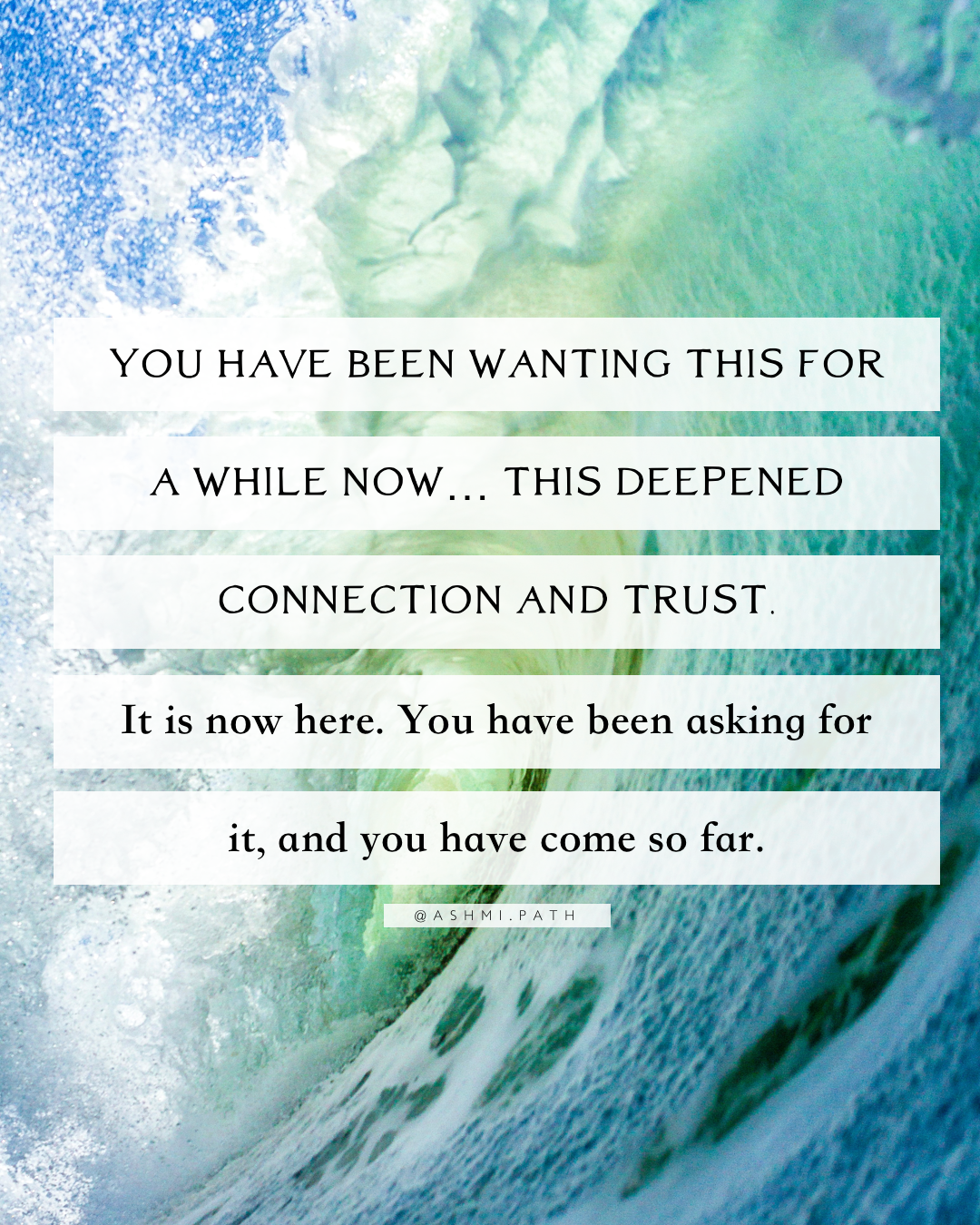 I've been playing with spoken-word messages (recorded while I speak out-loud in meditation).
My usual form of channeling is automatic writing, but I'm finding new depths of insights coming through while I speak (without thinking).
My favorite thing about it is how calm I feel during it; how I am truly IN the frequency that the words describe. And I think as I do this more, this will be my way of practicing embodying that space of joyful connection with my soul.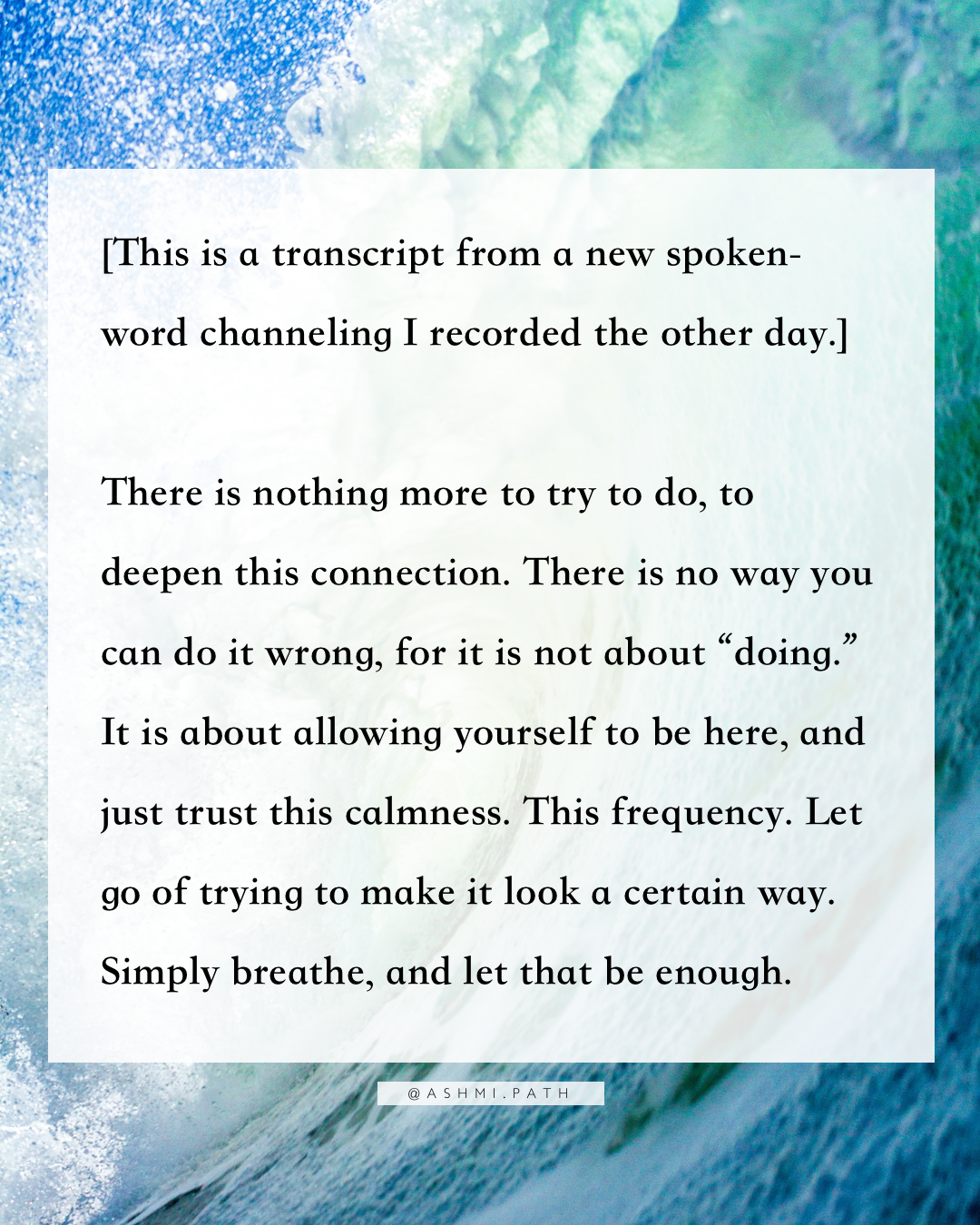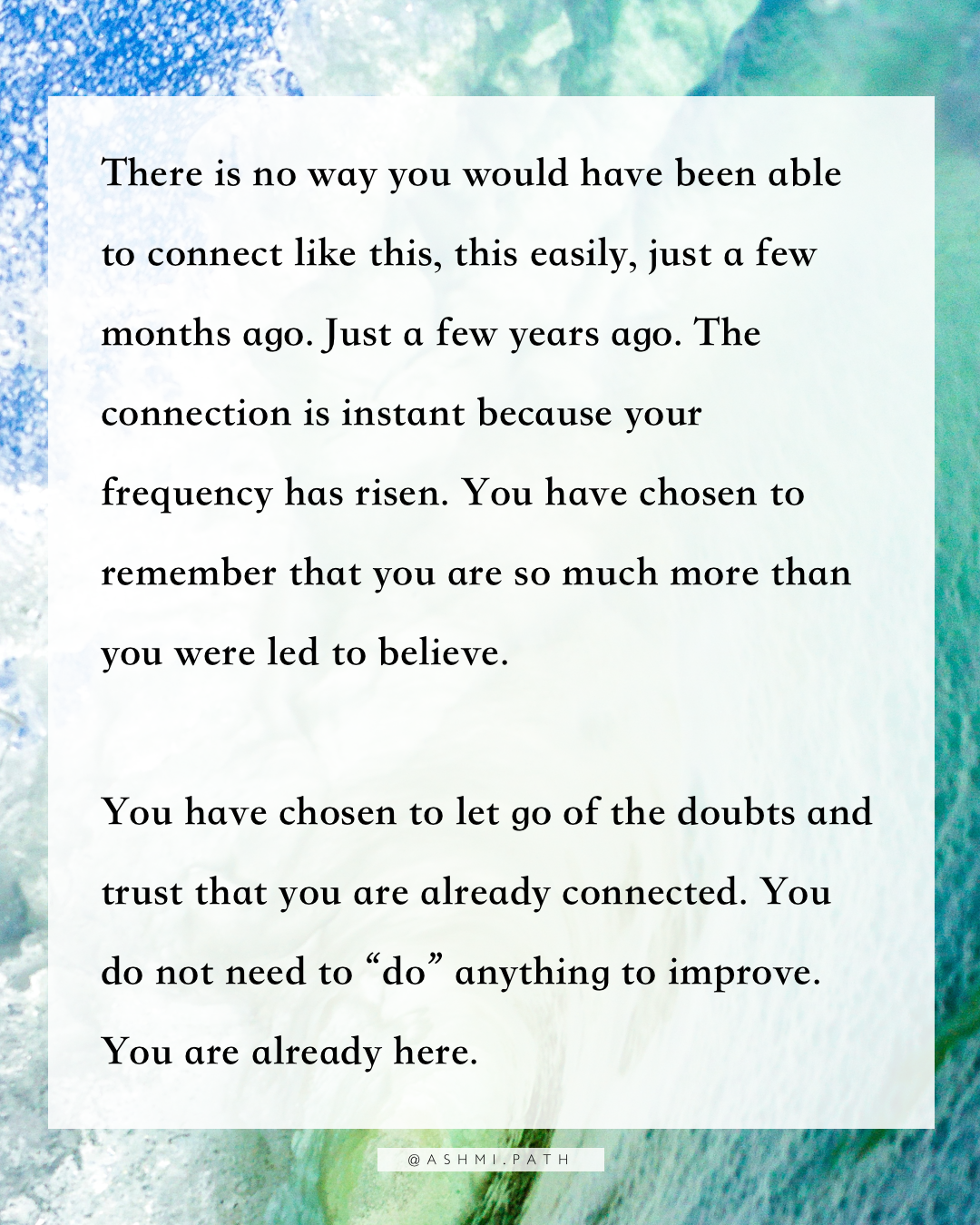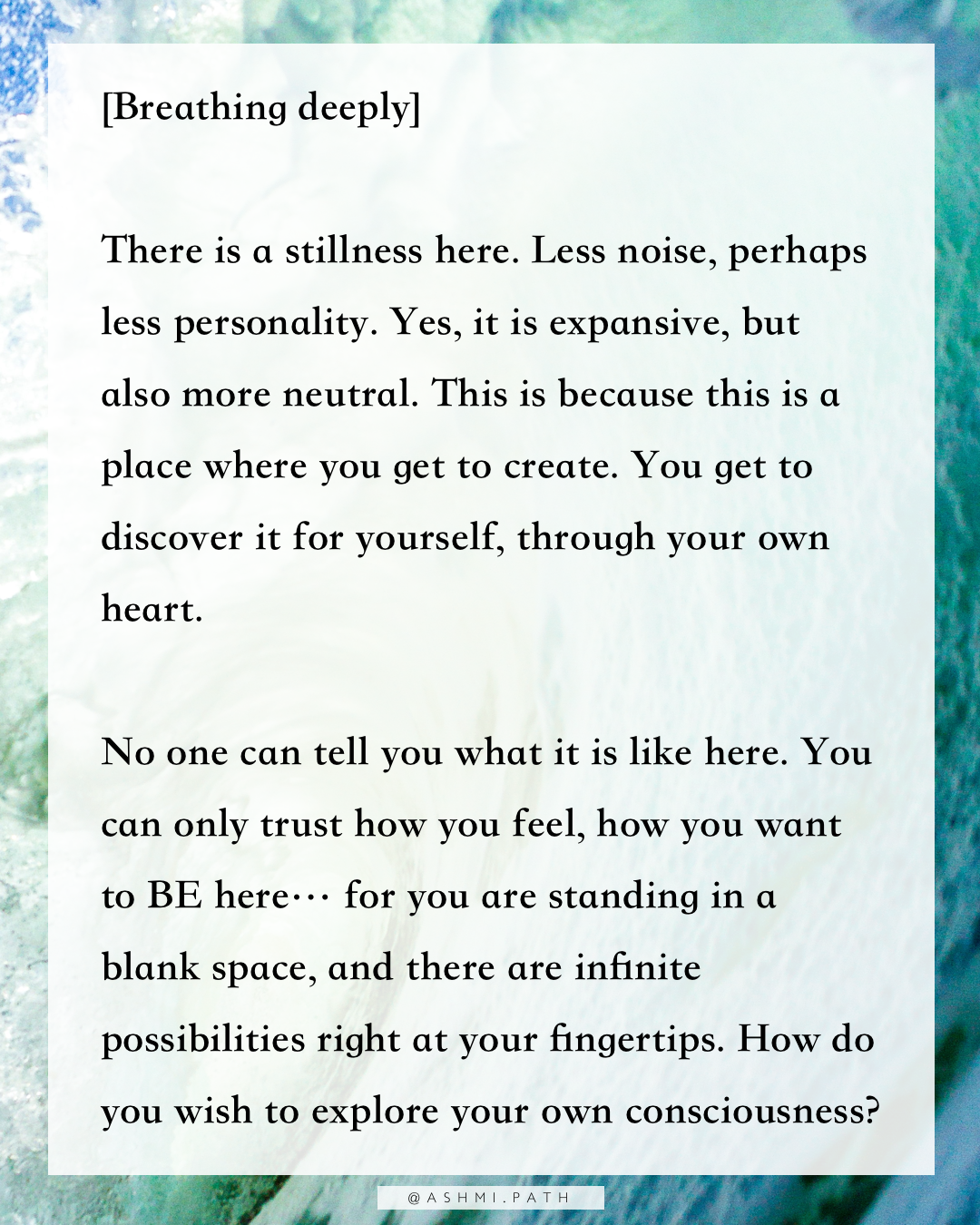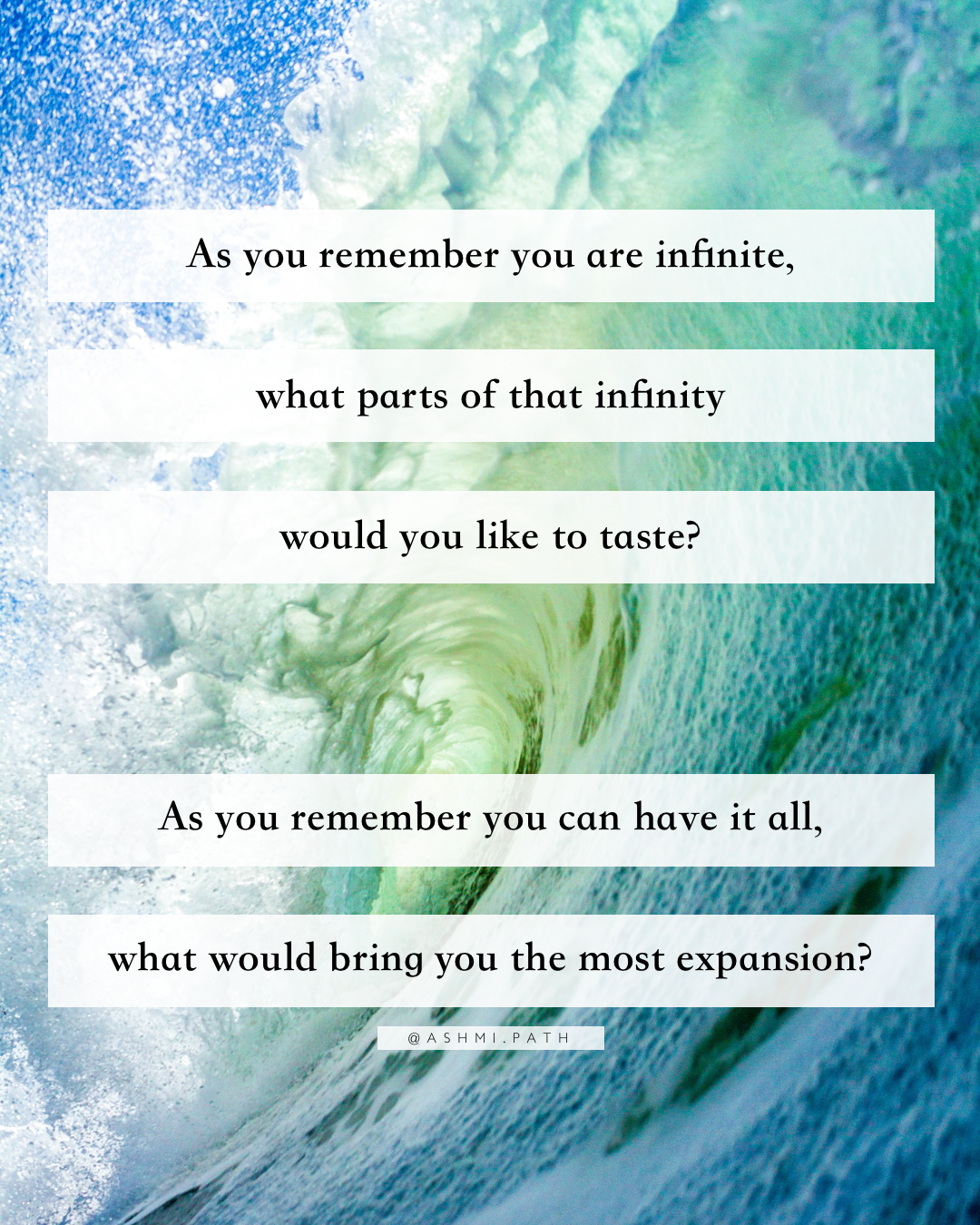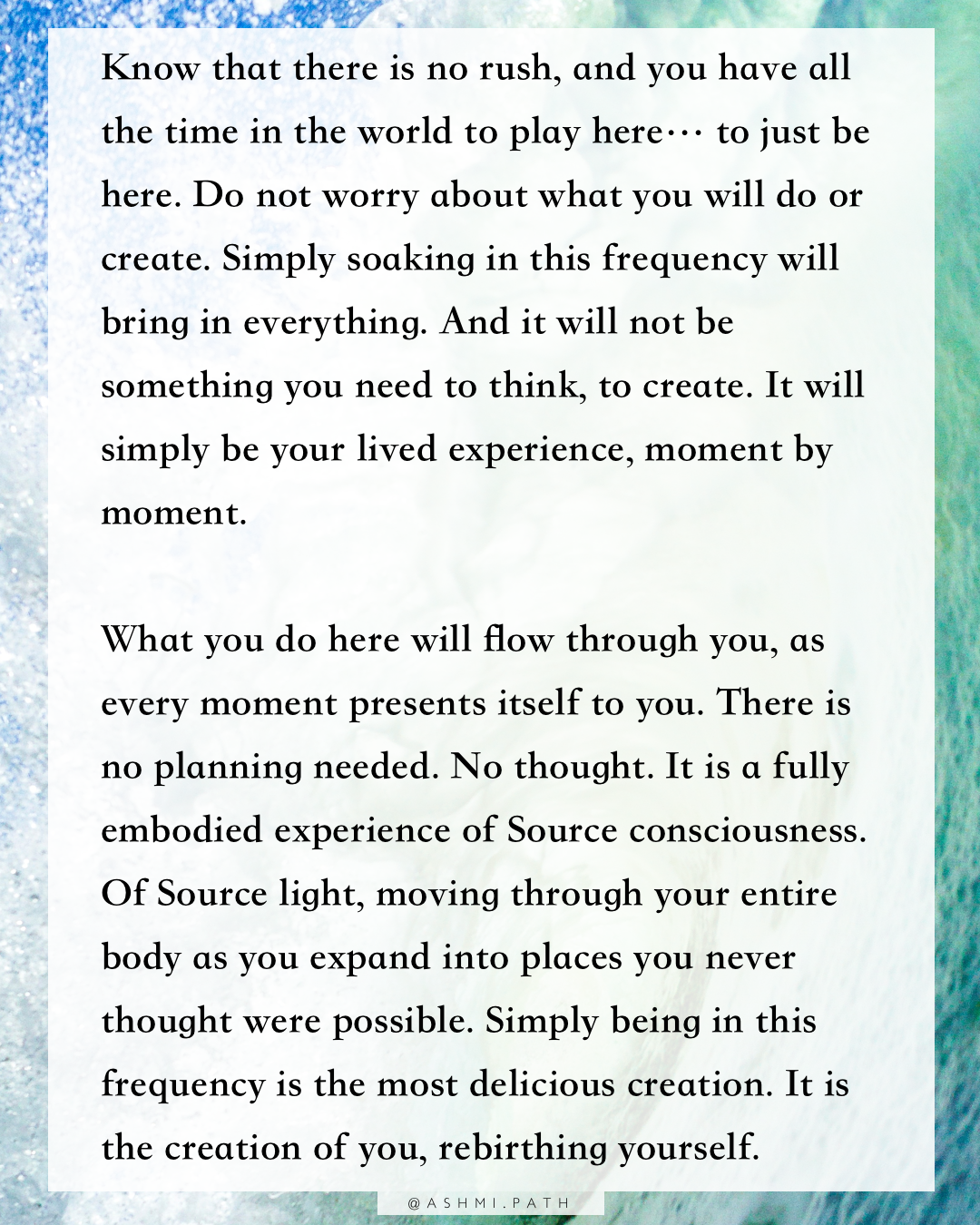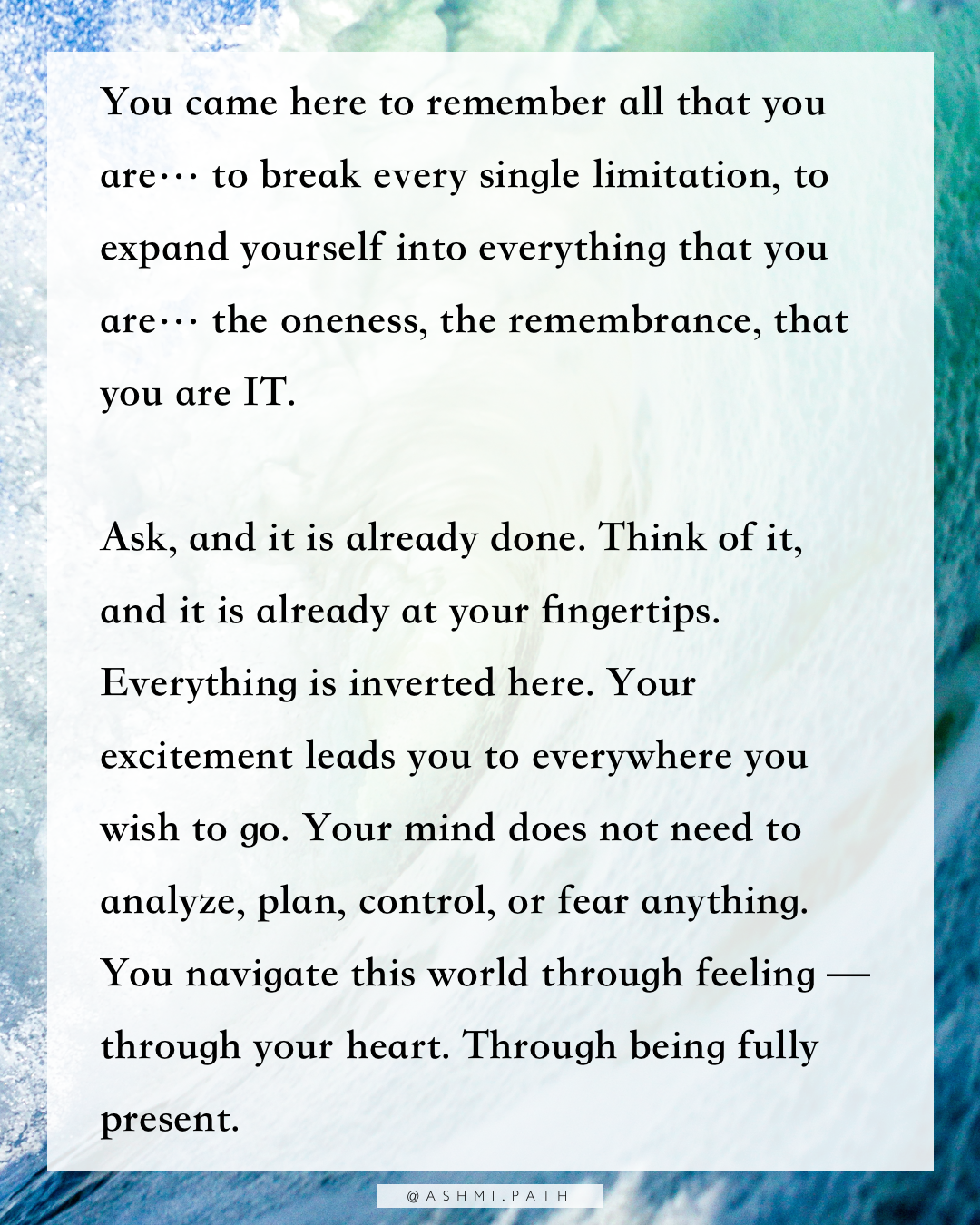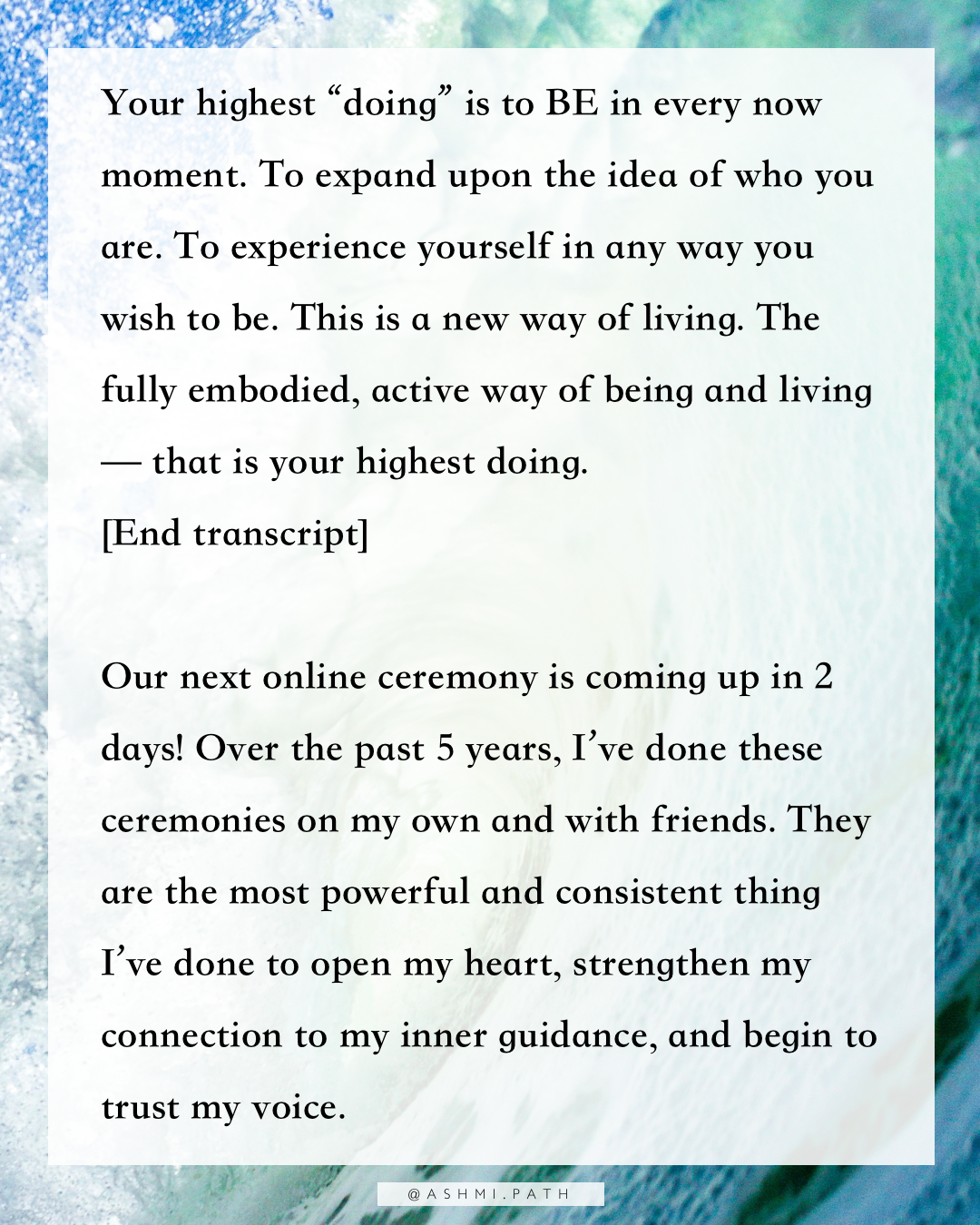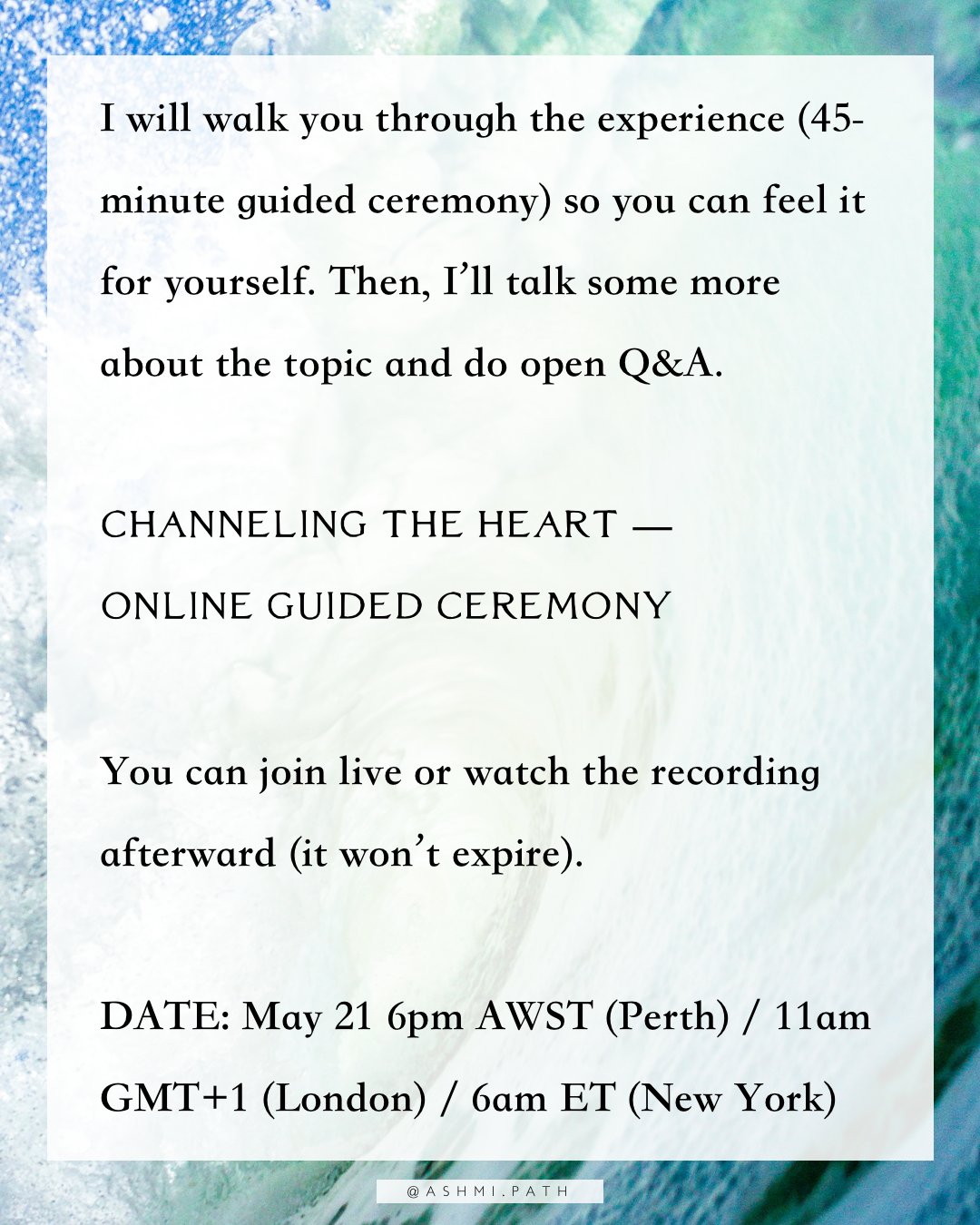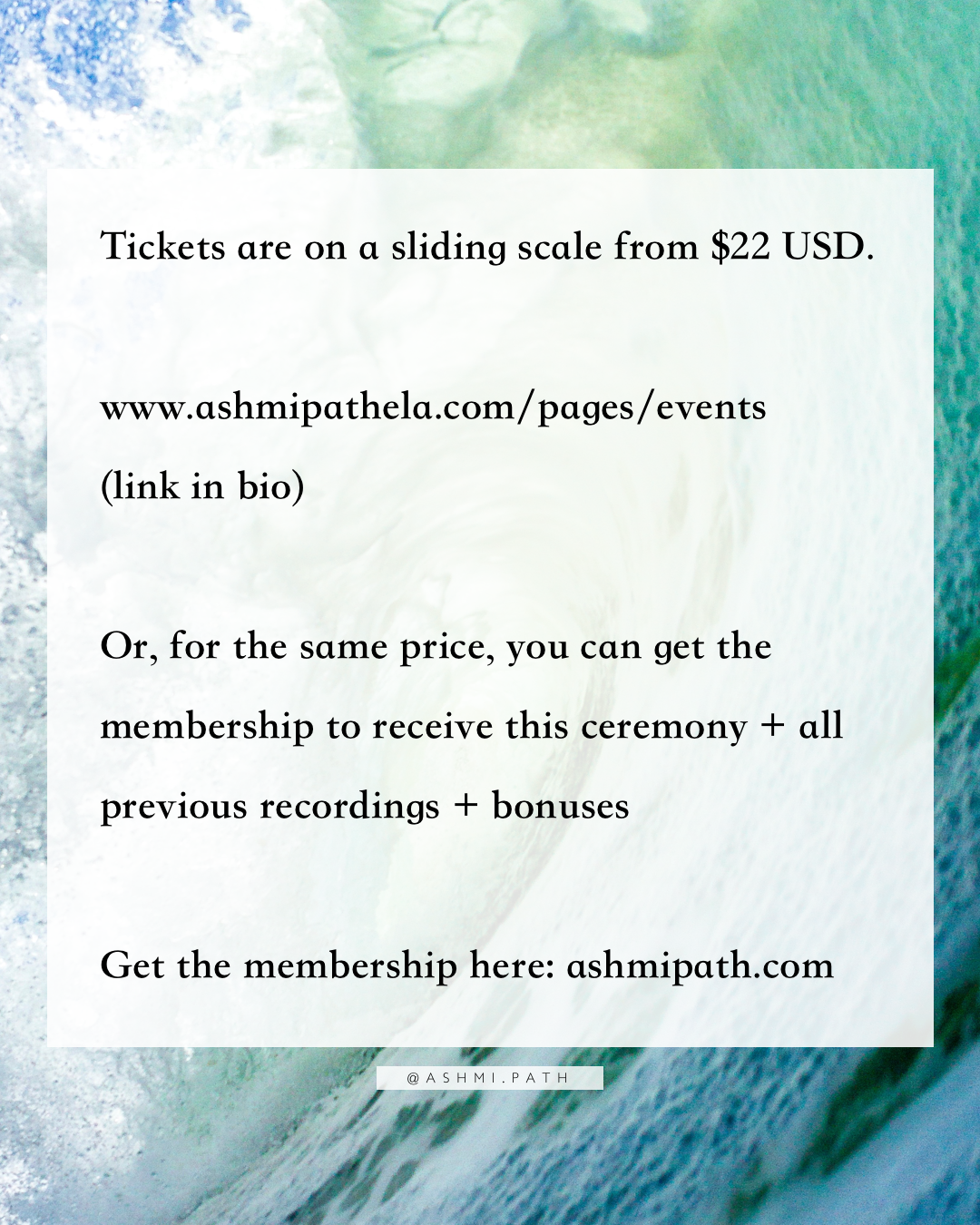 YOU HAVE BEEN WANTING THIS FOR A WHILE NOW… THIS DEEPENED CONNECTION AND TRUST.
It is now here. You have been asking for it, and you have come so far.
This is a transcript from a spoken-word channeling I recorded the other day.
There is nothing more to try to do, to deepen this connection. There is no way you can do it wrong, for it is not about "doing." It is about allowing yourself to be here, and just trust this calmness. This frequency. Let go of trying to make it look a certain way. Simply breathe, and let that be enough.
There is no way you would have been able to connect like this, this easily, just a few months ago. Just a few years ago. The connection is instant because your frequency has risen. You have chosen to remember that you are so much more than you were led to believe.
You have chosen to let go of the doubts and trust that you are already connected. You do not need to "do" anything to improve. You are already here.
[Breathing deeply]
There is a stillness here. Less noise, perhaps less personality. Yes, it is expansive, but also more neutral. This is because this is a place where you get to create. You get to discover it for yourself, through your own heart.
No one can tell you what it is like here. You can only trust how you feel, how you want to BE here… for you are standing in a blank space, and there are infinite possibilities right at your fingertips. How do you wish to explore your own consciousness?
As you remember you are infinite, what parts of that infinity would you like to taste?
As you remember you can have it all, what would bring you the most expansion?
Know that there is no rush, and you have all the time in the world to play here… to just be here. Do not worry about what you will do or create. Simply soaking in this frequency will bring in everything. And it will not be something you need to think, to create. It will simply be your lived experience, moment by moment.
What you do here will flow through you, as every moment presents itself to you. There is no planning needed. No thought. It is a fully embodied experience of Source consciousness. Of Source light, moving through your entire body as you expand into places you never thought were possible. Simply being in this frequency is the most delicious creation. It is the creation of you, rebirthing yourself.
You came here to remember all that you are… to break every single limitation, to expand yourself into everything that you are… the oneness, the remembrance, that you are IT.
Ask, and it is already done. Think of it, and it is already at your fingertips. Everything is inverted here. Your excitement leads you to everywhere you wish to go. Your mind does not need to analyze, plan, control, or fear anything. You navigate this world through feeling — through your heart. Through being fully present.
Your highest "doing" is to BE in every now moment. To expand upon the idea of who you are. To experience yourself in any way you wish to be. This is a new way of living. The fully embodied, active way of being and living — that is your highest doing.
[End transcript]
Our next online ceremony is coming up in 2 days! Over the past 5 years, I've done these ceremonies on my own and with friends. They are the most powerful and consistent thing I've done to open my heart, strengthen my connection to my inner guidance, and begin to trust my voice.
I will walk you through the experience (45-minute guided ceremony) so you can feel it for yourself. Then, I'll talk some more about the topic and do open Q&A.
CHANNELING THE HEART — ONLINE GUIDED CEREMONY – 2 HOUR SPECIAL
A guided ceremony and workshop for:
— Learning how to channel in your unique way
— Letting go of blocks stopping you from connecting more deeply
— Connecting with Source through the portal of the heart
— Trusting the guidance you are receiving from within
— Opening up to channel creations and ideas from the heart
— Becoming a vessel for Source consciousness
Some topics we'll address:
— My personal experience with channeling and how I started
— What worked for me
— What kind of messages I'm getting, and how it has evolved
— How I use this guidance to serve my daily life
— My experience channeling my future children!
— How to recognize when you're channeling vs. your brain making it up
— How to ground / stay clear in your own energy
— How to unblock yourself
— How to create from the heart + infuse your creations with love
— Tuning into visions for what to create and your path
— How to trust your own voice and guidance
This is not just about channeling — it is about living AS your soul and remembering your connection with the source of all that you are.
When you live as your soul, you will:
— Feel what it's like to live without fear
— Build your self-trust and sense of knowing
— Open up to messages about yourself, life, and the collective
— Discern your truth from the noise out there
— Open your heart to more love, joy, and peace
— Experience more ideas, opportunities, and synchronicities
— Receive inspiration on what to do or create
— Live with more ease and flow
— And so much more
JOIN LIVE OR WATCH THE RECORDING
DATE: May 21 6pm AWST (Perth) / 11am GMT+1 (London) / 6am ET (New York)
You can watch the recording afterward if you cannot make it live. It will be emailed to all, and you can watch it as many times as you want.
Format: 2 hour group video call on Zoom
Guided ceremony/meditation: 45 minutes
Workshop + Q&A: 75 minutes
You are welcome to join via video or just listen in, whatever feels best to you! Ceremonial cacao is optional  — you can find it at a natural food store near you.
TICKETS
www.ashmipathela.com/pages/events
There is a sliding scale for tickets. Since this is a longer special/workshop, you can choose the amount you feel called to give: ($22.22, $33.33, or $44.44 USD).
Or, for the same price, you can get the membership to receive this ceremony + all previous recordings + bonuses – Get the membership here
THIS CEREMONY IS INCLUDED FOR THOSE WHO ARE PAID MEMBERS — You can get the Zoom link and recording here.
Written with love,
Ashmi