Energetic Shifts into Sacred Union Within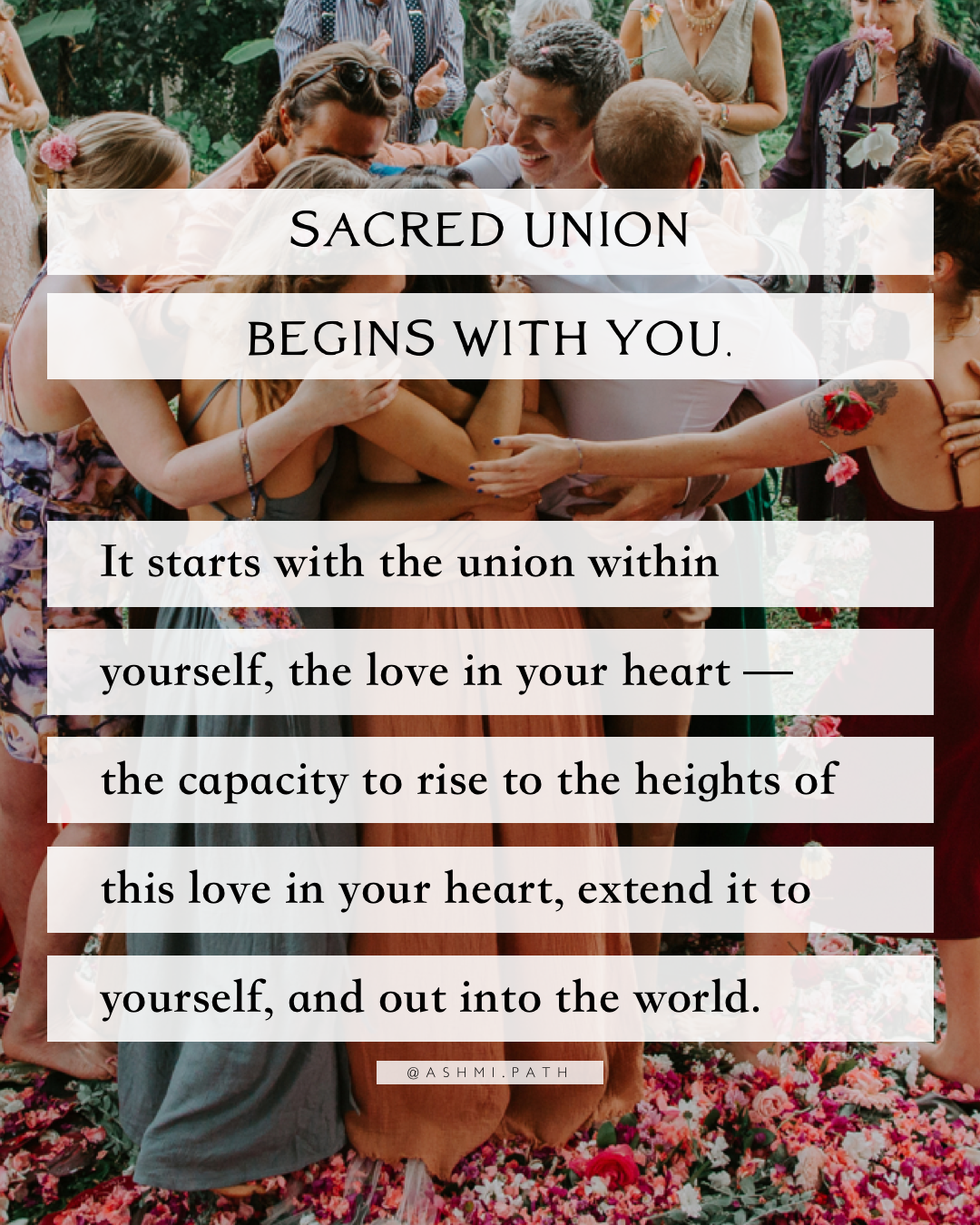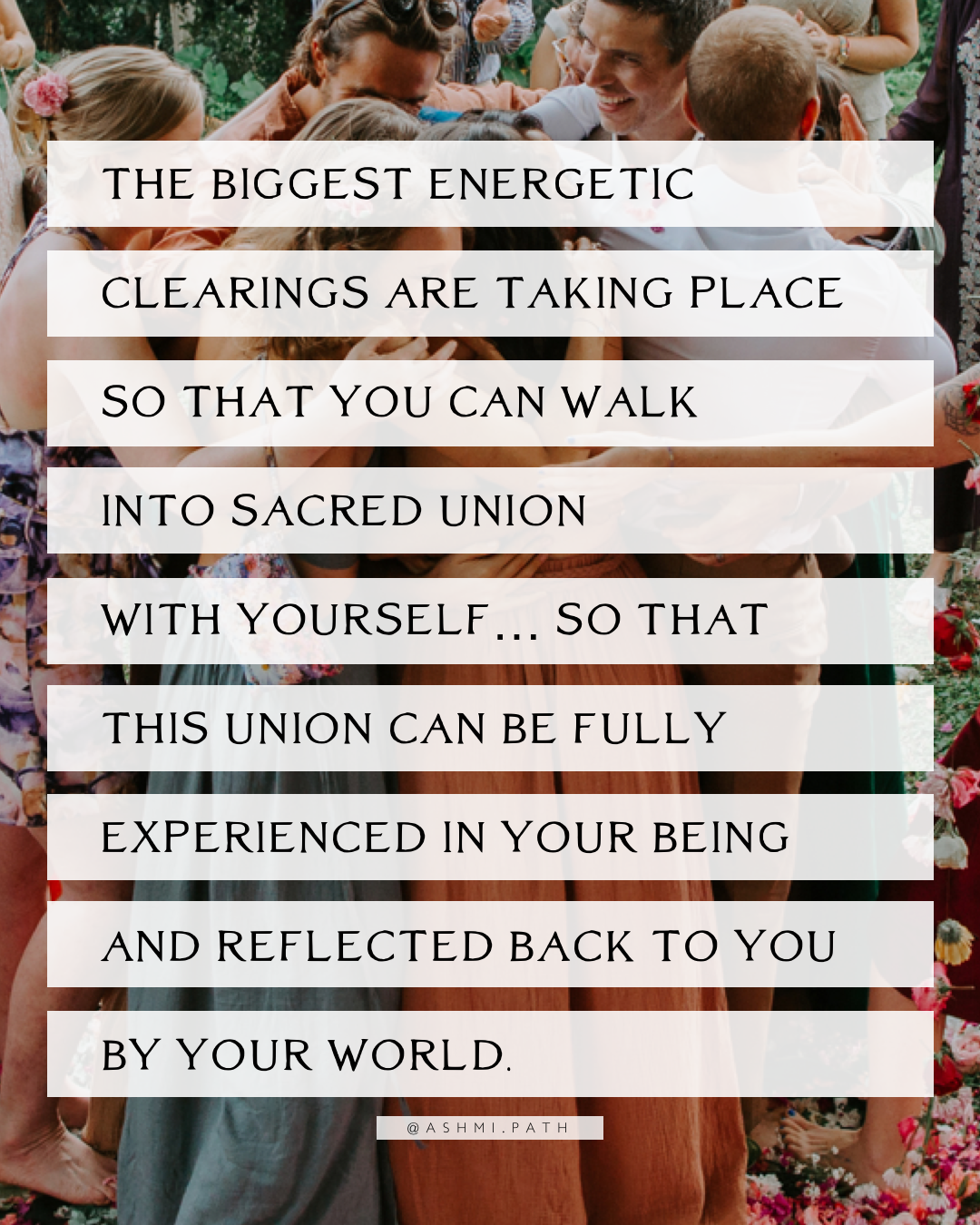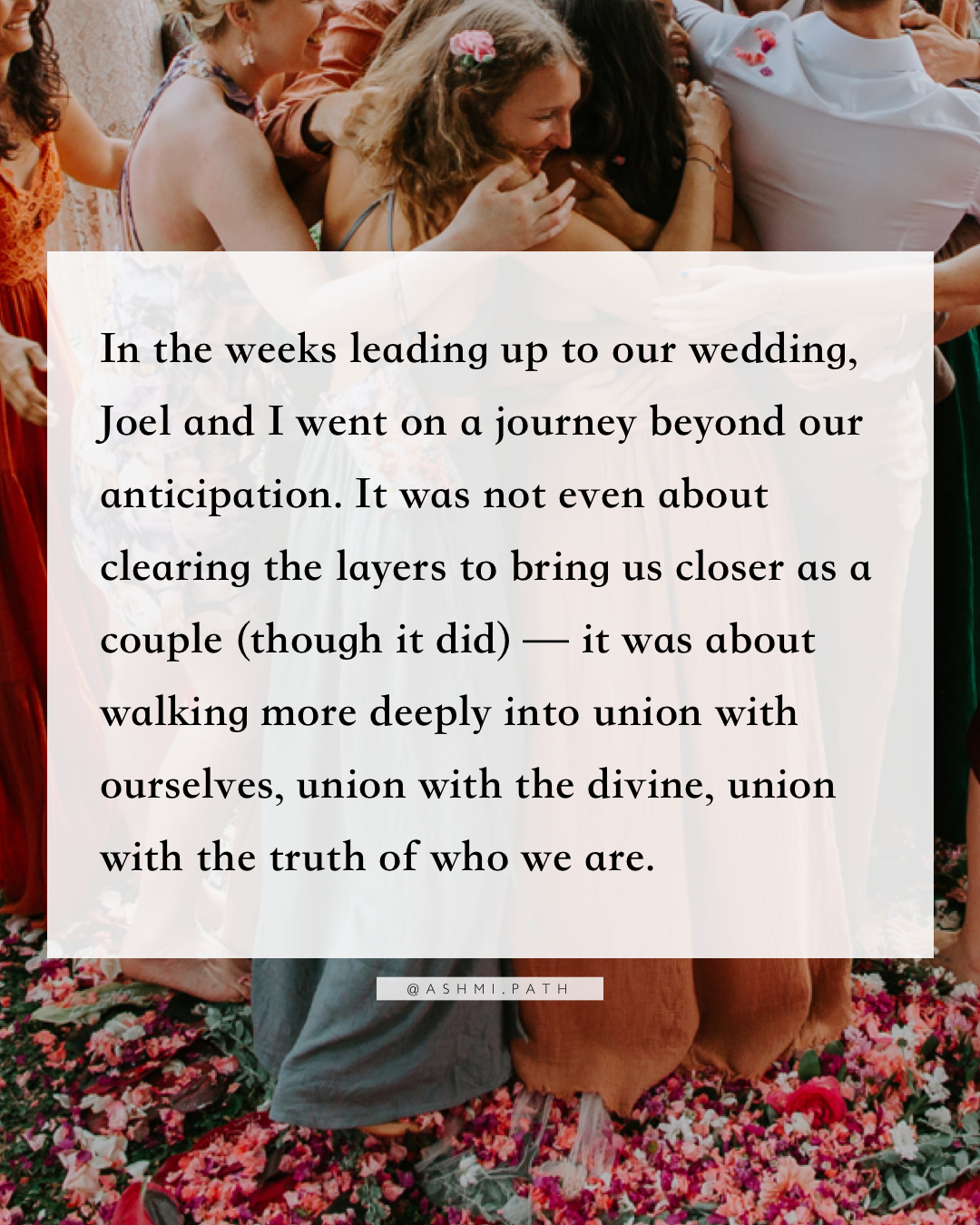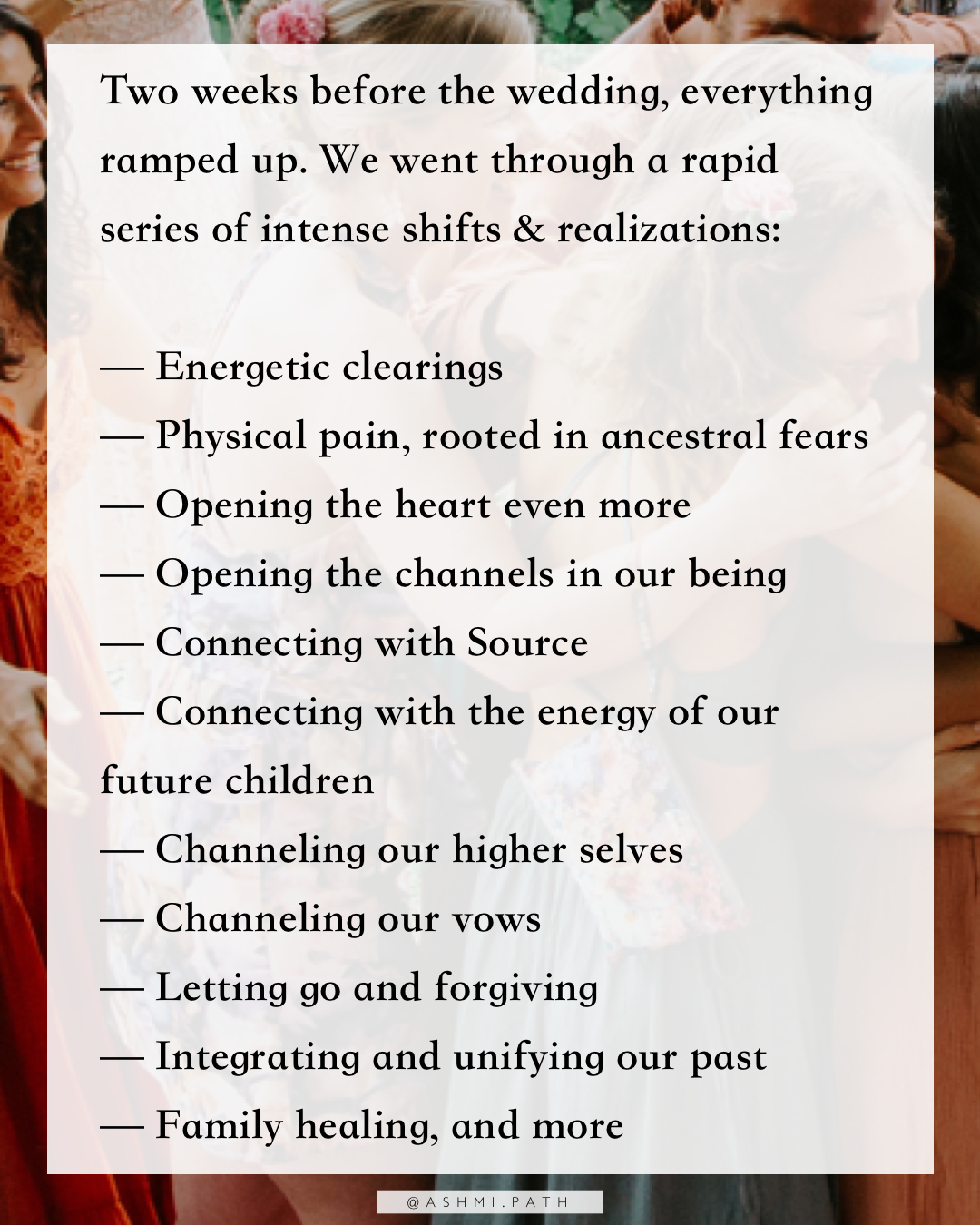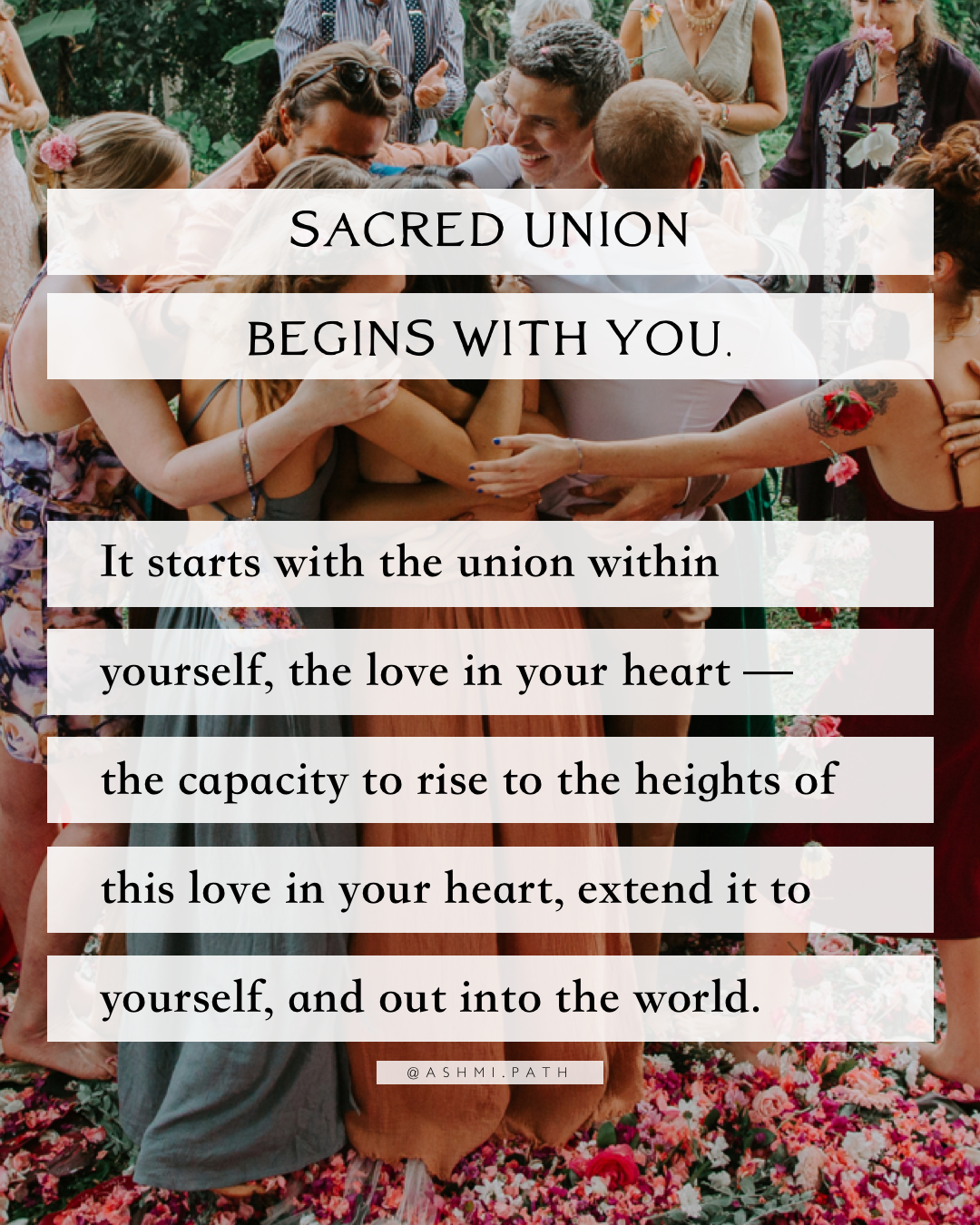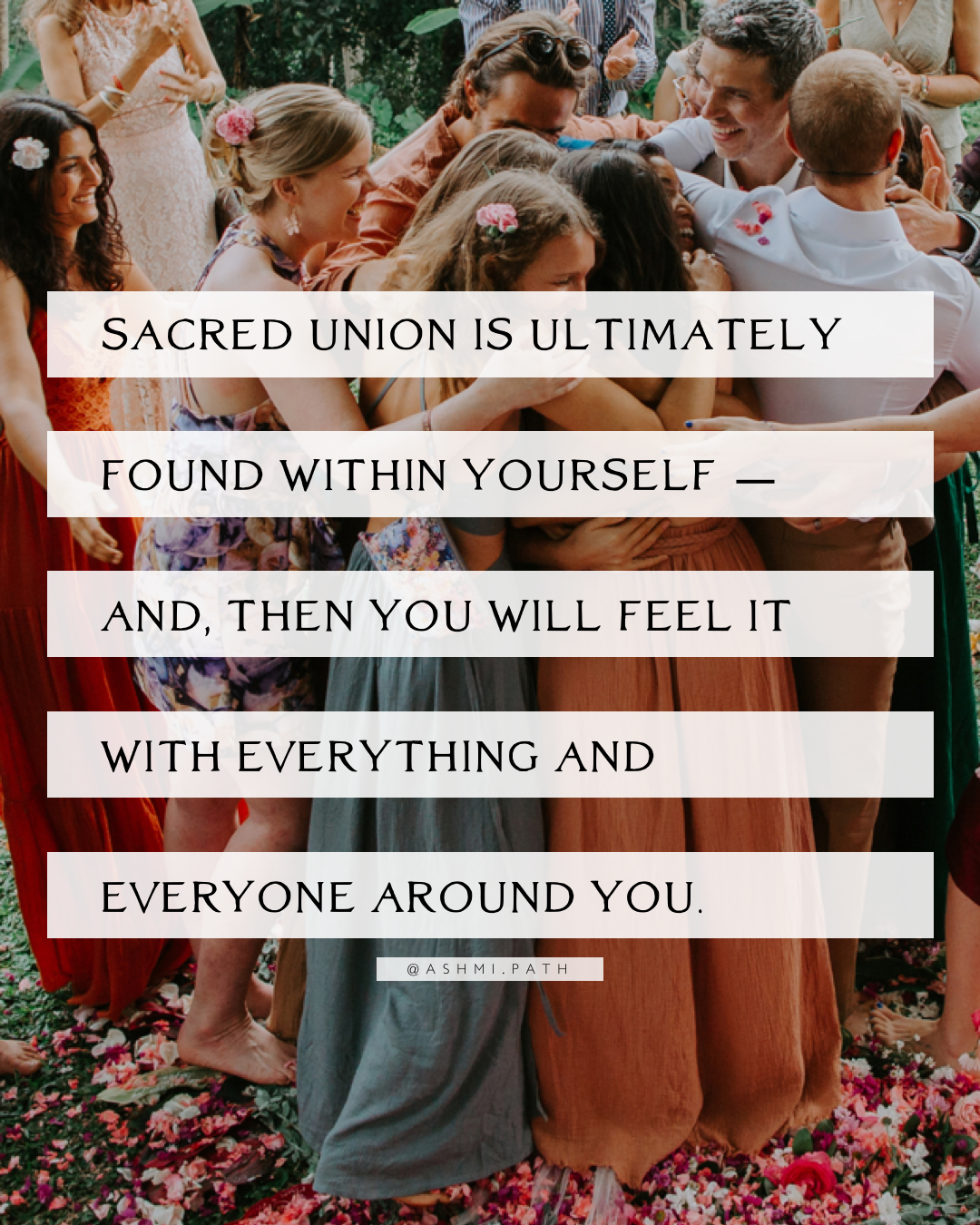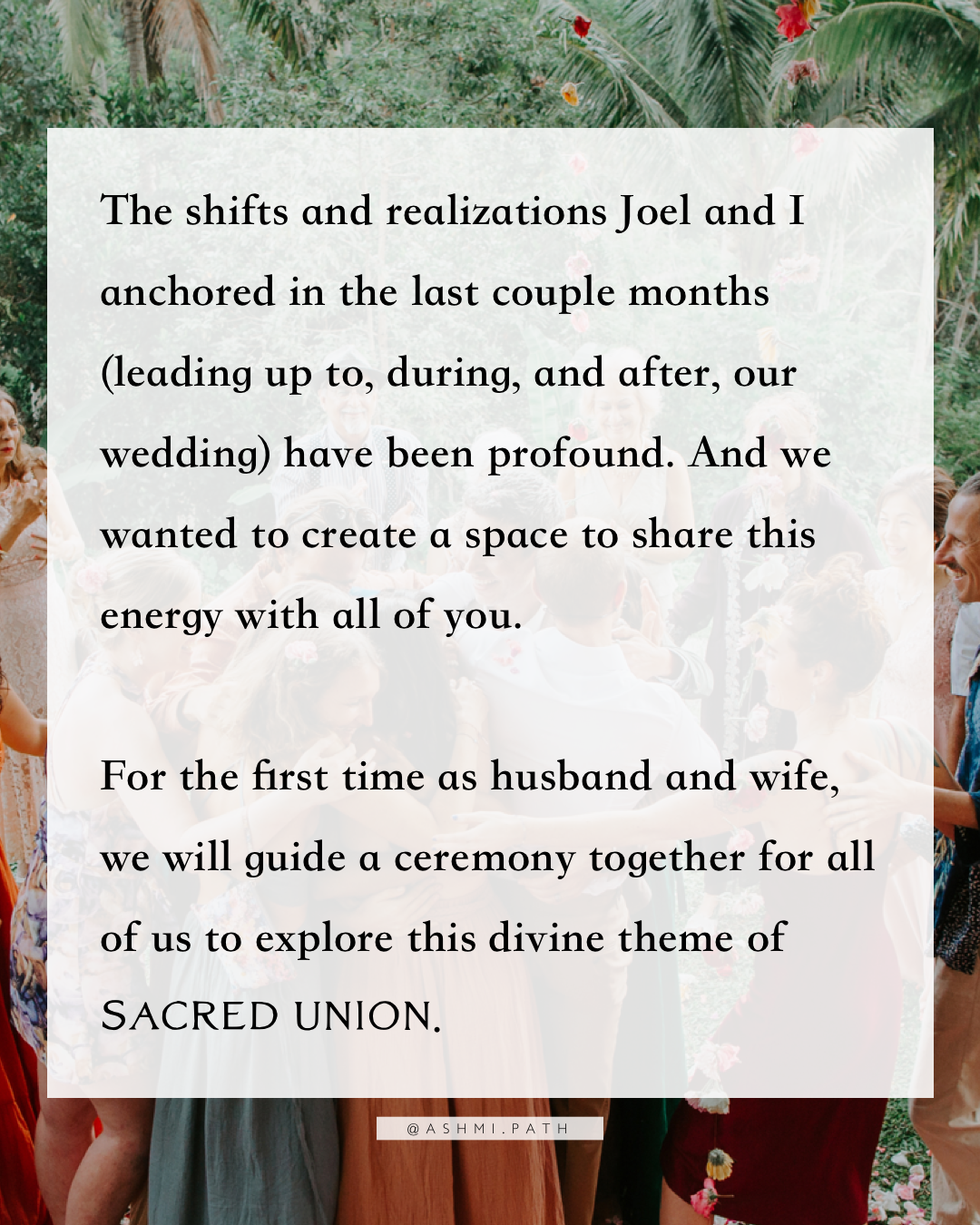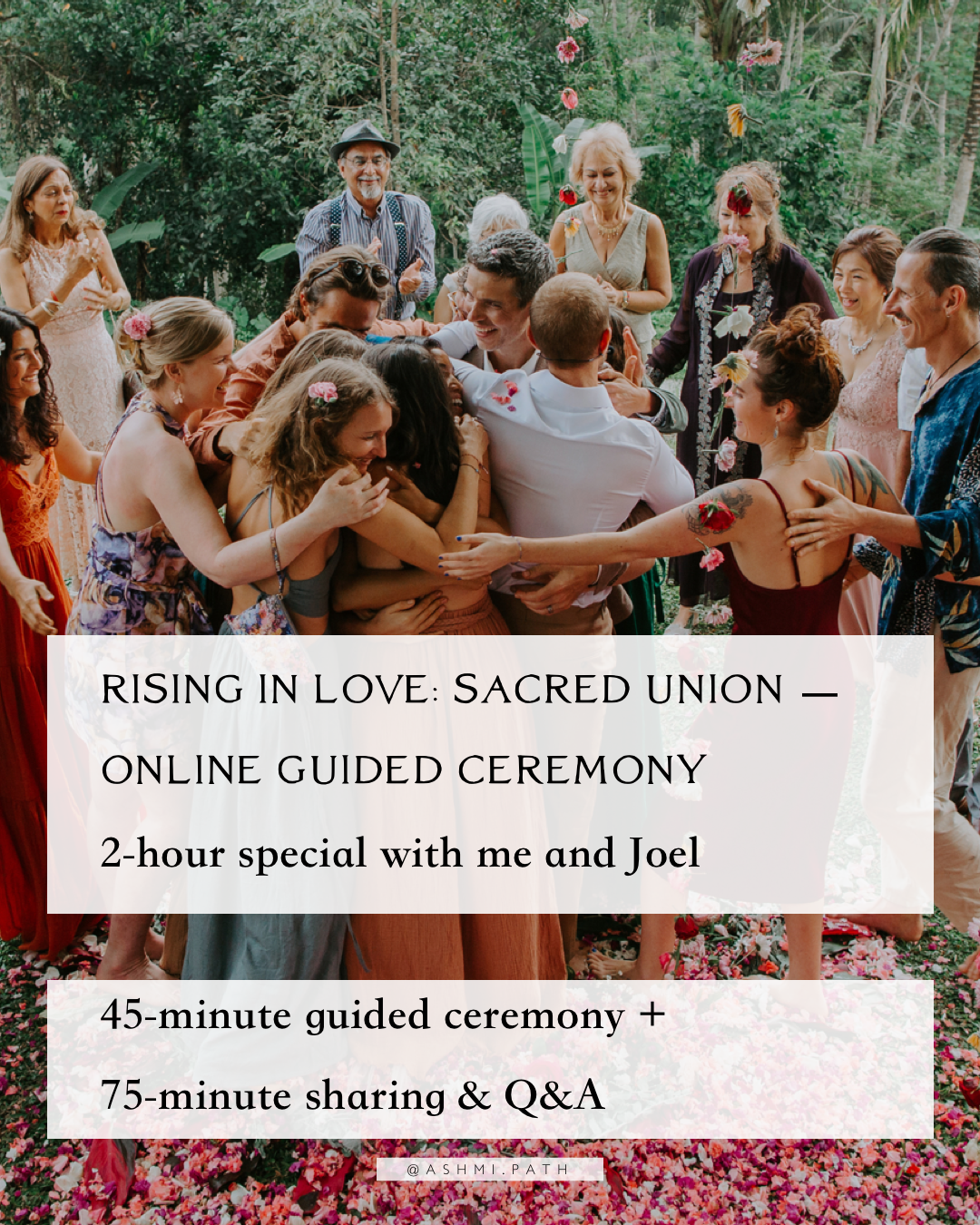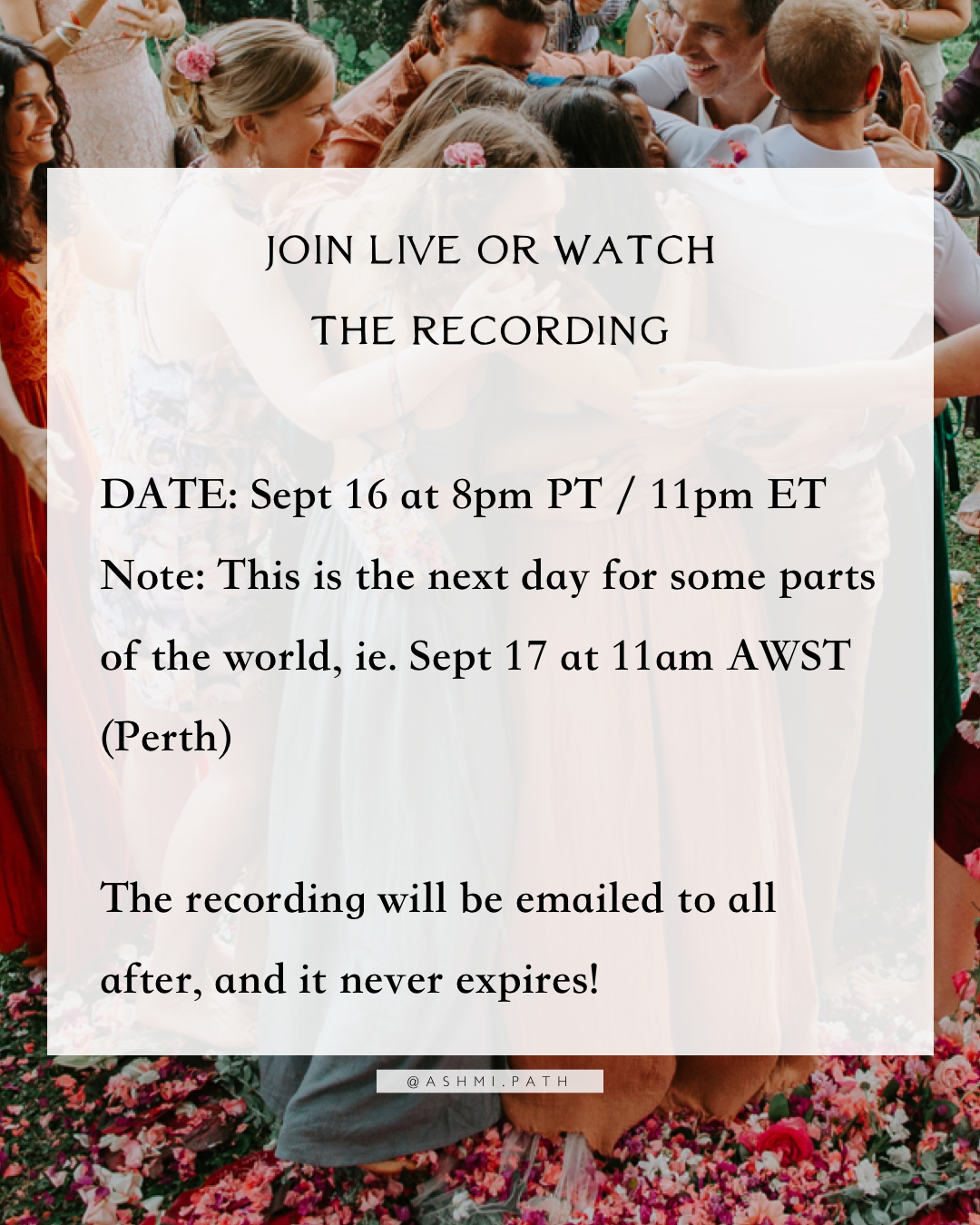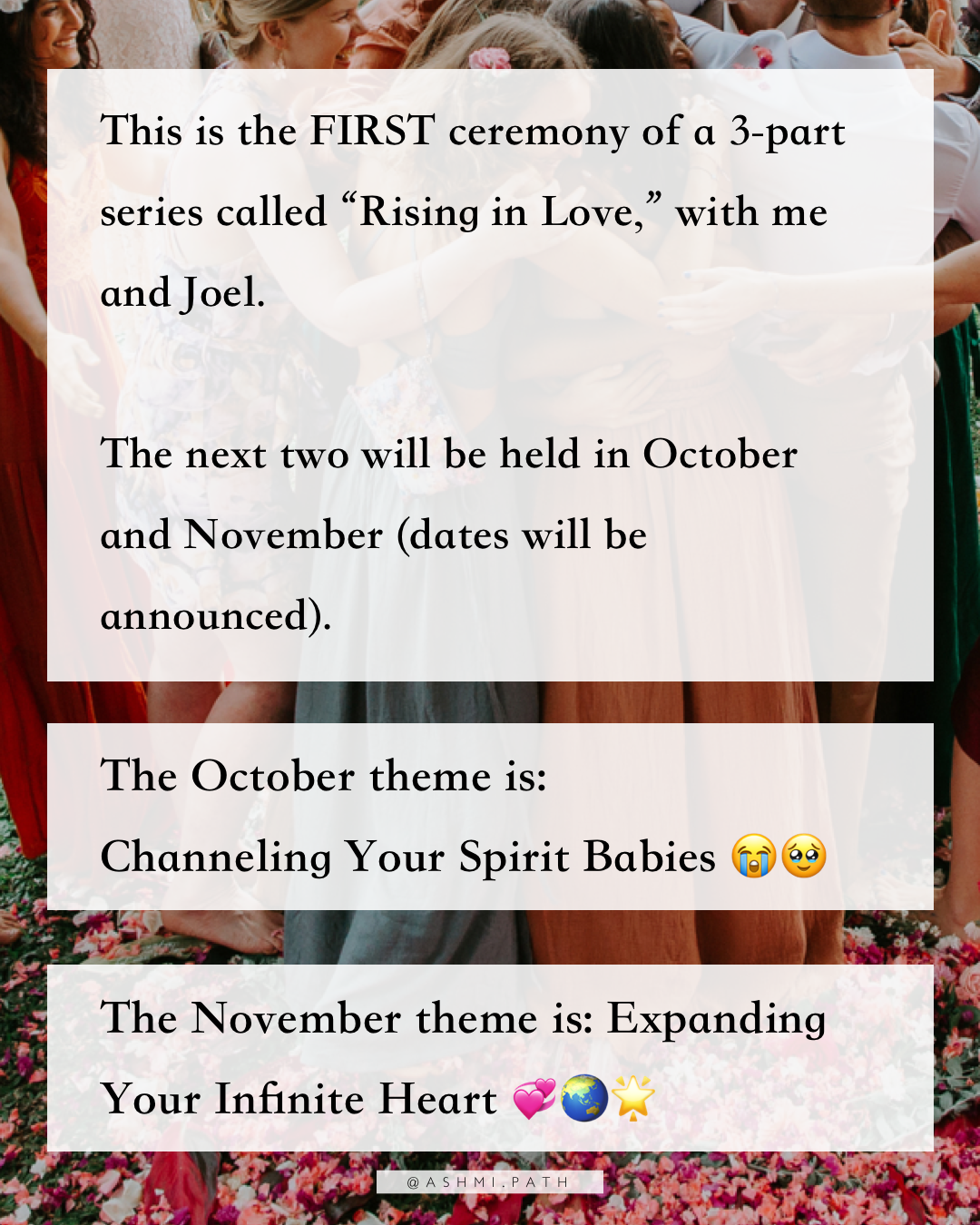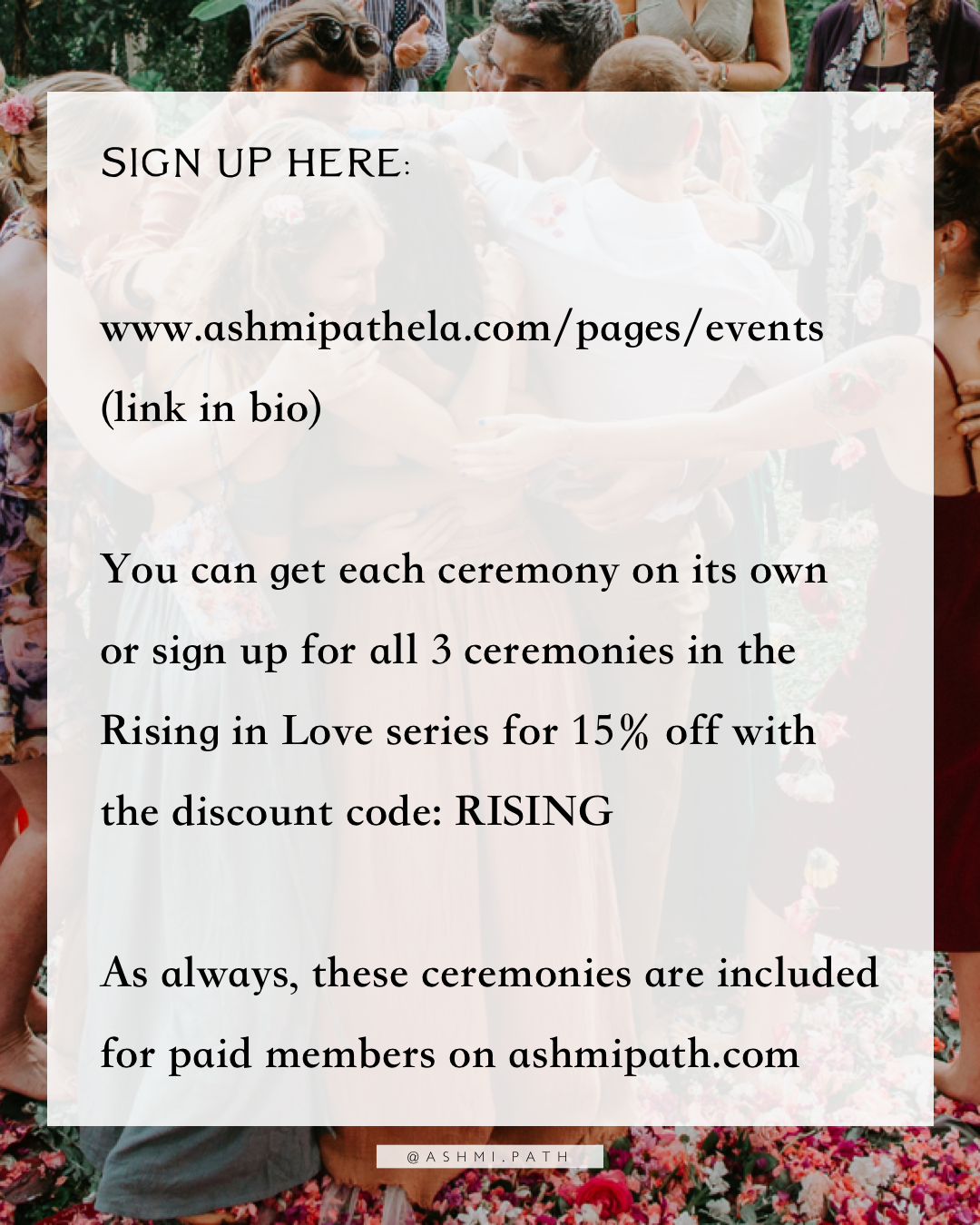 The biggest energetic clearings are taking place so that you can walk into sacred union with yourself... so that this union can be fully experienced in your being and reflected back to you by your world.
In the weeks leading up to our wedding, Joel and I went on a journey beyond our anticipation. It was not even about clearing the layers to bring us closer as a couple (though it did) — it was about walking more deeply into union with ourselves, union with the divine, union with the truth of who we are.
Two weeks before the wedding, everything ramped up. We went through a rapid series of intense shifts & realizations:
— Energetic clearings
— Physical pain, rooted in ancestral and core fears
— Opening the heart even more
— Opening the channels in our being
— Connecting with Source
— Connecting with the energy of our future children
— Channeling our higher selves
— Channeling our vows
— Letting go and forgiving
— Integrating and unifying our past
— Family healing
— And so much more.
SACRED UNION BEGINS WITH YOU.
It starts with the union within yourself, the love in your heart — the capacity to rise to the heights of this love in your heart, extend it to yourself, and out into the world.
SACRED UNION IS A MASSIVE COSMIC ENERGY THAT BRINGS YOU INTO FEELING THE ONENESS WITH ALL LIVING BEINGS, THE EARTH, THE UNIVERSE, AND YOUR OWN SOUL.
SACRED UNION IS ULTIMATELY FOUND WITHIN YOURSELF — AND, THEN YOU WILL FEEL IT WITH EVERYTHING AND EVERYONE AROUND YOU.
The shifts and realizations Joel and I anchored in the last couple months (leading up to, during, and after, our wedding) have been profound. And we wanted to create a space to share this energy with all of you.
For the first time as husband and wife, we will guide a ceremony together for all of us to explore this divine theme of SACRED UNION.
RISING IN LOVE: SACRED UNION — ONLINE GUIDED CEREMONY
2-hour special with me and Joel
45-minute guided ceremony
75-minute sharing & Q&A
JOIN LIVE OR WATCH THE RECORDING
DATE: Sept 16 at 8pm PT / 11pm ET
Note: This is the next day for some parts of the world, ie. Sept 17 at 11am AWST (Perth)
The recording will be emailed to all after, and it never expires!
Format: 2-hour group video call on Zoom
Guided ceremony/meditation: 45 minutes
Open sharing and Q&A: 75 minutes
This is the FIRST ceremony of a 3-part series called "Rising in Love," with me and Joel
Or, you can sign up for all 3 ceremonies in the Rising in Love series for $65 USD if you know you want access to all 3 ceremonies + recordings.
The next two will be held in October and November (dates will be announced).
The October theme is Channeling Your Spirit Babies
The November theme is Expanding Your Infinite Heart
TICKETS
www.ashmipathela.com/pages/events
There is a sliding scale for tickets. Choose the amount you feel called to give: $25, $35, or $45 USD.
You can get each ceremony on its own or sign up for all 3 ceremonies in the Rising in Love series for 15% off with the discount code: RISING
As always, these ceremonies are included for members ~ you can get the membership for access to this ceremony and all previous recordings, bonuses, and more at ashmipath.com.
THIS CEREMONY IS INCLUDED FOR THOSE WHO ARE PAID MEMBERS — You will receive an email with the Zoom link and the ceremony recording. You're automatically subscribed — you don't need to sign up again.
Written with love,
Ashmi