How to Cry to Release Suppressed Emotions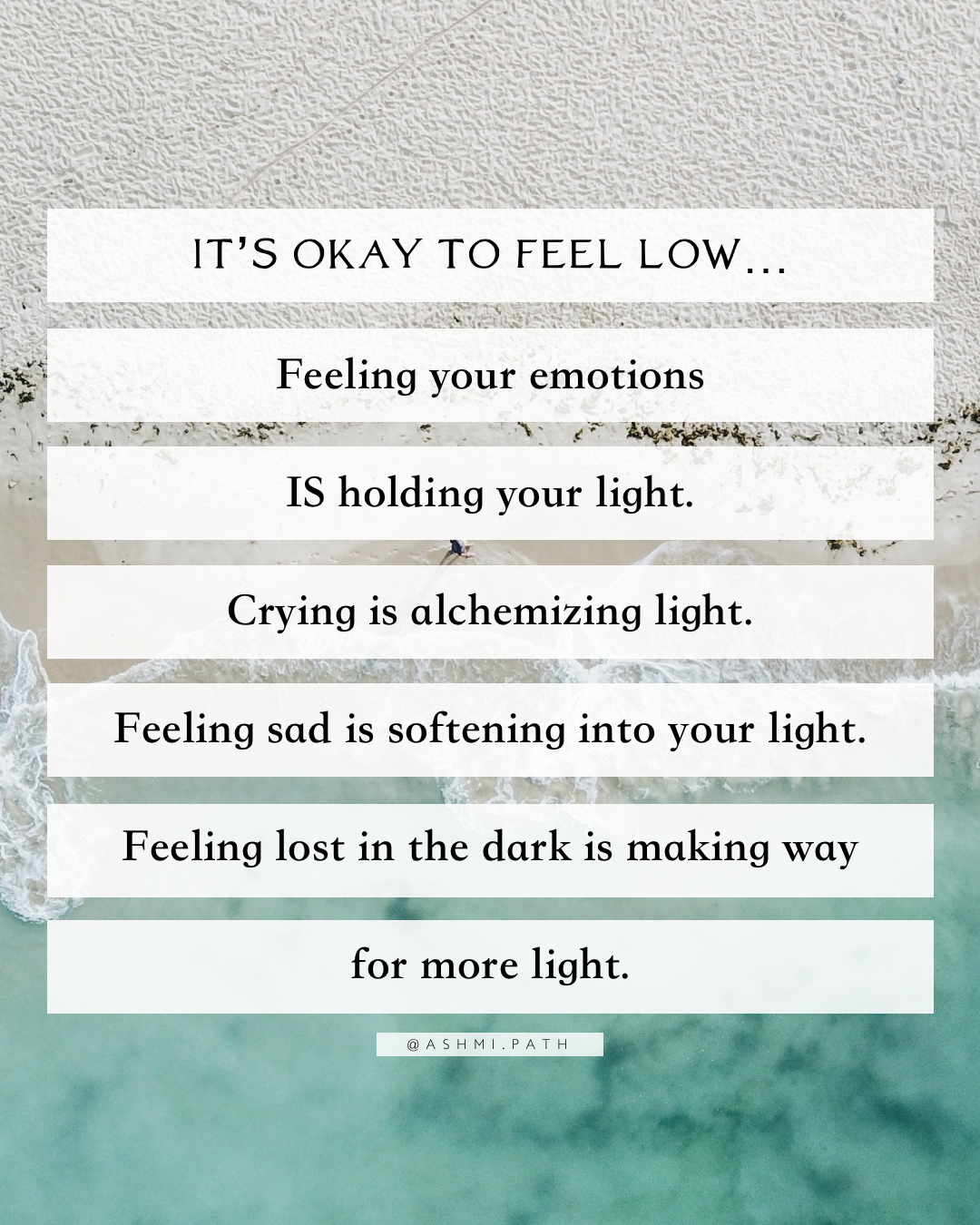 The guide I never thought I'd write...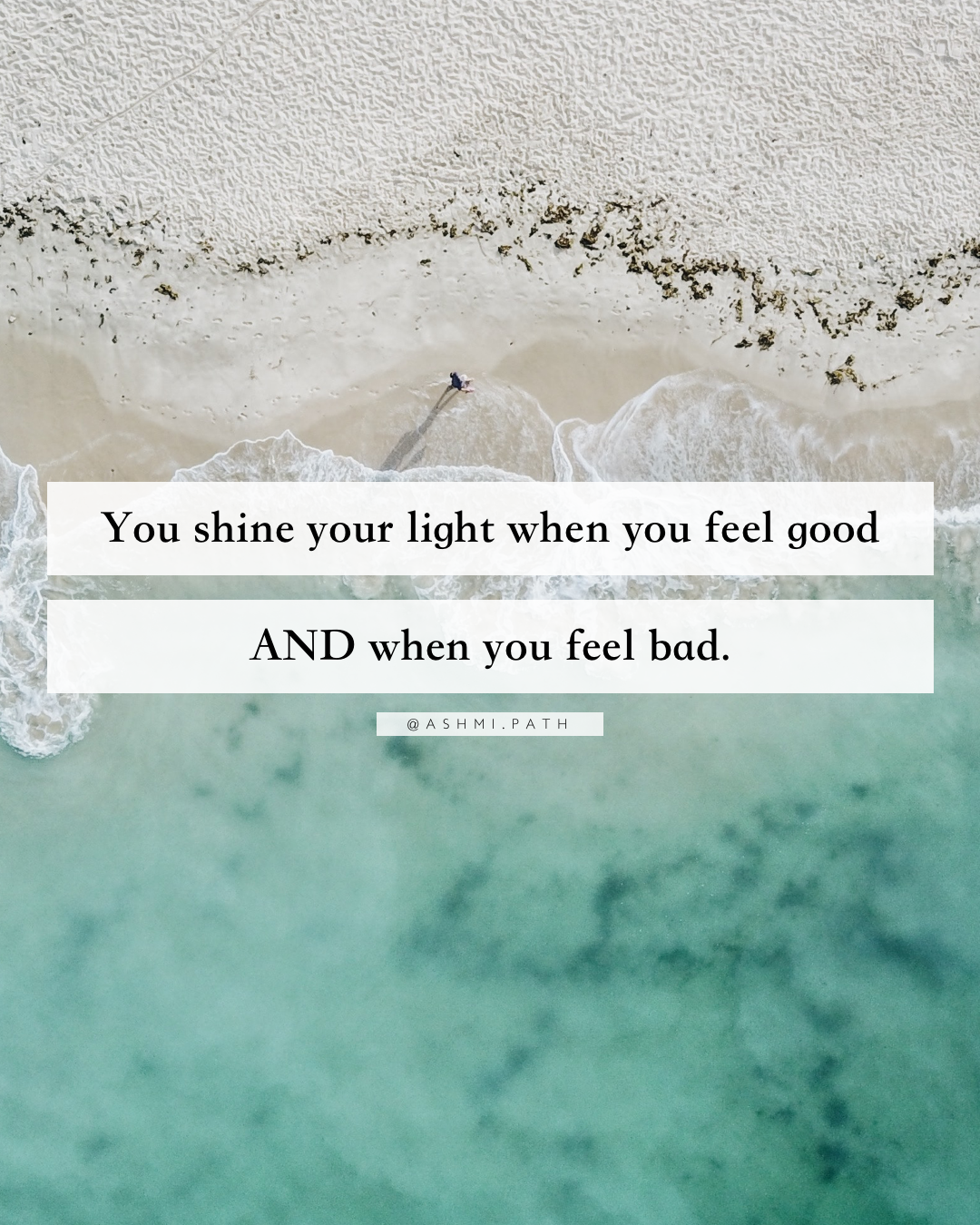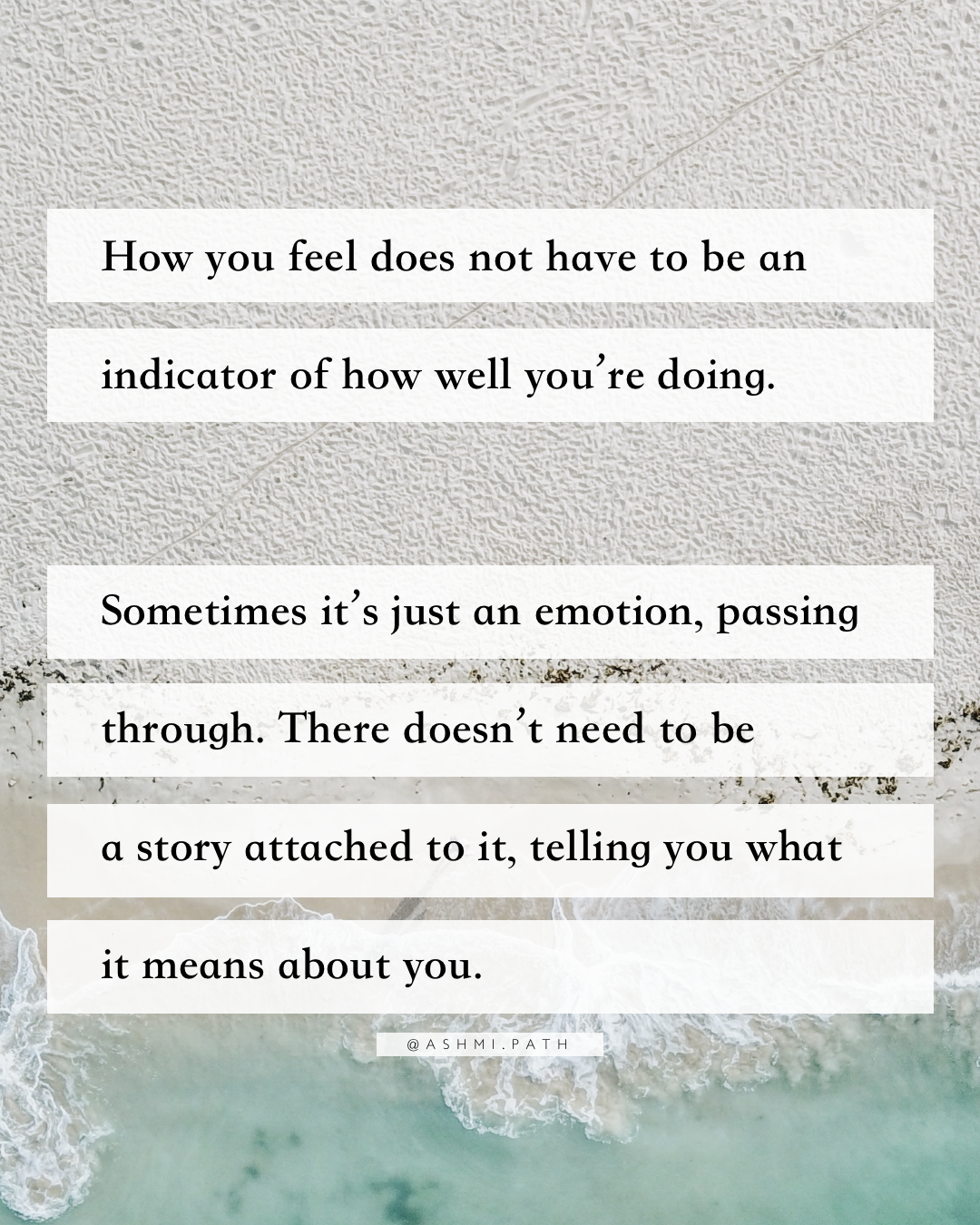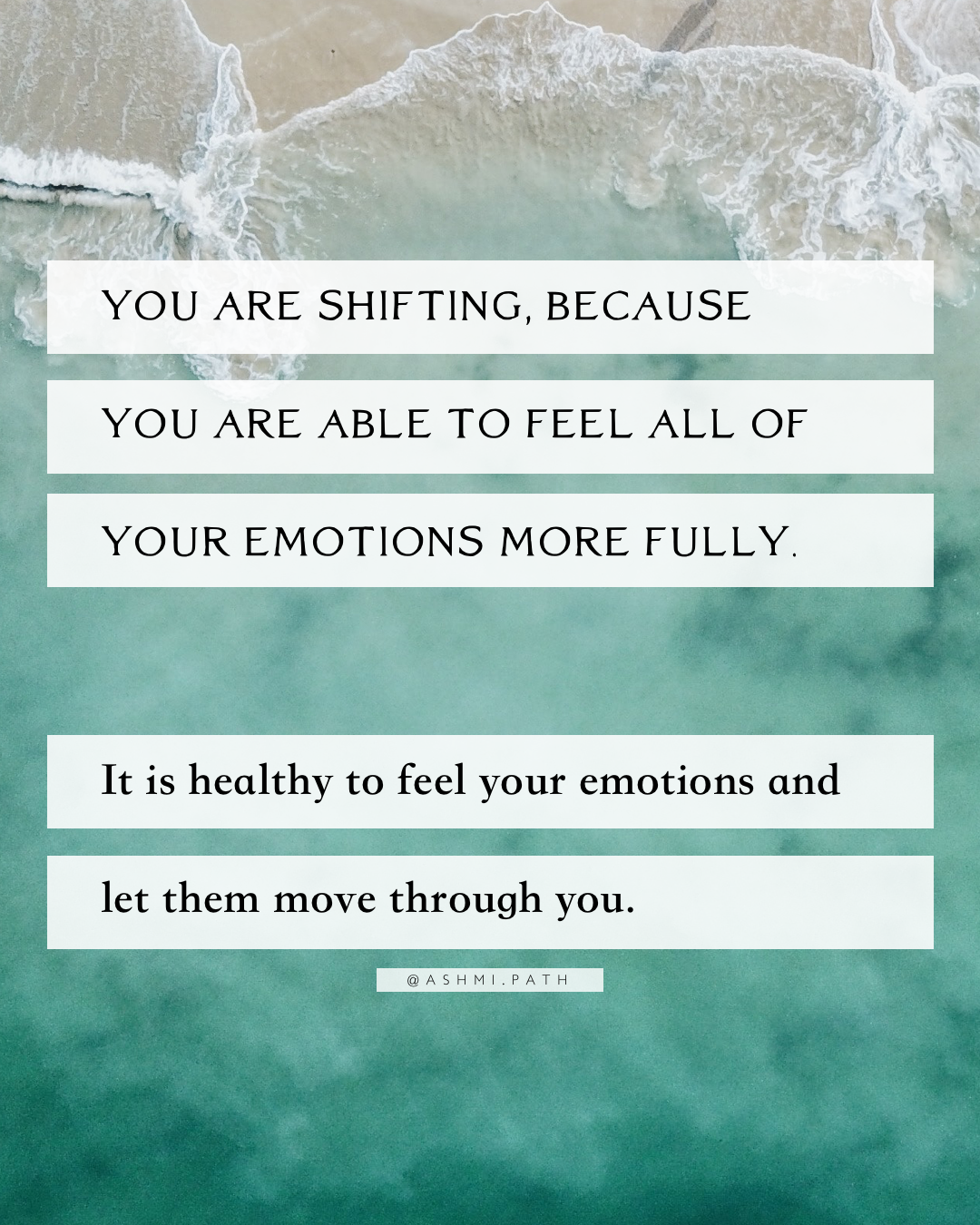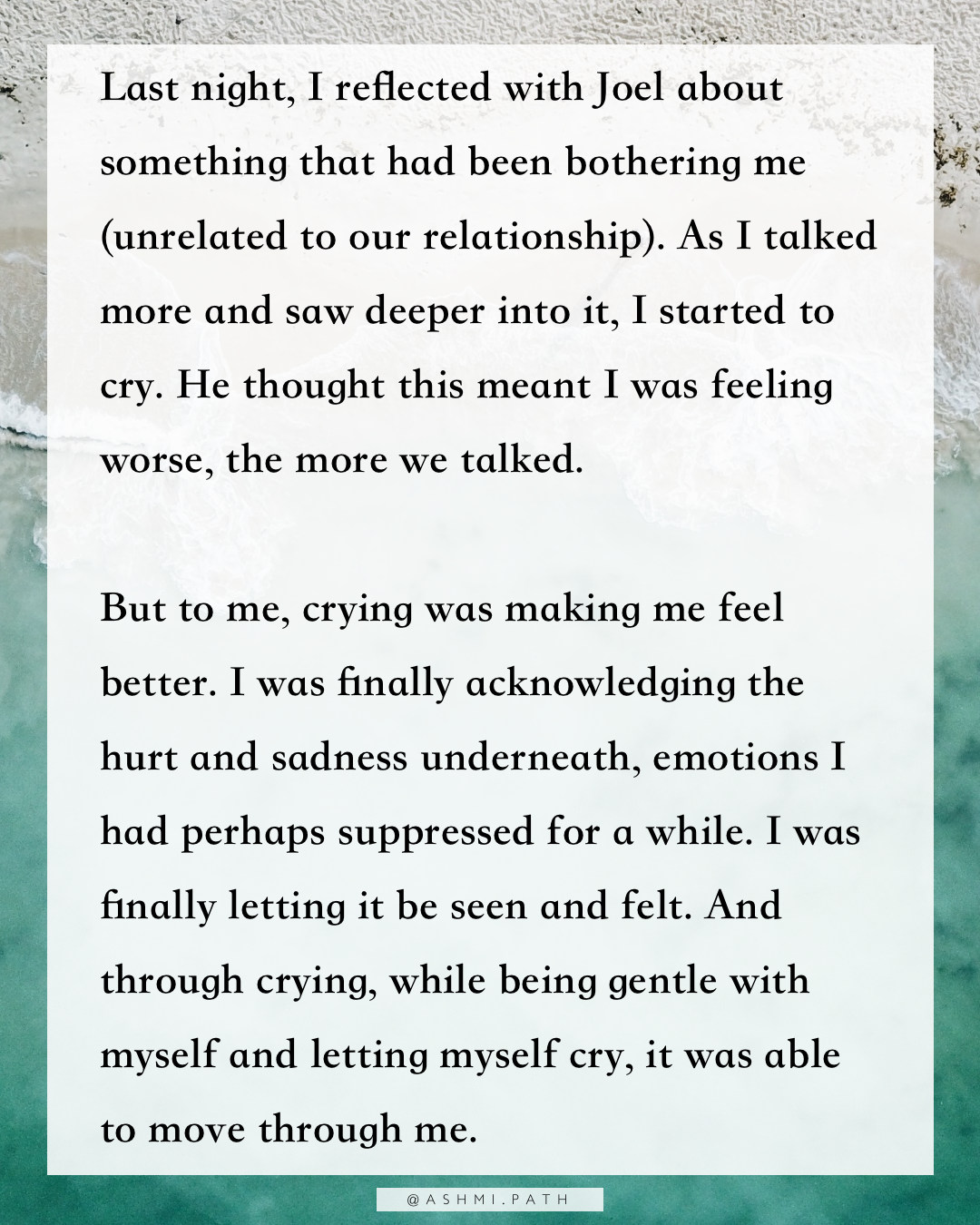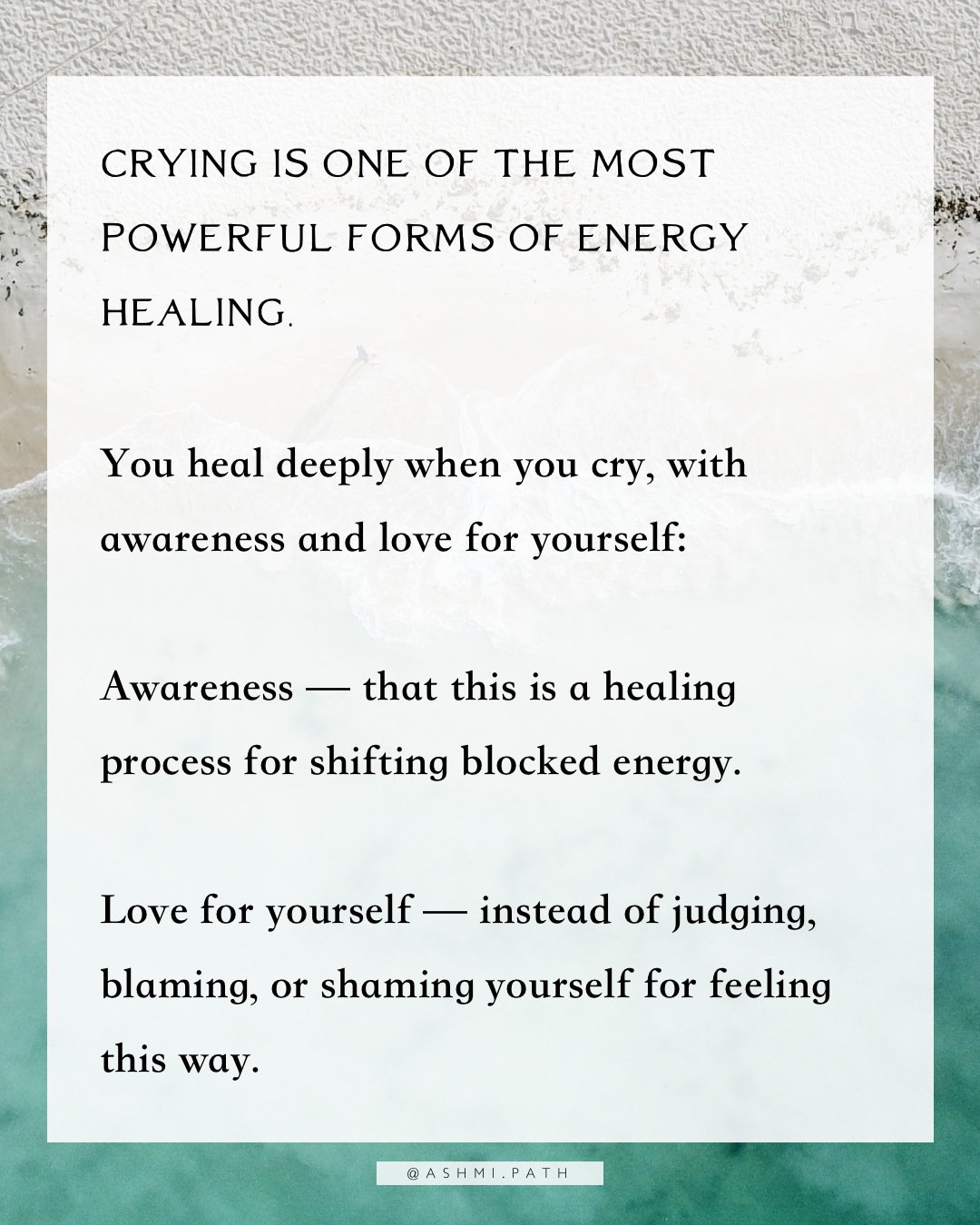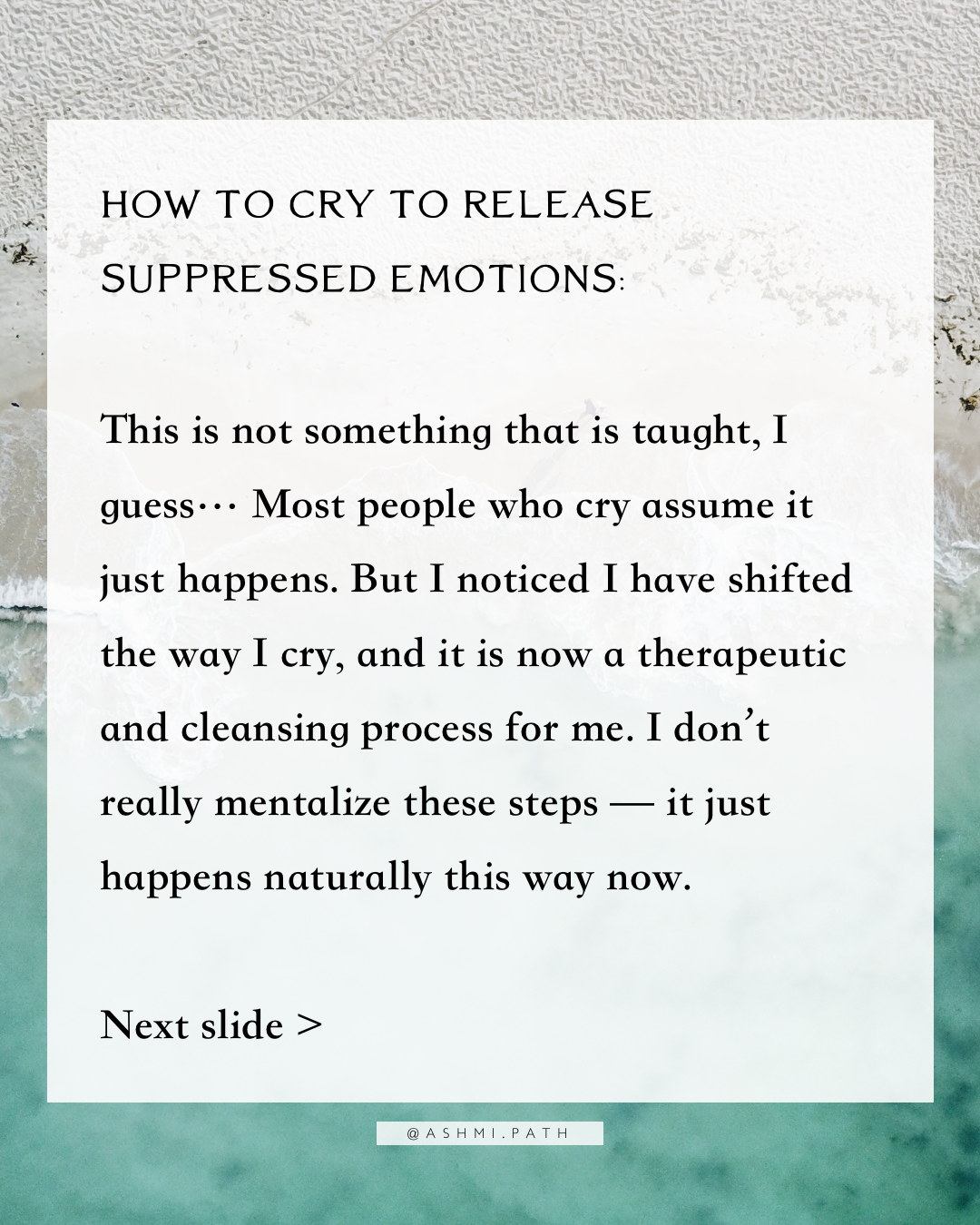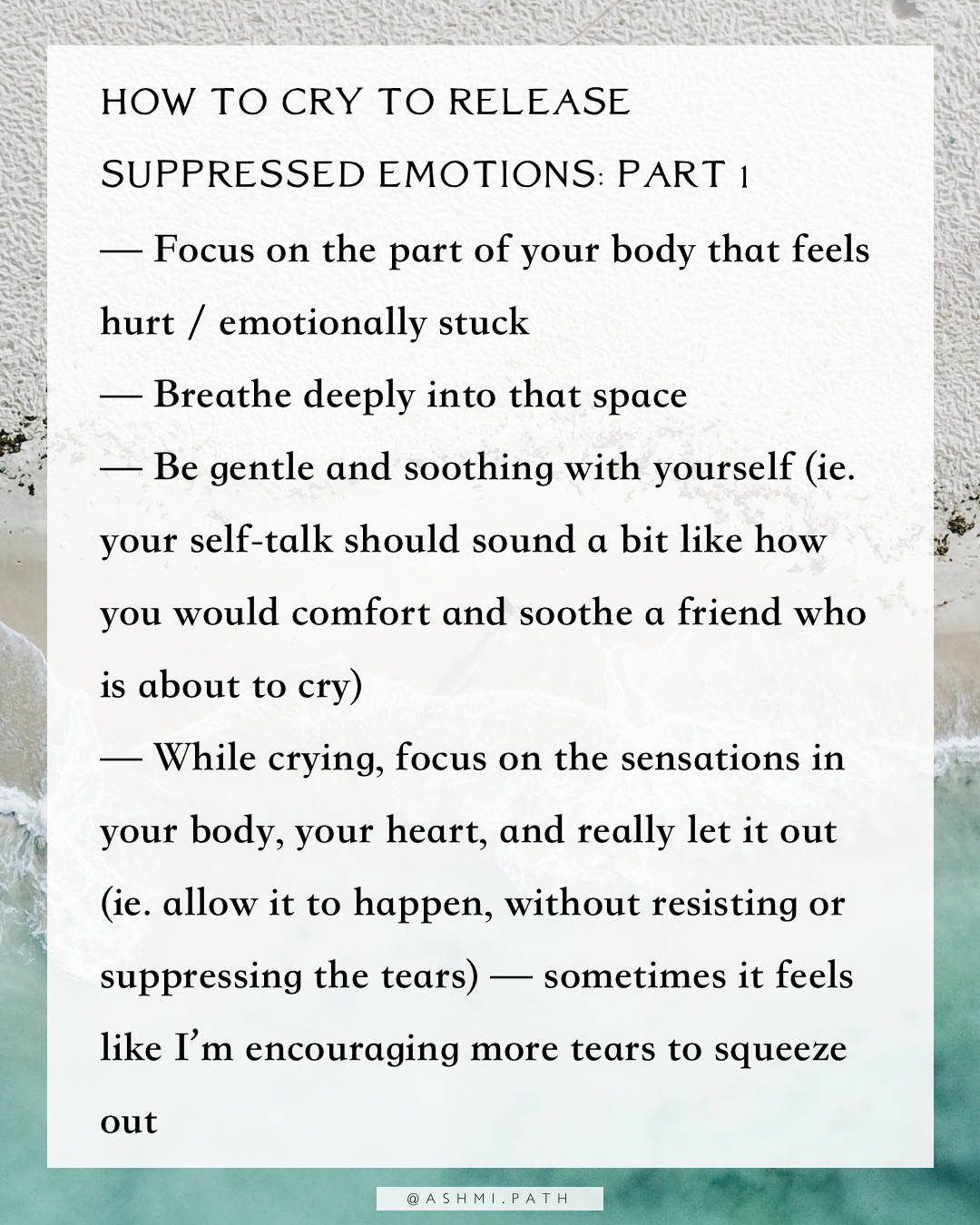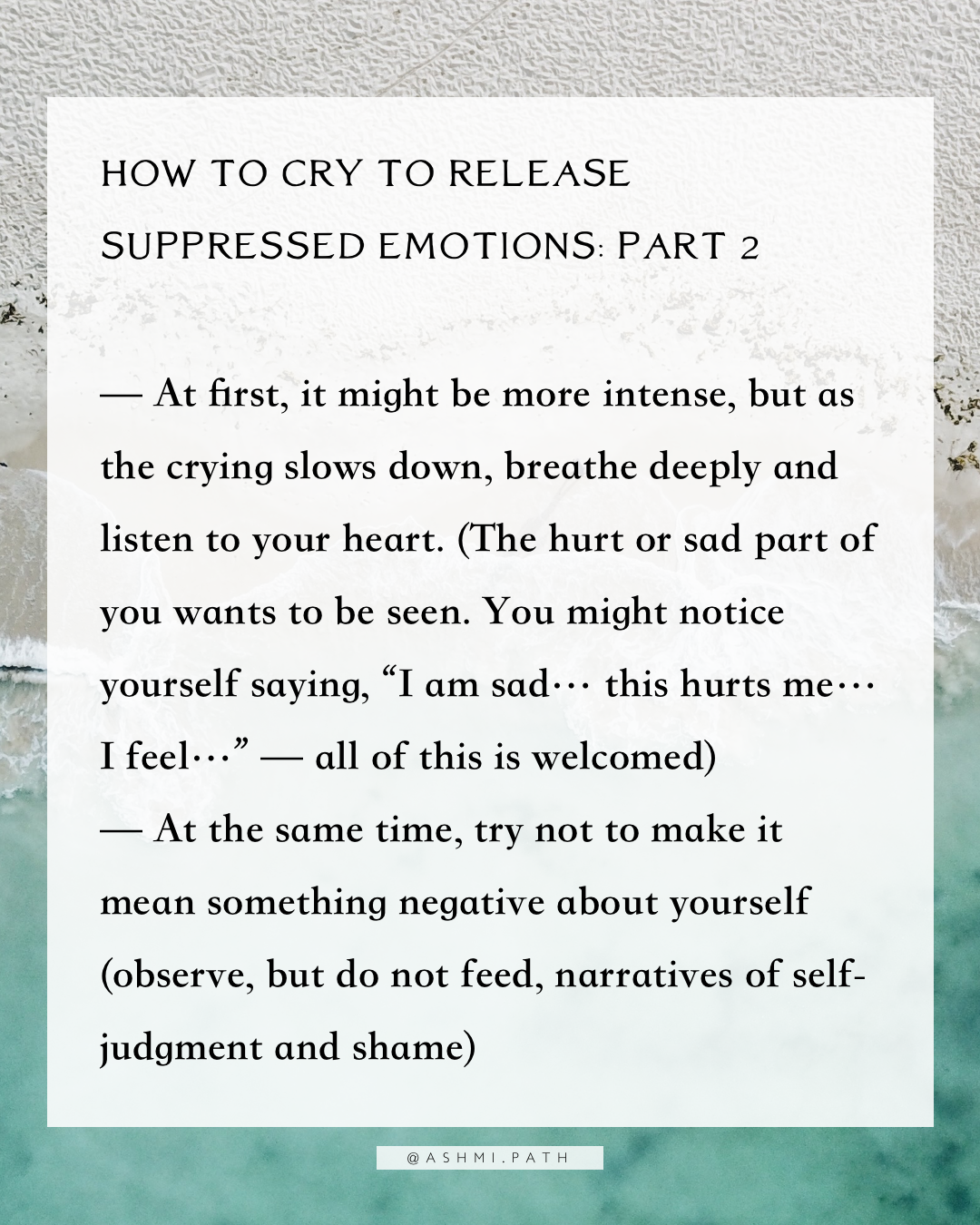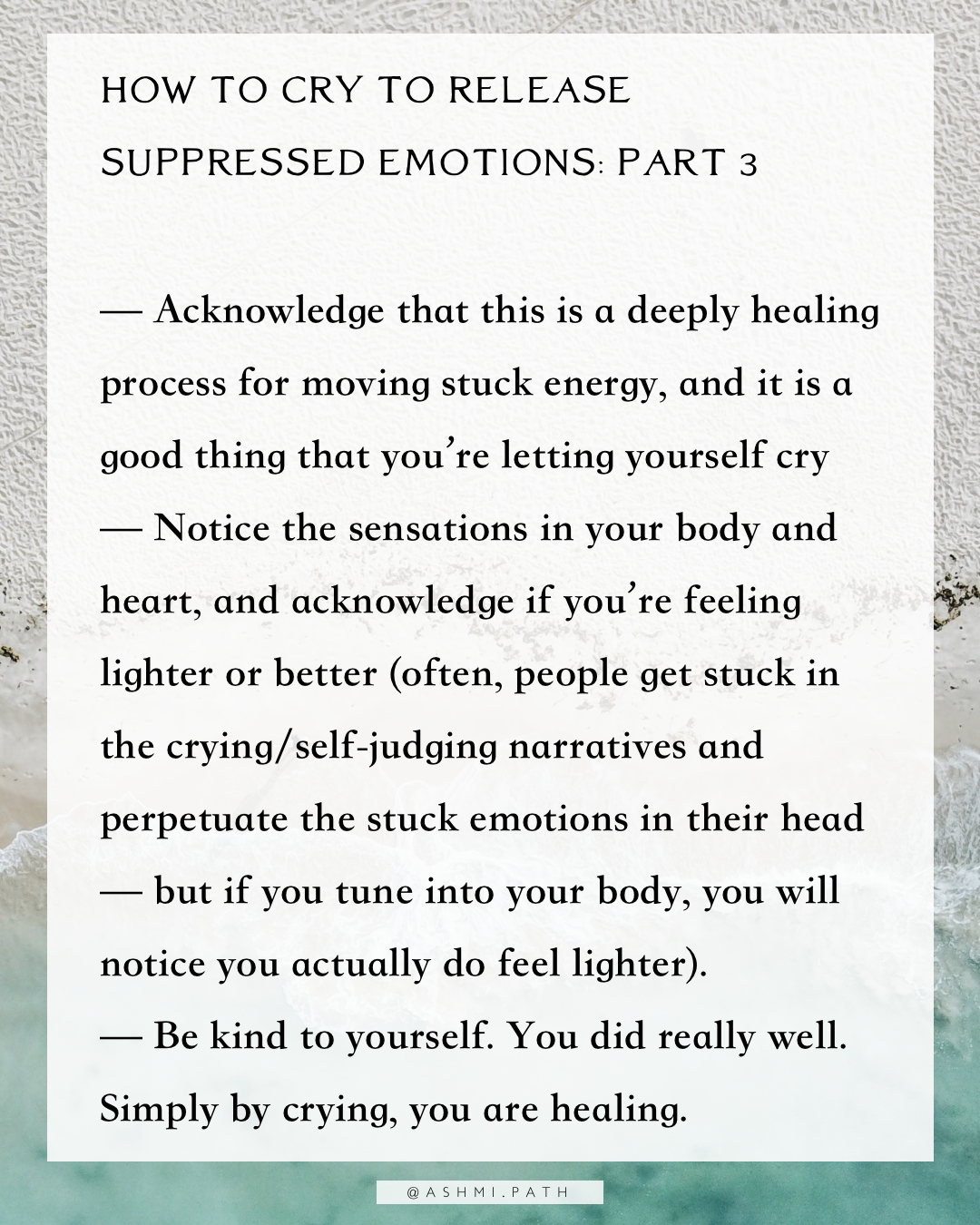 IT'S OKAY TO FEEL LOW…
Feeling your emotions IS holding your light.
Crying is alchemizing light.
Feeling sad is softening into your light.
Feeling lost in the dark is making way for more light.
You shine your light when you feel good AND when you feel bad.
How you feel does not have to be an indicator of how well you're doing.
Sometimes it's just an emotion, passing through. There doesn't need to be a story attached to it, telling you what it means about you.
YOU ARE SHIFTING, BECAUSE YOU ARE ABLE TO FEEL ALL OF YOUR EMOTIONS MORE FULLY.
It is healthy to feel your emotions and let them move through you.
Last night, I reflected with Joel about something that had been bothering me (unrelated to our relationship). As I talked more and saw deeper into it, I started to cry. He thought this meant I was feeling worse, the more we talked.
But to me, crying was making me feel better. I was finally acknowledging the hurt and sadness underneath, emotions that I had perhaps suppressed for a while. I was finally letting it be seen and felt. And through crying, while being gentle with myself and letting myself cry, it was able to move through me.
CRYING IS ONE OF THE MOST POWERFUL FORMS OF ENERGY HEALING.
You heal deeply when you cry, with awareness and love for yourself:
Awareness — that this is a healing process for shifting blocked energy.
Love for yourself — instead of judging, blaming, or shaming yourself for feeling this way.
HOW TO CRY TO RELEASE SUPPRESSED EMOTIONS:
This is not something that is taught, I guess… Most people who cry assume it just happens. But I noticed I have shifted the way I cry, and it is now a therapeutic and cleansing process for me. I don't really mentalize it — it just happens naturally this way now.
— Focus on the part of your body that feels hurt / emotionally stuck
— Breathe deeply into that space
— Be gentle and soothing with yourself (ie. your self-talk should sound a bit like how you would comfort and soothe a friend who is about to cry)
— While crying, focus on the sensations in your body, your heart, and really let it out (ie. allow it to happen, without resisting or suppressing the tears) — sometimes it feels like I'm encouraging more tears to squeeze out
— At first, it might be more intense, but as the crying slows down, breathe deeply and listen to your heart (The hurt or sad part of you wants to be seen. You might notice yourself saying, "I am sad… this hurts me… I feel…" — all of this is welcomed)
— At the same time, try not to make it mean something negative about yourself (observe, but do not feed, narratives of self-judgment and shame)
— Acknowledge that this is a deeply healing process for moving stuck energy, and it is a good thing that you're letting yourself cry
— Notice the sensations in your body and heart, and acknowledge if you're feeling lighter or better (often, people get stuck in the crying/self-judging narratives and perpetuate the stuck emotions in their head — but if you tune into your body, you will notice you actually do feel lighter).
— Be kind to yourself. You did really well. Simply by crying, you are healing.
Written with love,
Ashmi