I Had Been Feeling Disconnected from Joel Without Realizing It...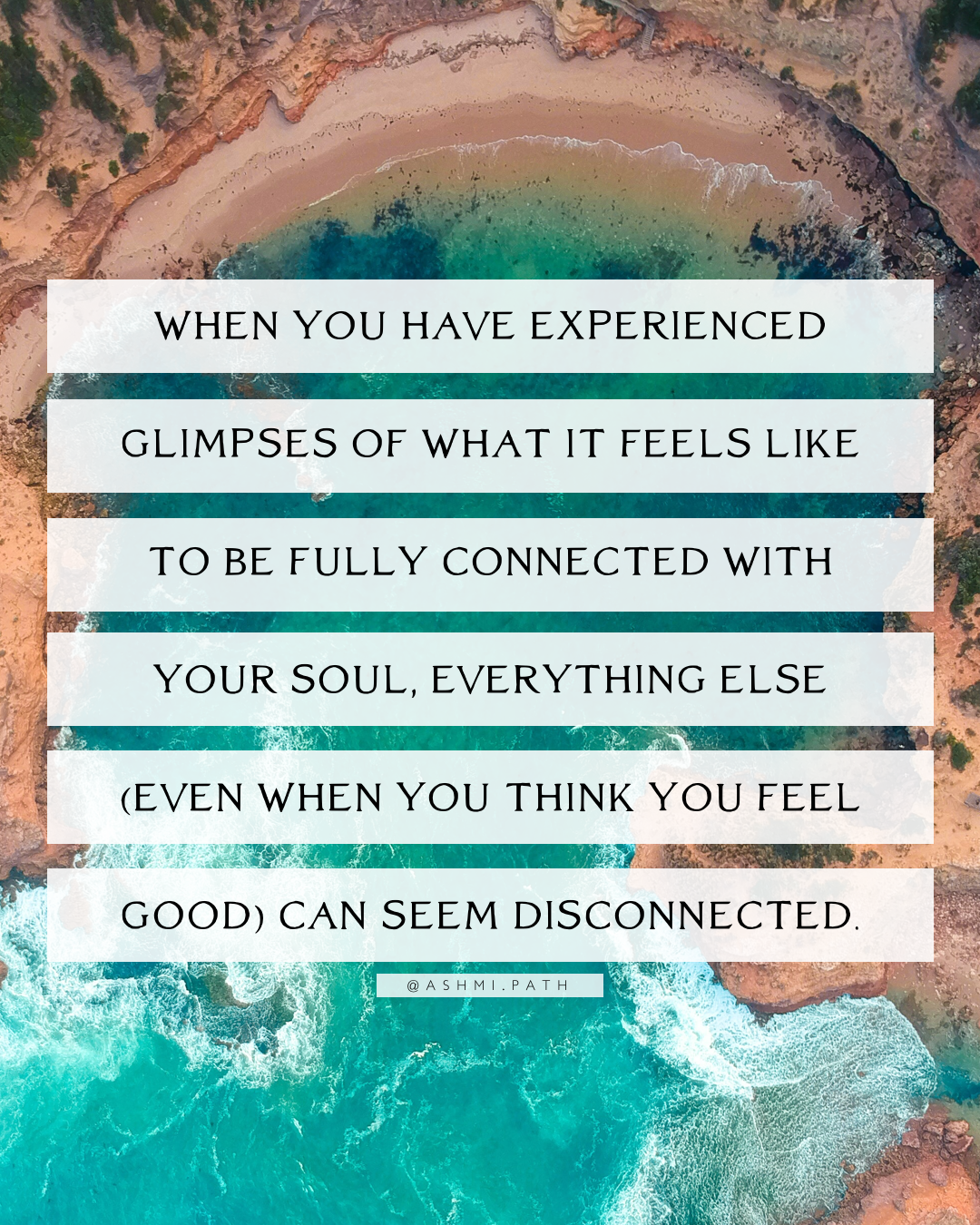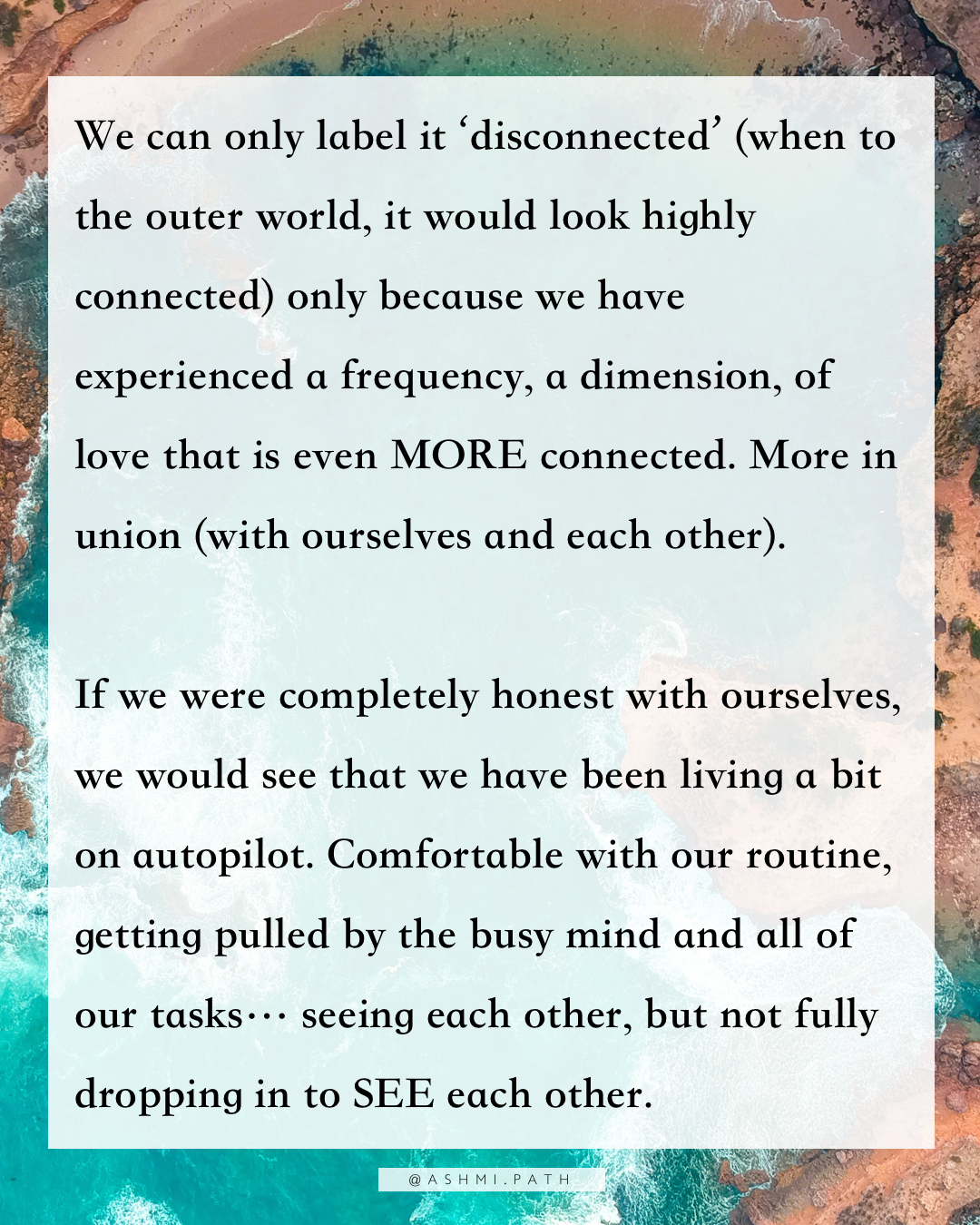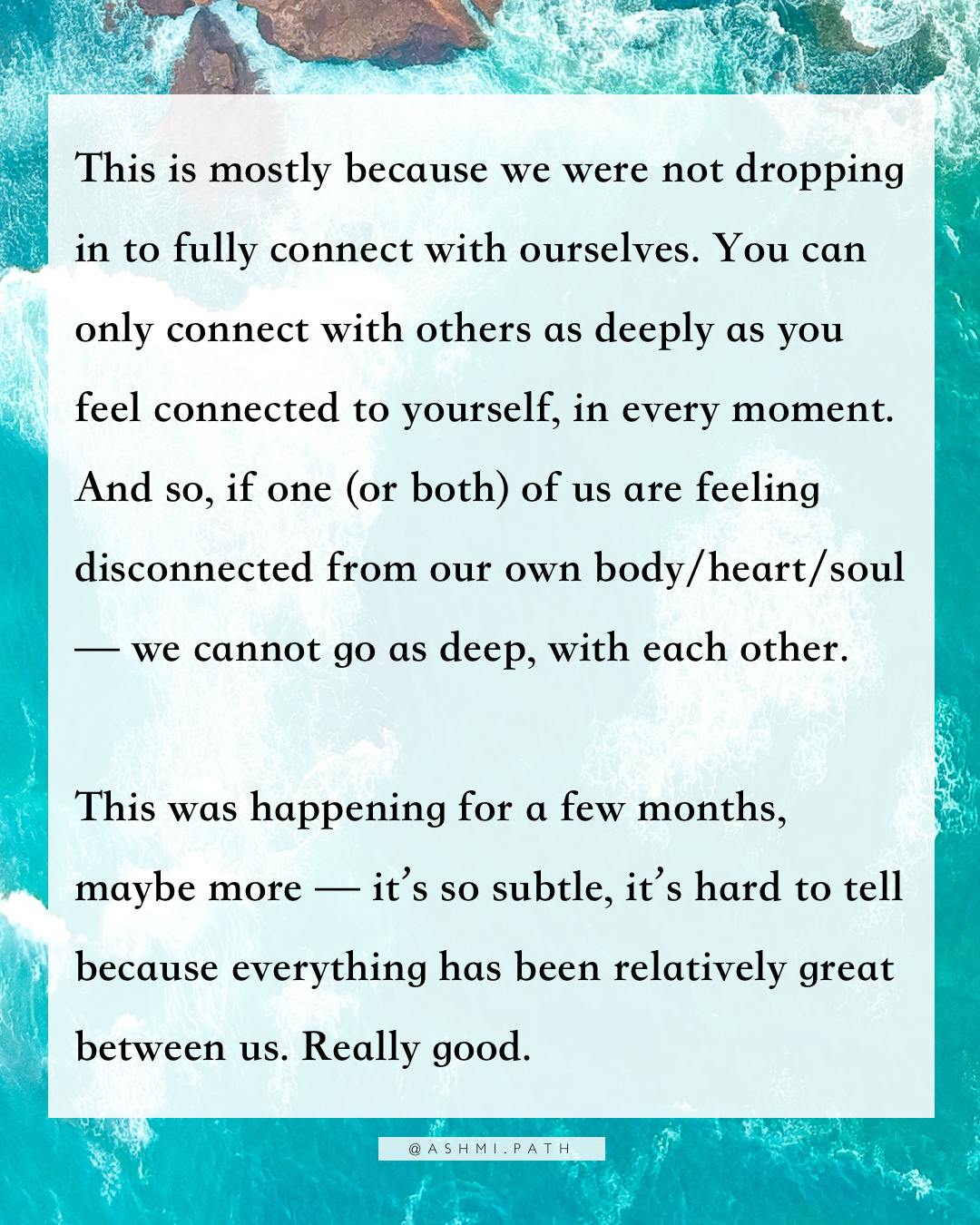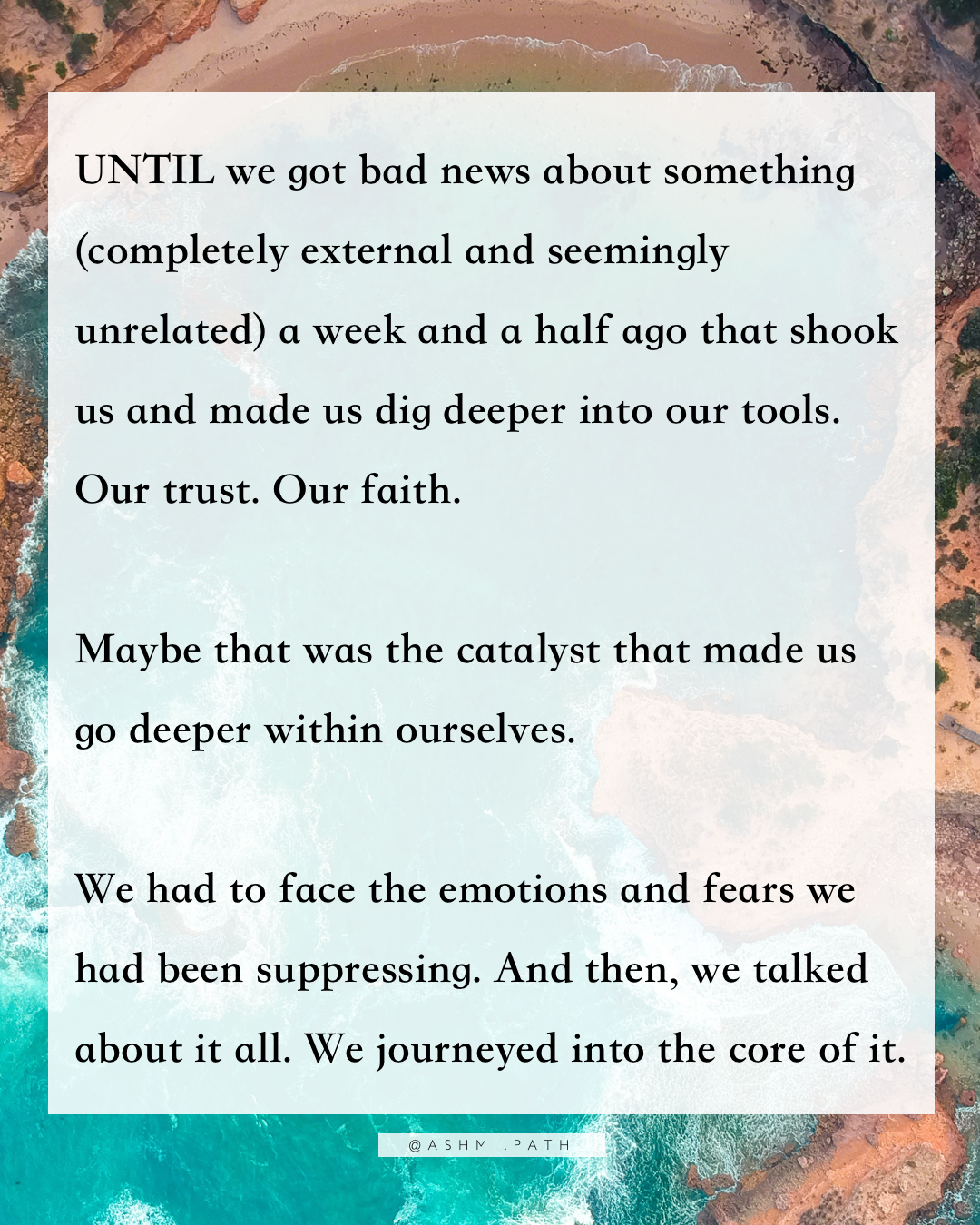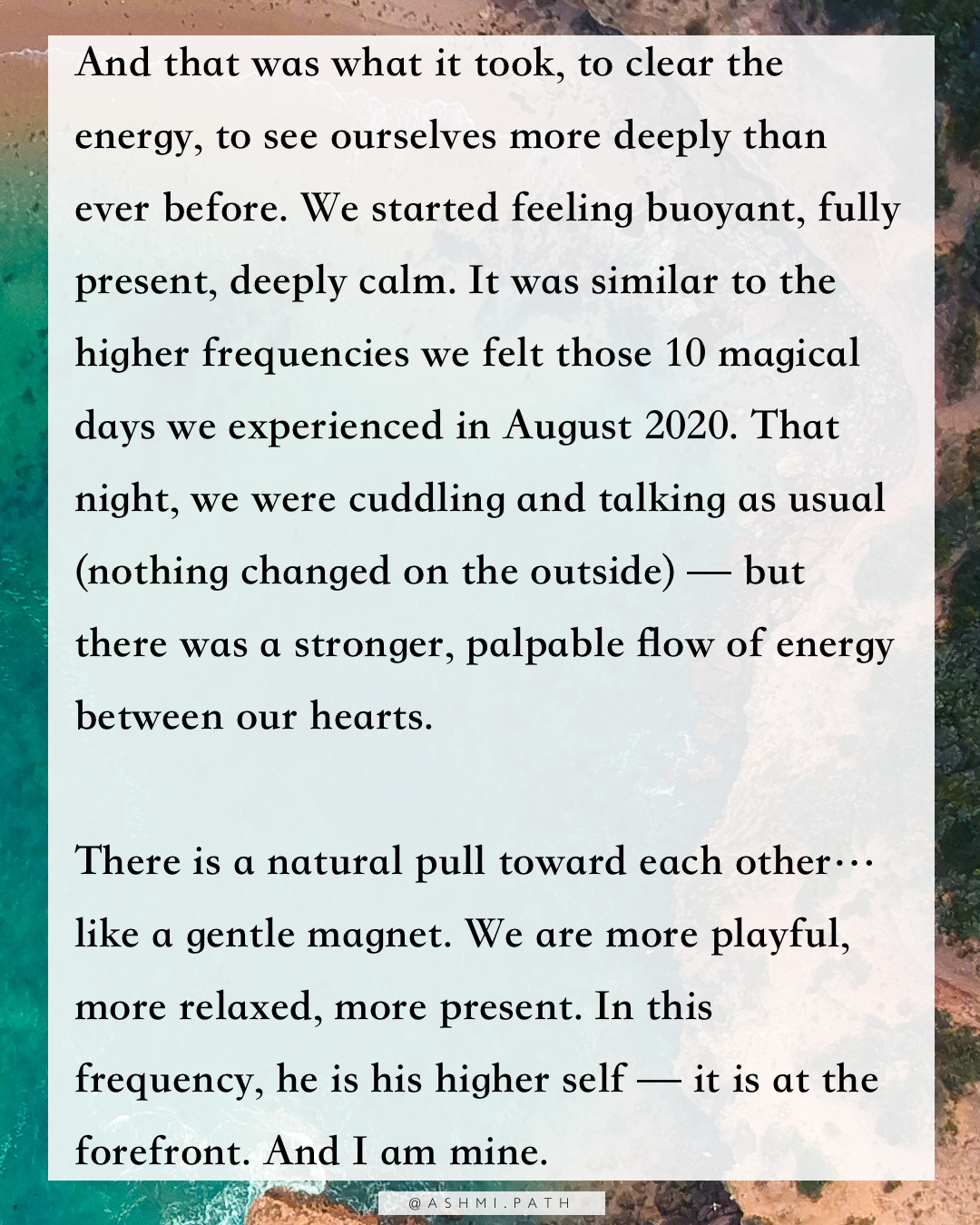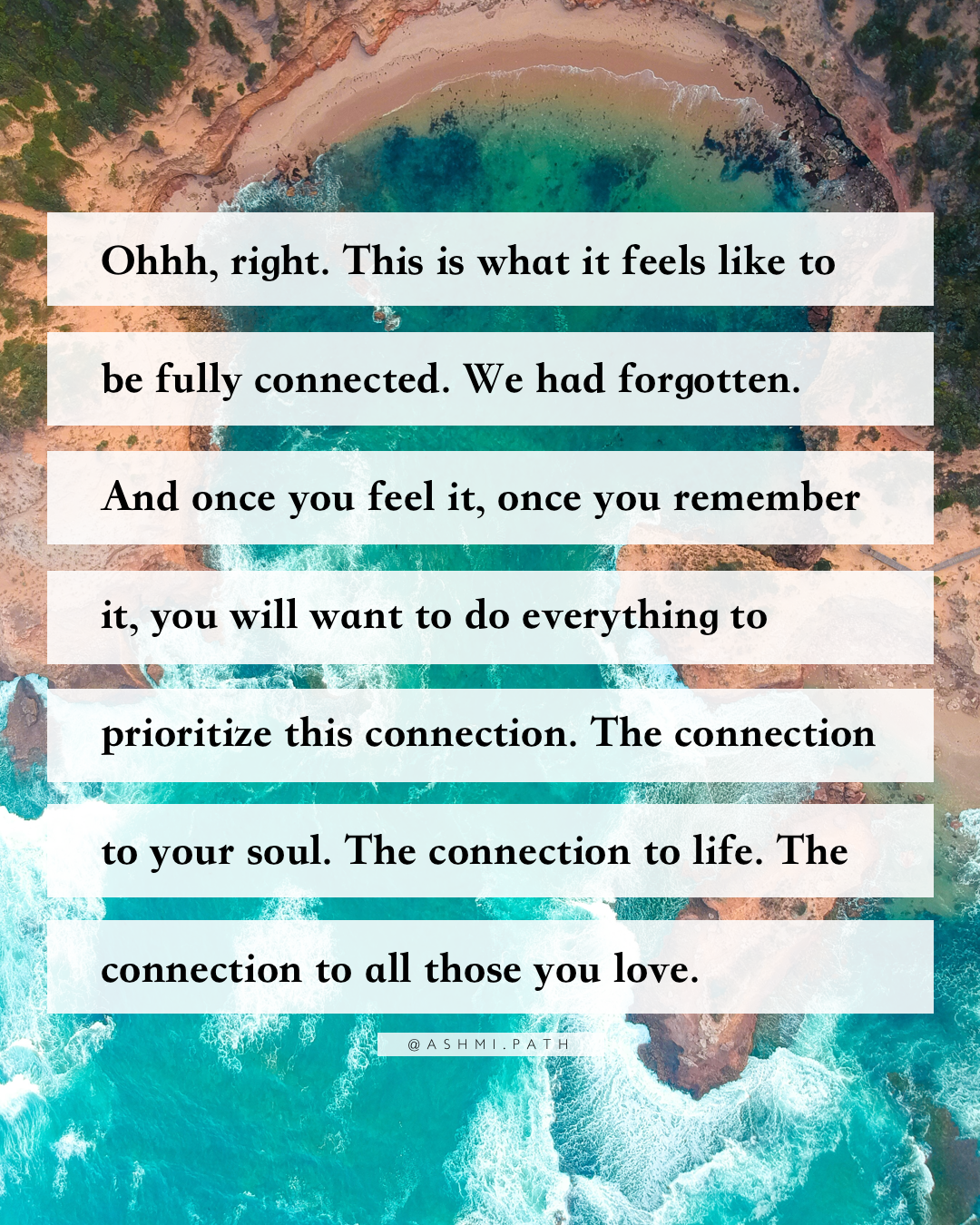 WHEN YOU HAVE EXPERIENCED GLIMPSES OF WHAT IT FEELS LIKE TO BE FULLY CONNECTED WITH YOUR SOUL, EVERYTHING ELSE (EVEN WHEN YOU THINK YOU FEEL GOOD) CAN SEEM DISCONNECTED.
There is a noticeable gap, between the highest frequencies you have experienced, the connection you know is possible, and your 'normal' state.
Joel and I were feeling disconnected (from ourselves, and therefore, each other) for a while without fully realizing it. Life was good, we were good; it felt normal. We have still been laughing as usual, staying up late and chatting about everything in the cosmos as usual, having fun as usual.
Things are going well, we love each other more with every day, and in many ways we have even more appreciation for life and each other than ever before.
We can only label it 'disconnected' (when to the outer world, it would look highly connected) only because we have experienced a frequency, a dimension, of love that is even MORE connected. More in union (with ourselves and each other).
If we were completely honest with ourselves, we would see that we have been living a bit on autopilot. Comfortable with our routine, getting pulled by the busy mind and all of our tasks… seeing each other, but not fully dropping in to SEE each other.
This is mostly because we were not dropping in to fully connect with ourselves. You can only connect with others as deeply as you feel connected to yourself, in every moment. And so, if one (or both) of us are feeling disconnected from our own body/heart/soul — we cannot go as deep, with each other.
This was happening for a few months, maybe more — it's so subtle, it's hard to tell because everything has been relatively great between us. Really good.
UNTIL we got bad news about something (completely external and seemingly unrelated) a week and a half ago that shook us and made us dig deeper into our tools. Our trust. Our faith. Maybe that was the catalyst that made us go deeper within ourselves. We had to face the emotions and fears we had been suppressing. And then, we talked about it all. We journeyed into the core of it.
And that was what it took, to clear the energy, to see ourselves more deeply than ever before. We started feeling buoyant, fully present, deeply calm. It was similar to the higher frequencies we felt those 10 magical days we experienced in August 2020. That night, we were cuddling and talking as usual (nothing changed on the outside) — but there was a stronger, palpable flow of energy between our hearts.
There is a natural pull toward each other… like a gentle magnet. We are more playful, more relaxed, more present. In this frequency, he is his higher self — it is at the forefront. And I am mine.
Ohhh, right. This is what it feels like to be fully connected. We had forgotten.
And once you feel it, once you remember it, you will want to do everything to prioritize this connection. The connection to your soul. The connection to life. The connection to all those you love.
IT IS WORTH EVERYTHING TO GET OUT OF AUTOPILOT, THE LIMBO SPACE, AND JOURNEY BACK INTO YOUR HEART.
Written with love,
Ashmi