On Creating Change in Our Outer and Inner World (Parts 1 & 2)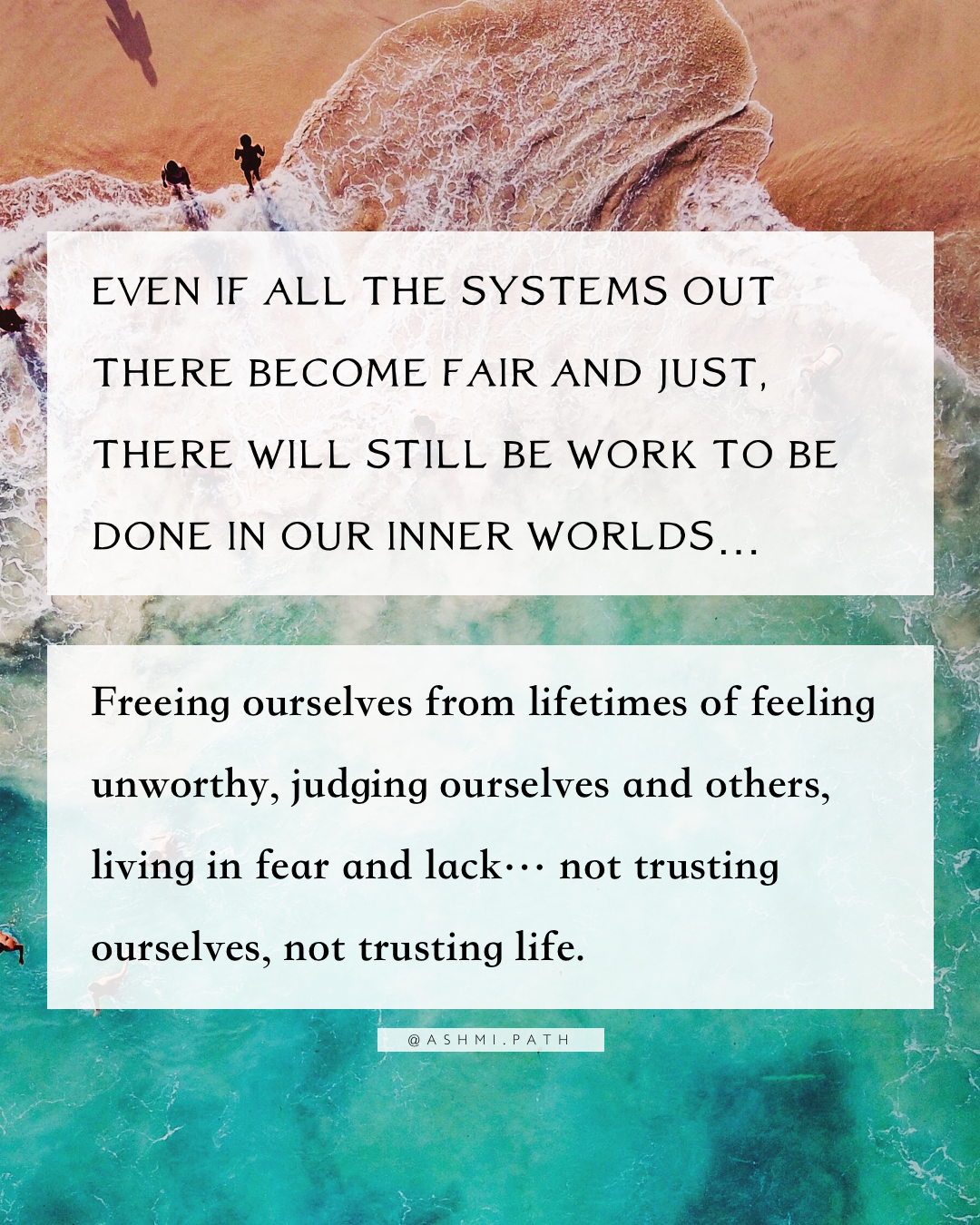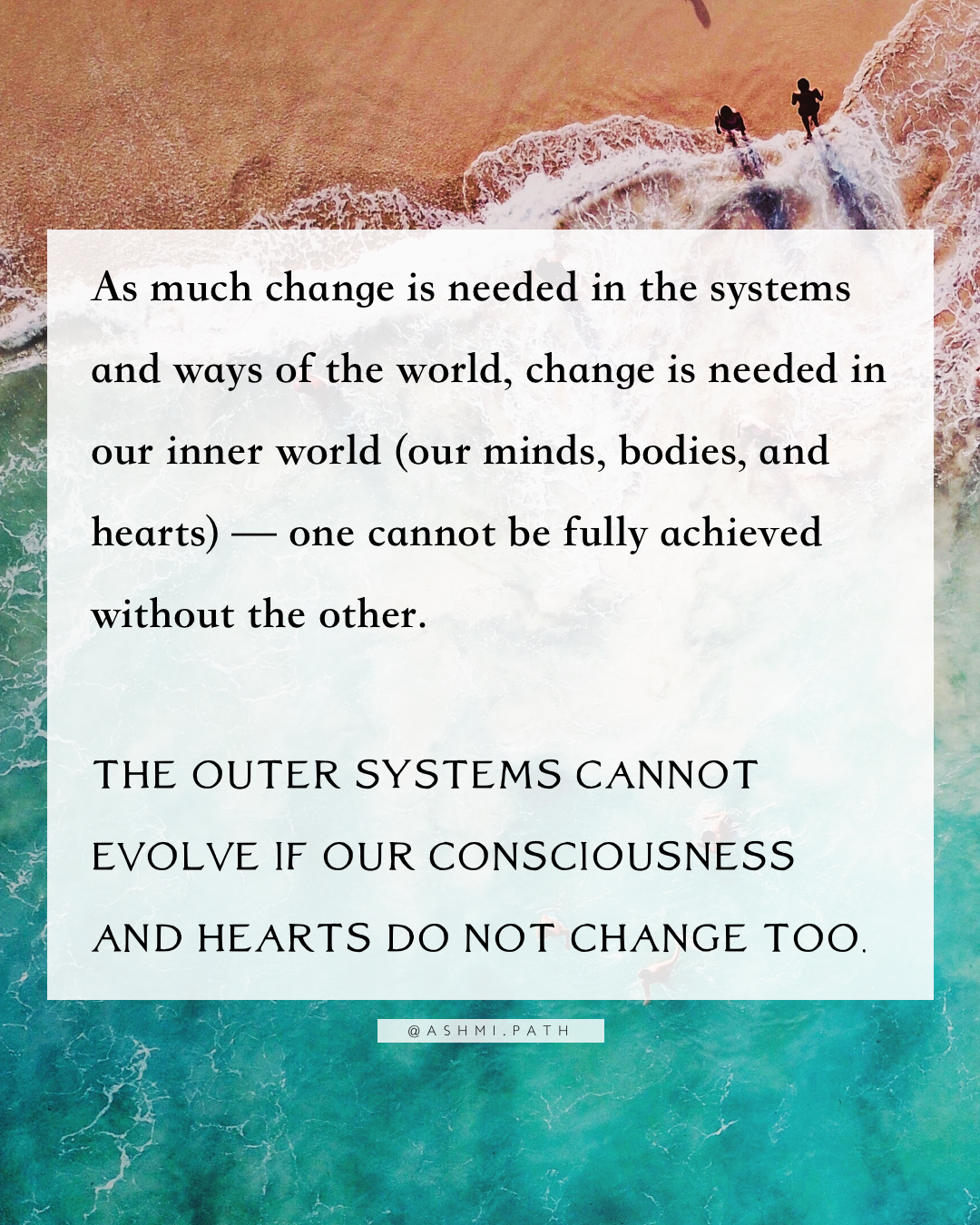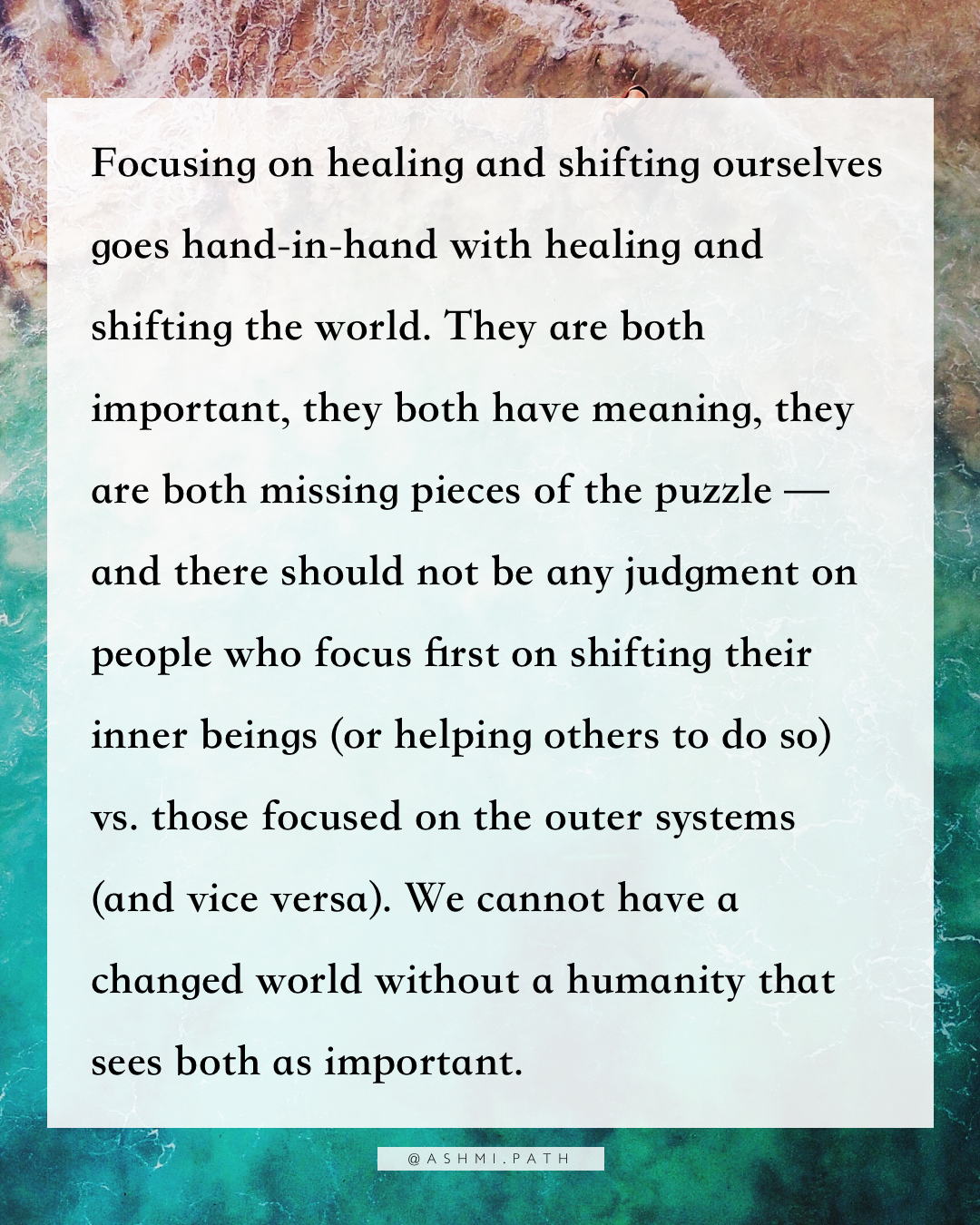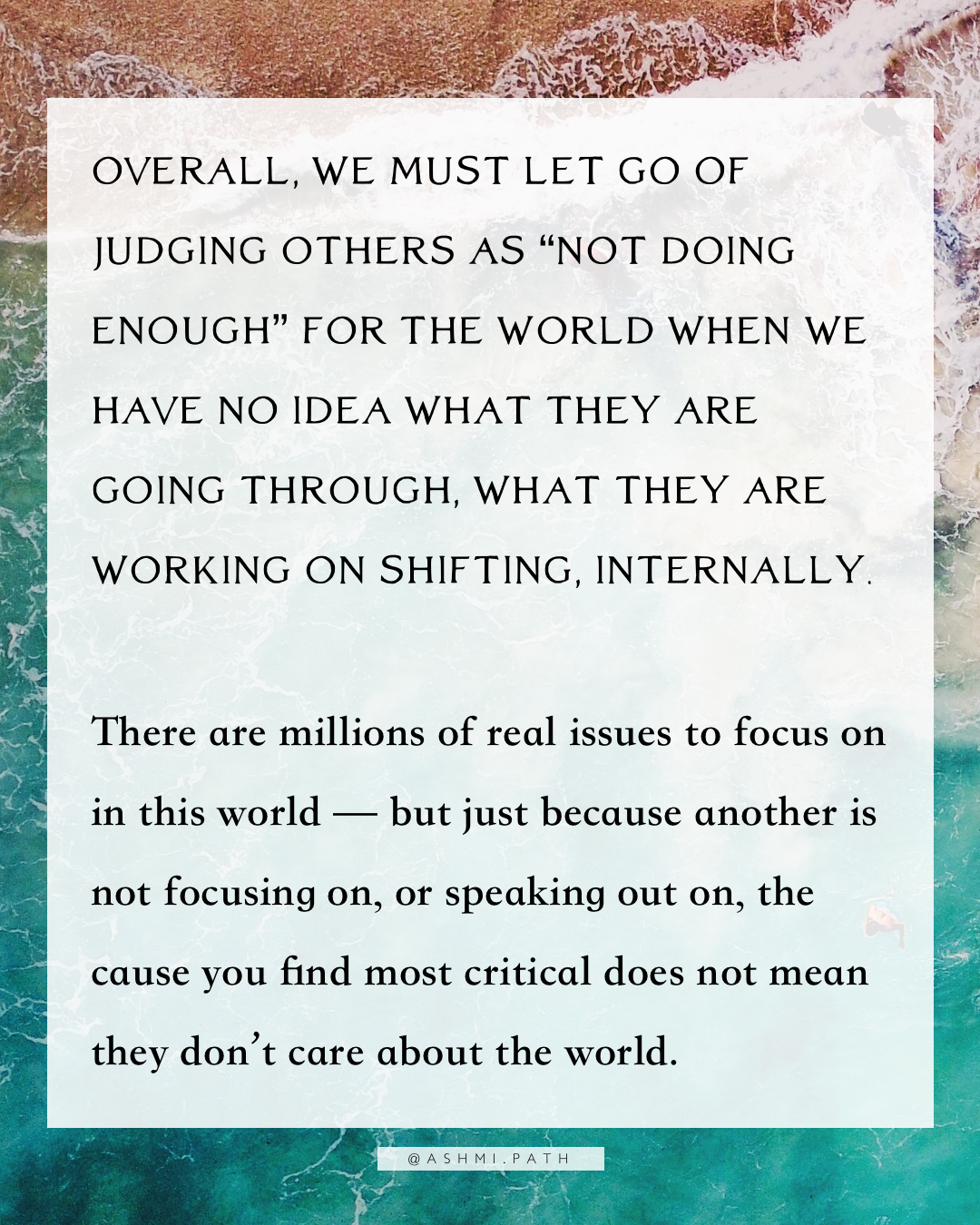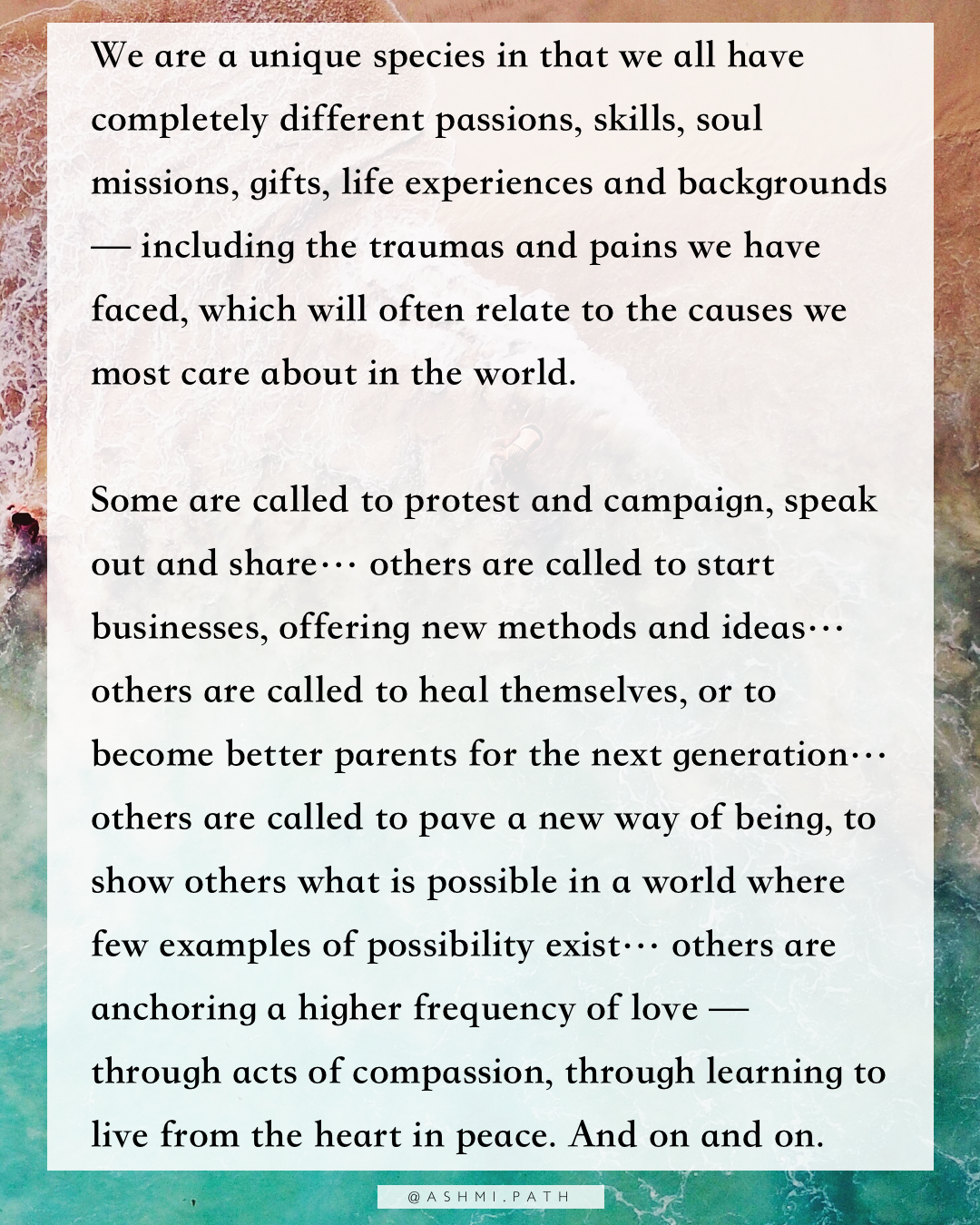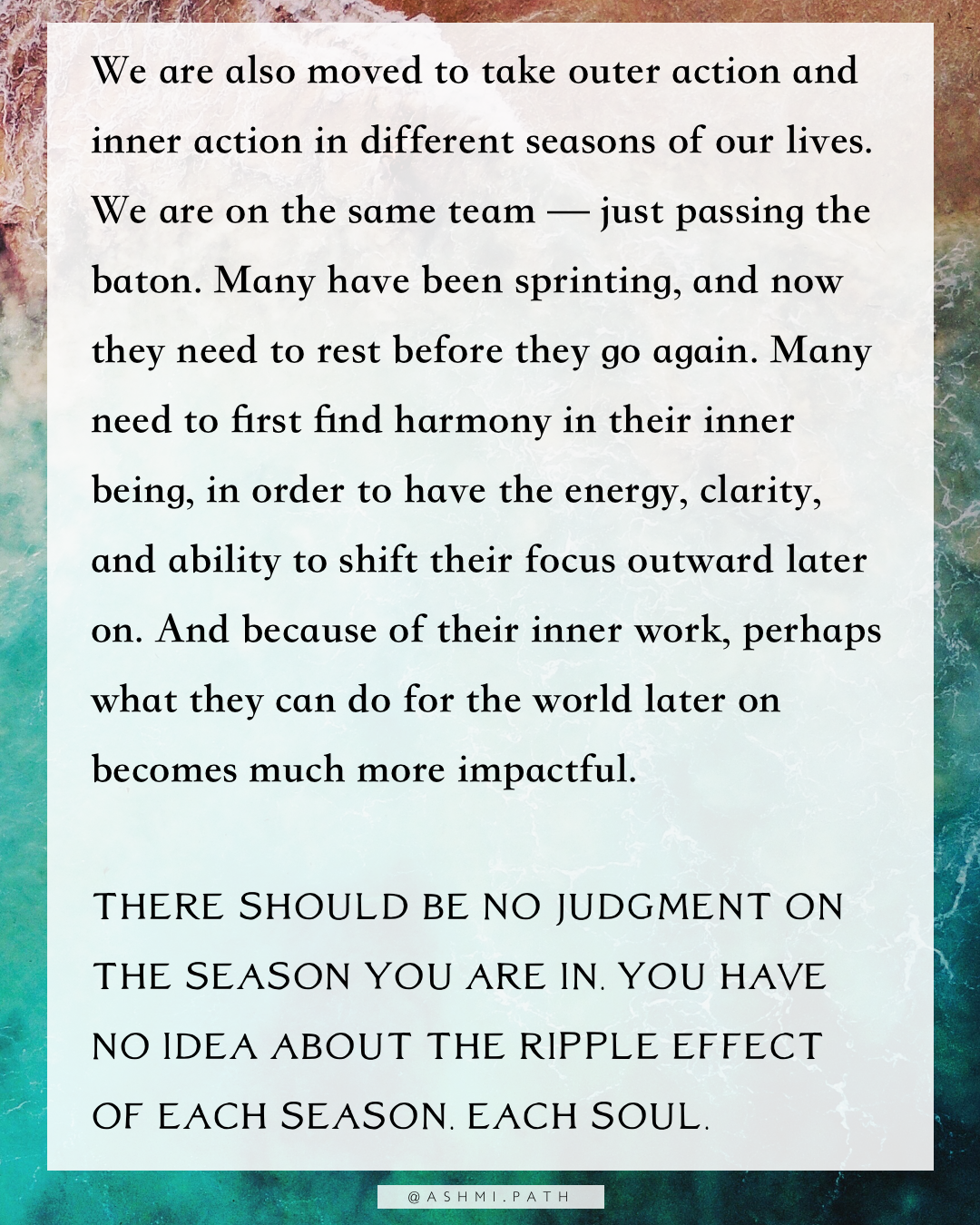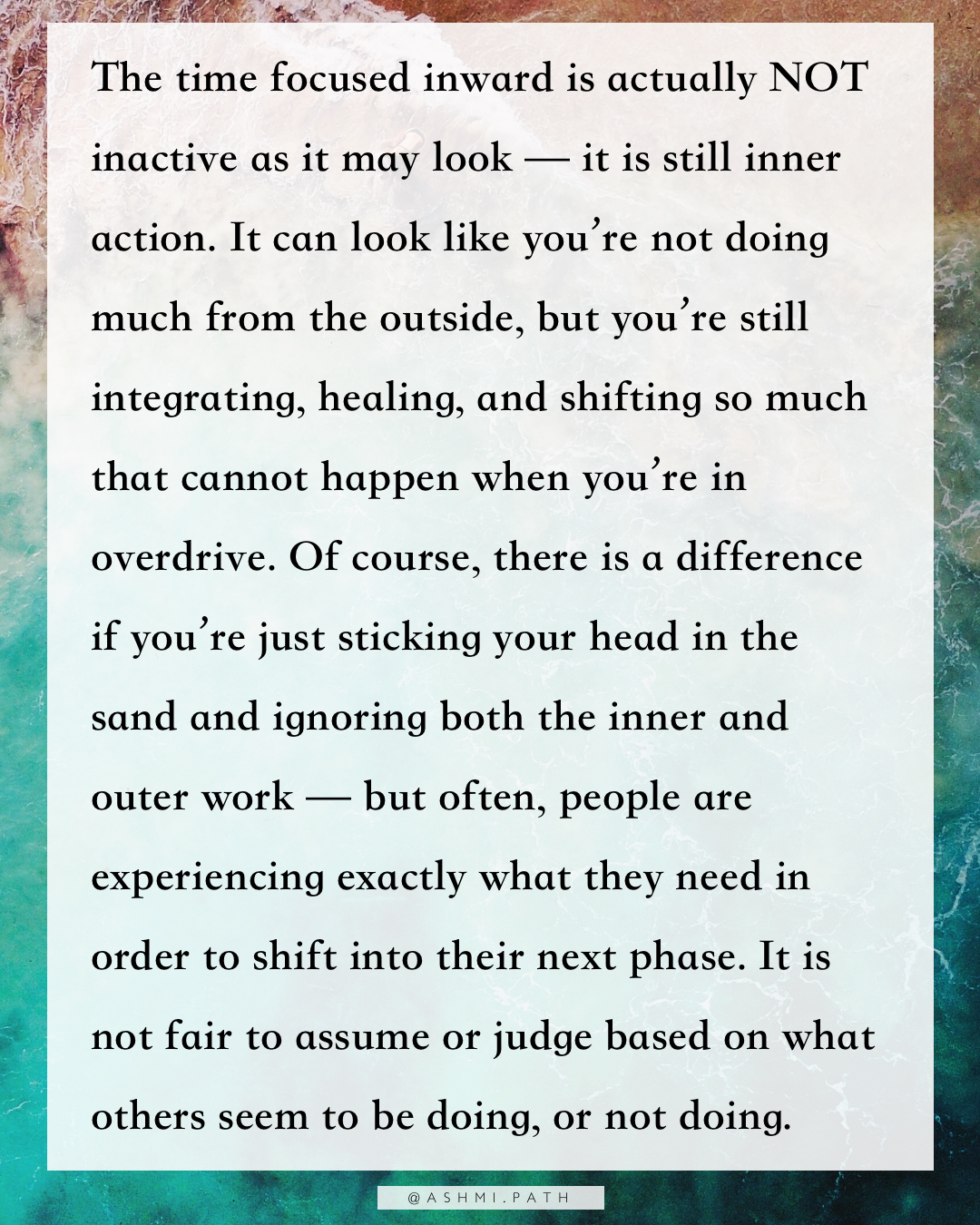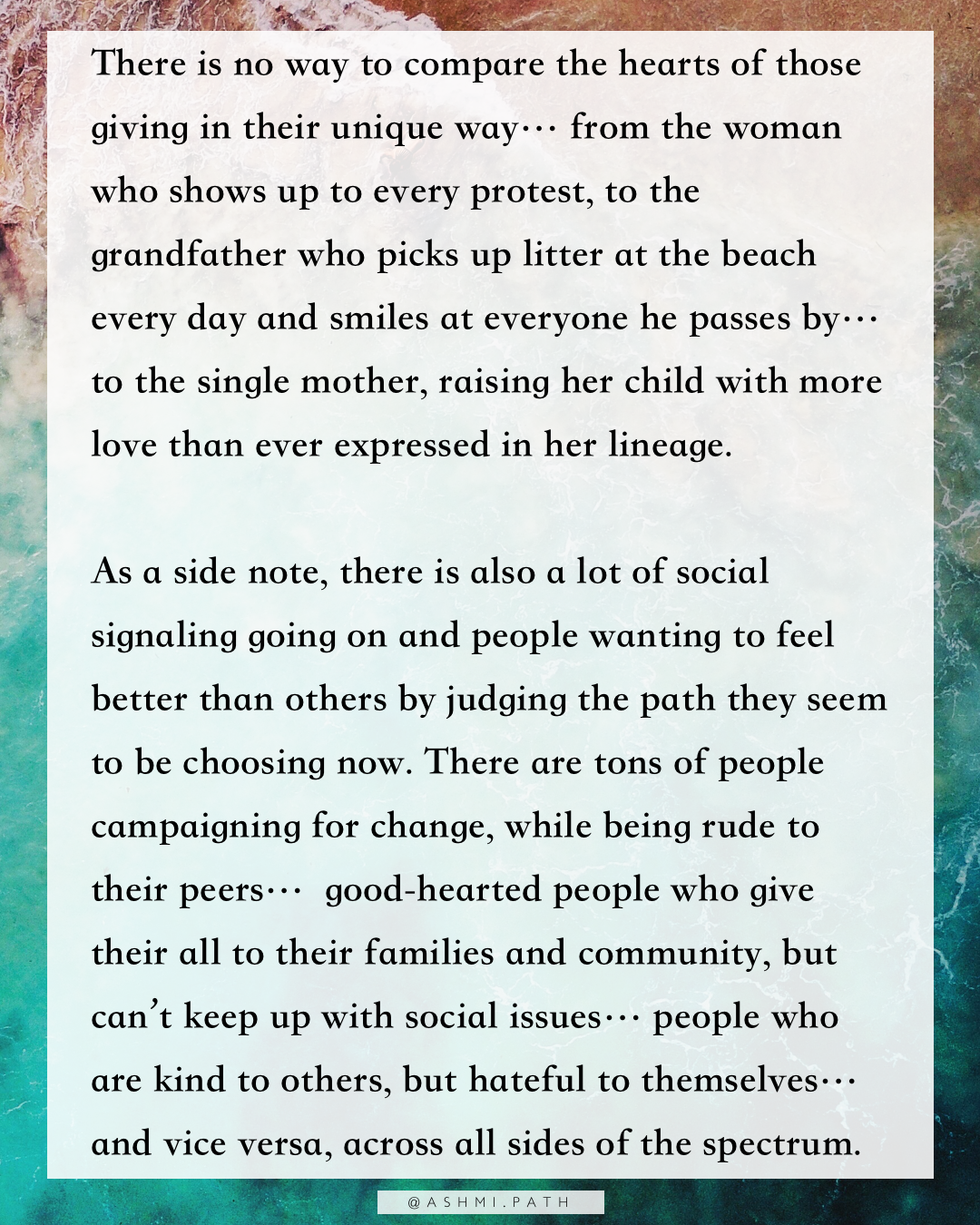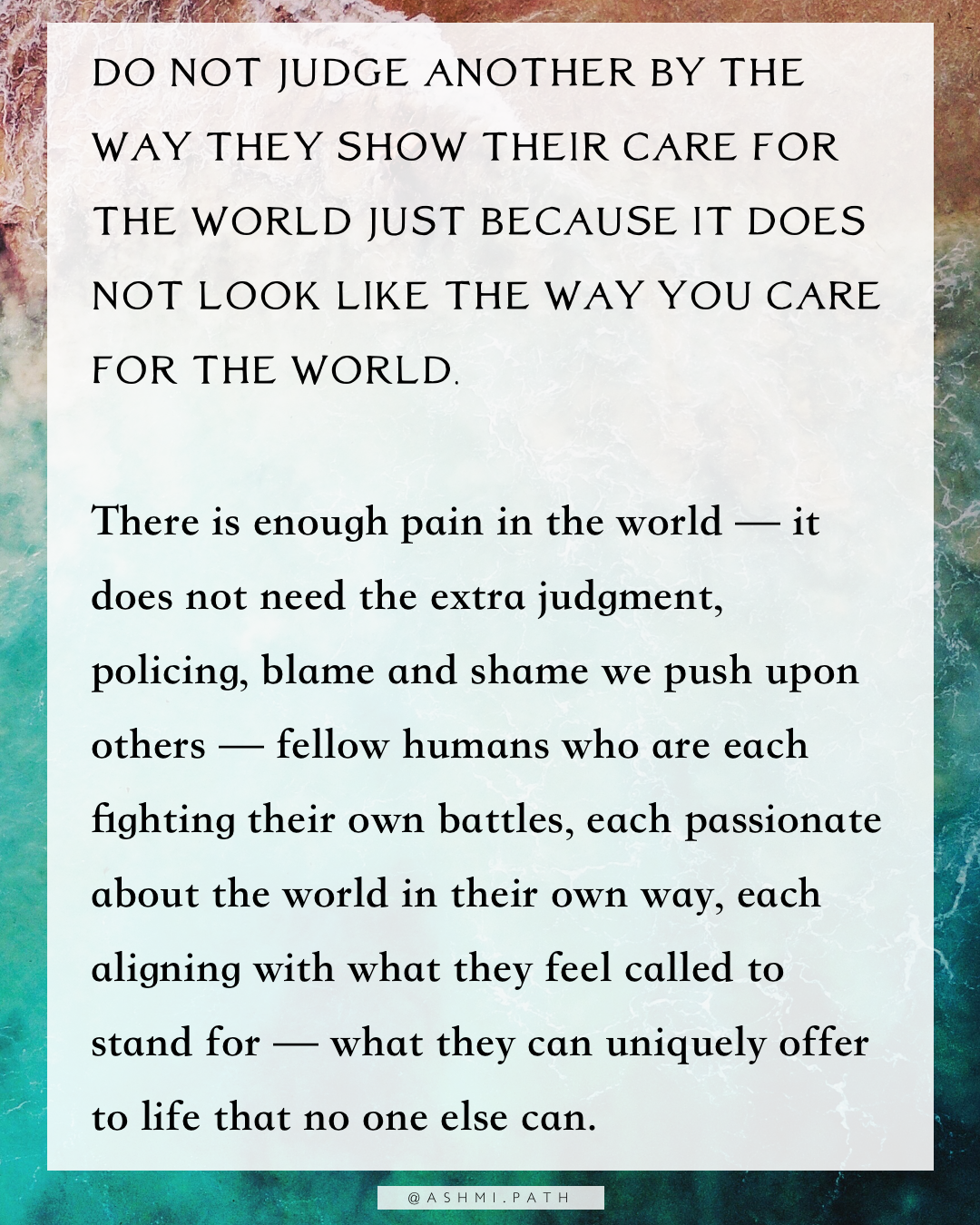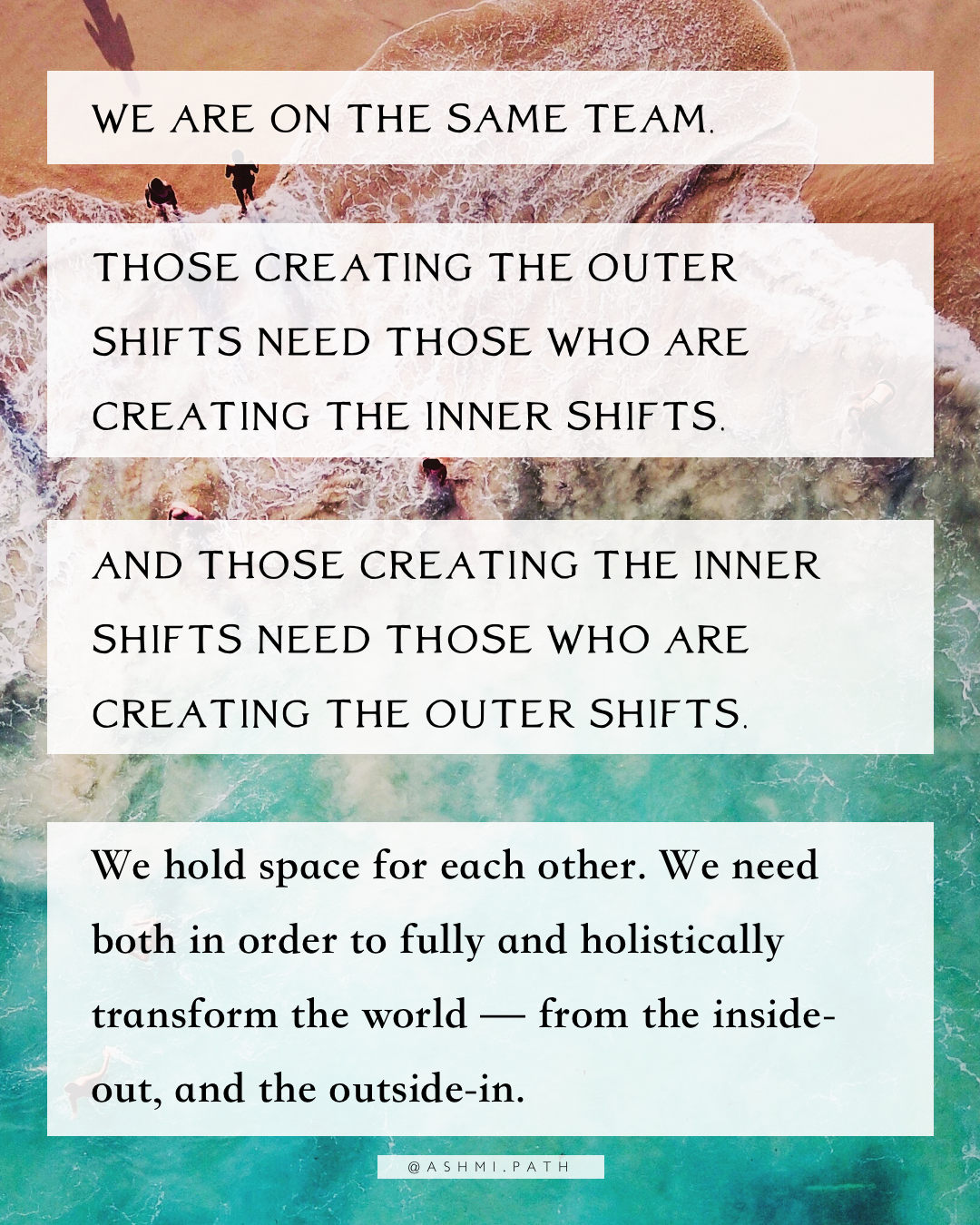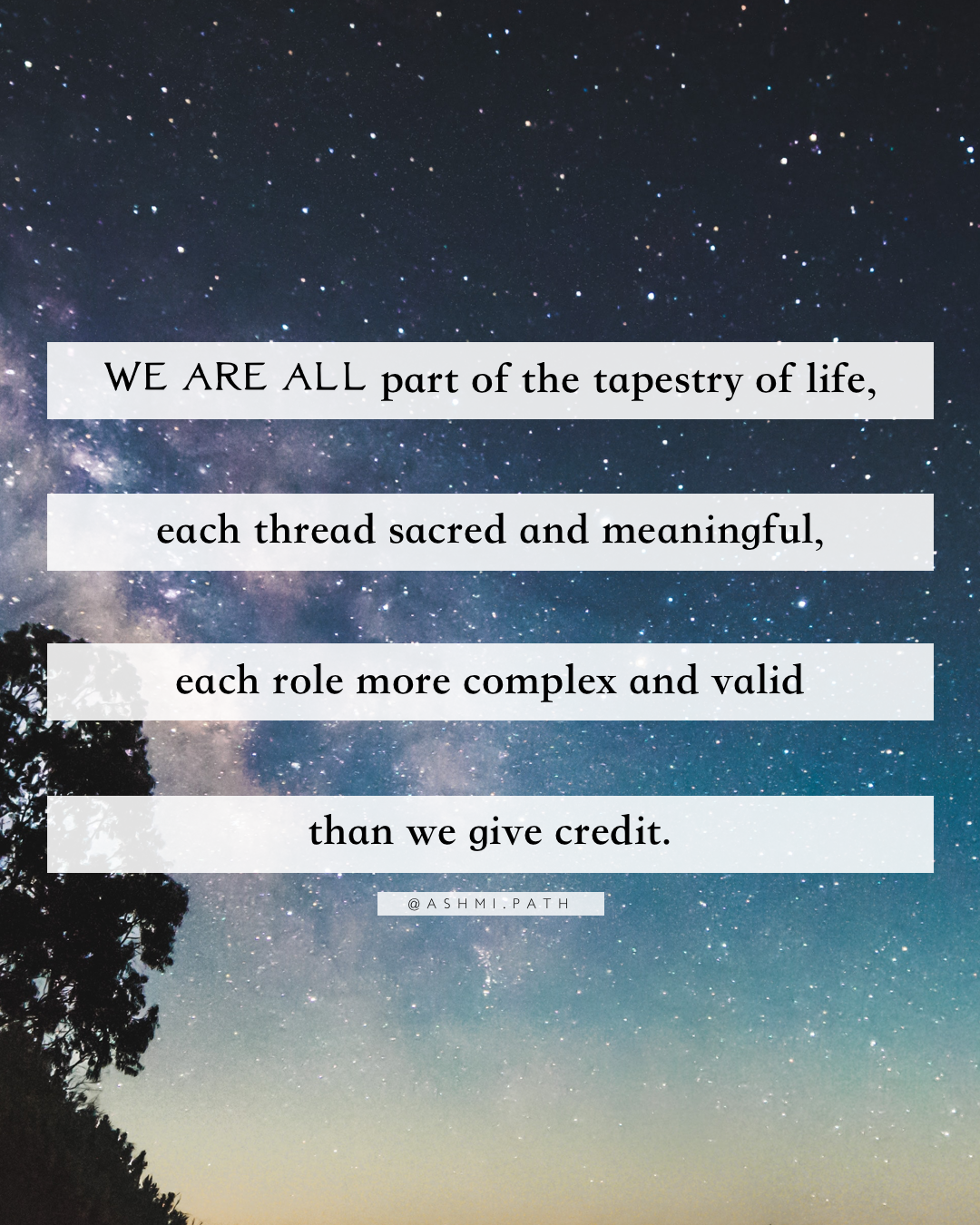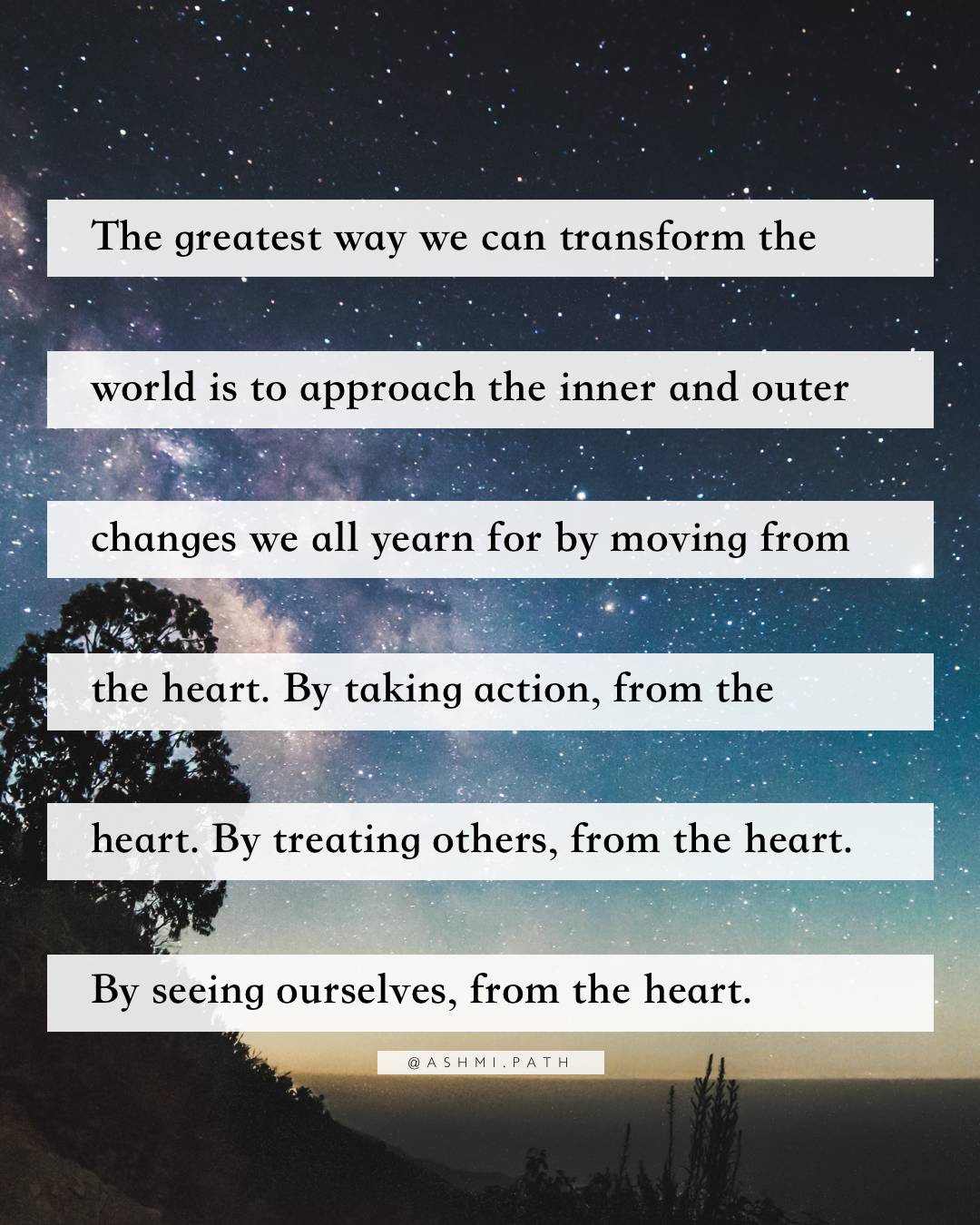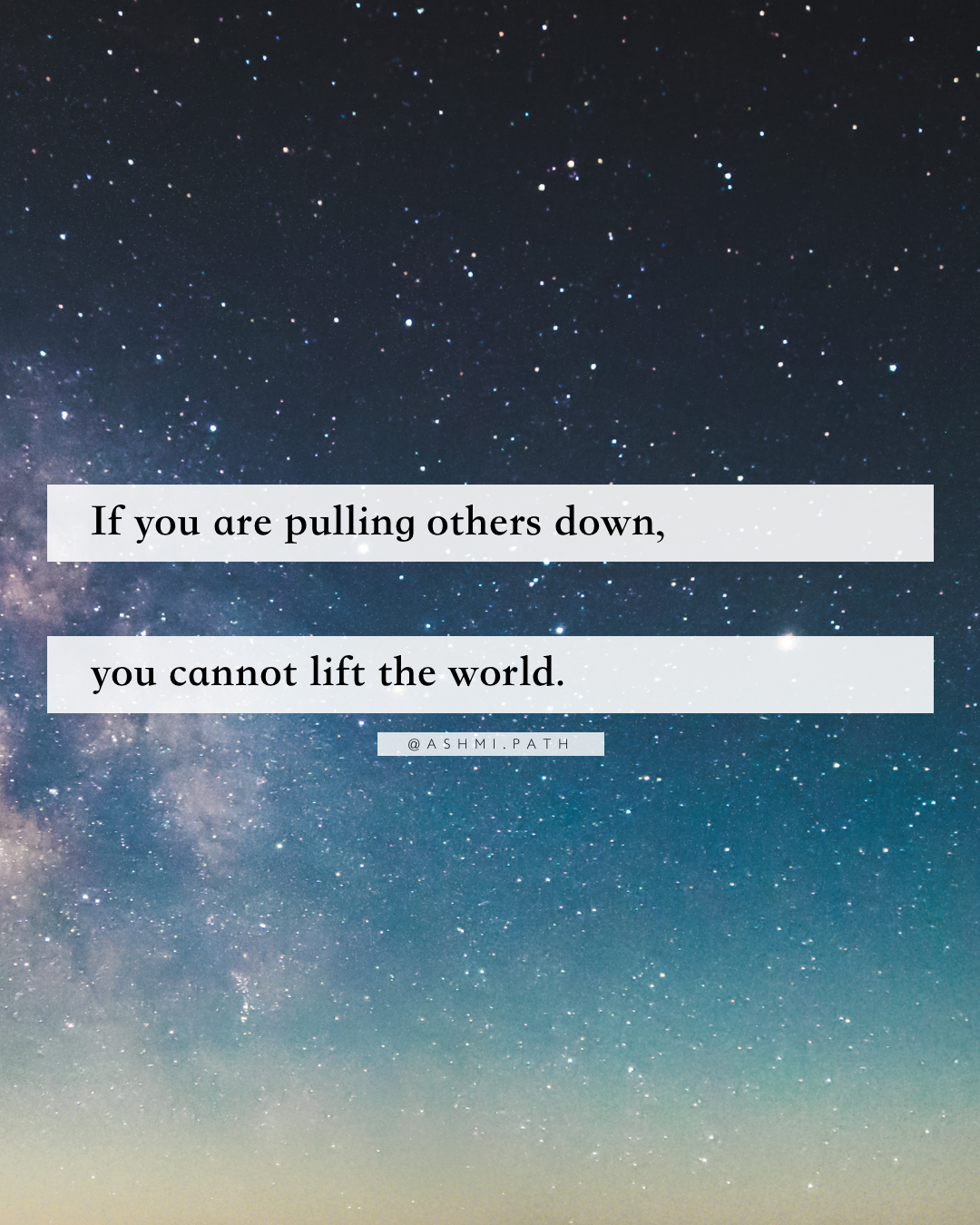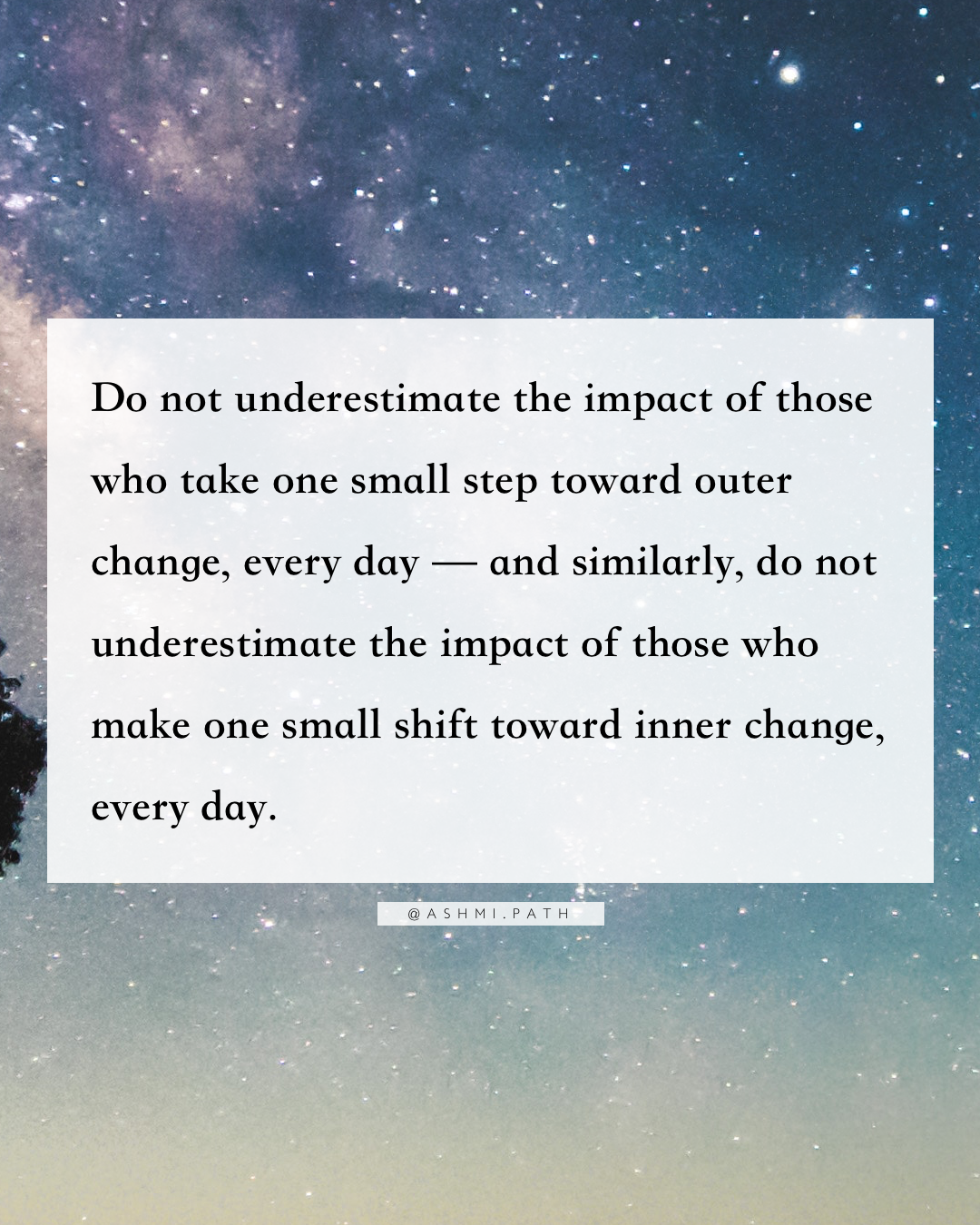 Part 1
EVEN IF ALL THE SYSTEMS OUT THERE BECOME FAIR AND JUST, THERE WILL STILL BE WORK TO BE DONE IN OUR INNER WORLDS…
Freeing ourselves from lifetimes of feeling unworthy, judging ourselves and others, living in fear and lack… not trusting ourselves, not trusting life.
As much change is needed in the systems and ways of the world, change is needed in our inner world (our minds, bodies, and hearts) — one cannot be fully achieved without the other.
THE OUTER SYSTEMS CANNOT EVOLVE IF OUR CONSCIOUSNESS AND HEARTS DO NOT CHANGE TOO.
Focusing on healing and shifting ourselves goes hand-in-hand with healing and shifting the world. They are both important, they both have meaning, they are both missing pieces of the puzzle — and there should not be any judgment on people who focus first on shifting their inner beings (or helping others to do so) vs. those focused on the outer systems (and vice versa). We cannot have a changed world without a humanity that sees both as important.
OVERALL, WE MUST LET GO OF JUDGING OTHERS AS "NOT DOING ENOUGH" FOR THE WORLD WHEN WE HAVE NO IDEA WHAT THEY ARE GOING THROUGH, WHAT THEY ARE WORKING ON SHIFTING, INTERNALLY.
There are millions of real issues to focus on in this world — but just because another is not focusing on, or speaking out on, the cause you find most critical does not mean they don't care about the world.
We are a unique species in that we all have completely different passions, skills, soul missions, gifts, life experiences and backgrounds — including the traumas and pains we have faced, which will often relate to the causes we most care about in the world.
Some are called to protest and campaign, speak out and share… others are called to start businesses, offering new methods and ideas… others are called to heal themselves, or to become better parents for the next generation… others are called to pave a new way of being, to show others what is possible in a world where few examples of possibility exist… others are anchoring a higher frequency of love — through acts of compassion, through learning to live from the heart in peace. And on and on.
We are also moved to take outer action and inner action in different seasons of our lives. We are on the same team — just passing the baton. Many have been sprinting, and now they need to rest before they go again. Many need to first find harmony in their inner being, in order to have the energy, clarity, and ability to shift their focus outward later on. And because of their inner work, perhaps what they can do for the world later on becomes much more impactful.
THERE SHOULD BE NO JUDGMENT ON THE SEASON YOU ARE IN. YOU HAVE NO IDEA ABOUT THE RIPPLE EFFECT OF EACH SEASON. EACH SOUL.
The time focused inward is actually NOT inactive as it may look — it is still inner action. It can look like you're not doing much from the outside, but you're still integrating, healing, and shifting so much that cannot happen when you're in overdrive. Of course, there is a difference if you're just sticking your head in the sand and ignoring both the inner and outer work — but often, people are experiencing exactly what they need in order to shift into their next phase. It is not fair to assume or judge based on what others seem to be doing, or not doing.
There is no way to compare the hearts of those giving in their unique way… from the woman who shows up to every protest, to the grandfather who picks up litter at the beach every day and smiles at everyone he passes by… to the single mother, raising her child with more love than ever expressed in her lineage.
As a side note, there is also a lot of social signaling going on and people wanting to feel better than others by judging the path they seem to be choosing now. There are tons of people campaigning for change, while being rude to their peers…  good-hearted people who give their all to their families and community, but can't keep up with social issues… people who are kind to others, but hateful to themselves… and vice versa, across all sides of the spectrum.
DO NOT JUDGE ANOTHER BY THE WAY THEY SHOW THEIR CARE FOR THE WORLD JUST BECAUSE IT DOES NOT LOOK LIKE THE WAY YOU CARE FOR THE WORLD.
There is enough pain in the world — it does not need the extra judgment, policing, blame and shame we push upon others — fellow humans who are each fighting their own battles, each passionate about the world in their own way, each aligning with what they feel called to stand for — what they can uniquely offer to life that no one else can.
WE ARE ON THE SAME TEAM.
THOSE CREATING THE OUTER SHIFTS NEED THOSE WHO ARE CREATING THE INNER SHIFTS.
AND THOSE CREATING THE INNER SHIFTS NEED THOSE WHO ARE CREATING THE OUTER SHIFTS.
We hold space for each other. We need both in order to fully and holistically transform the world — from the inside-out, and the outside-in.
Part 2
We are all part of the tapestry of life, each thread sacred and meaningful, each role more complex and valid than we give credit.
The greatest way we can transform the world is to approach the inner and outer changes we all yearn for by moving from the heart. By taking action, from the heart. By treating others, from the heart. By seeing ourselves, from the heart.
If you are pulling others down, you cannot lift the world.
Do not underestimate the impact of those who take one small step toward outer change, every day — and similarly, do not underestimate the impact of those who make one small shift toward inner change, every day.
Written with love,
Ashmi