Letting Go of the Beliefs that Have Served You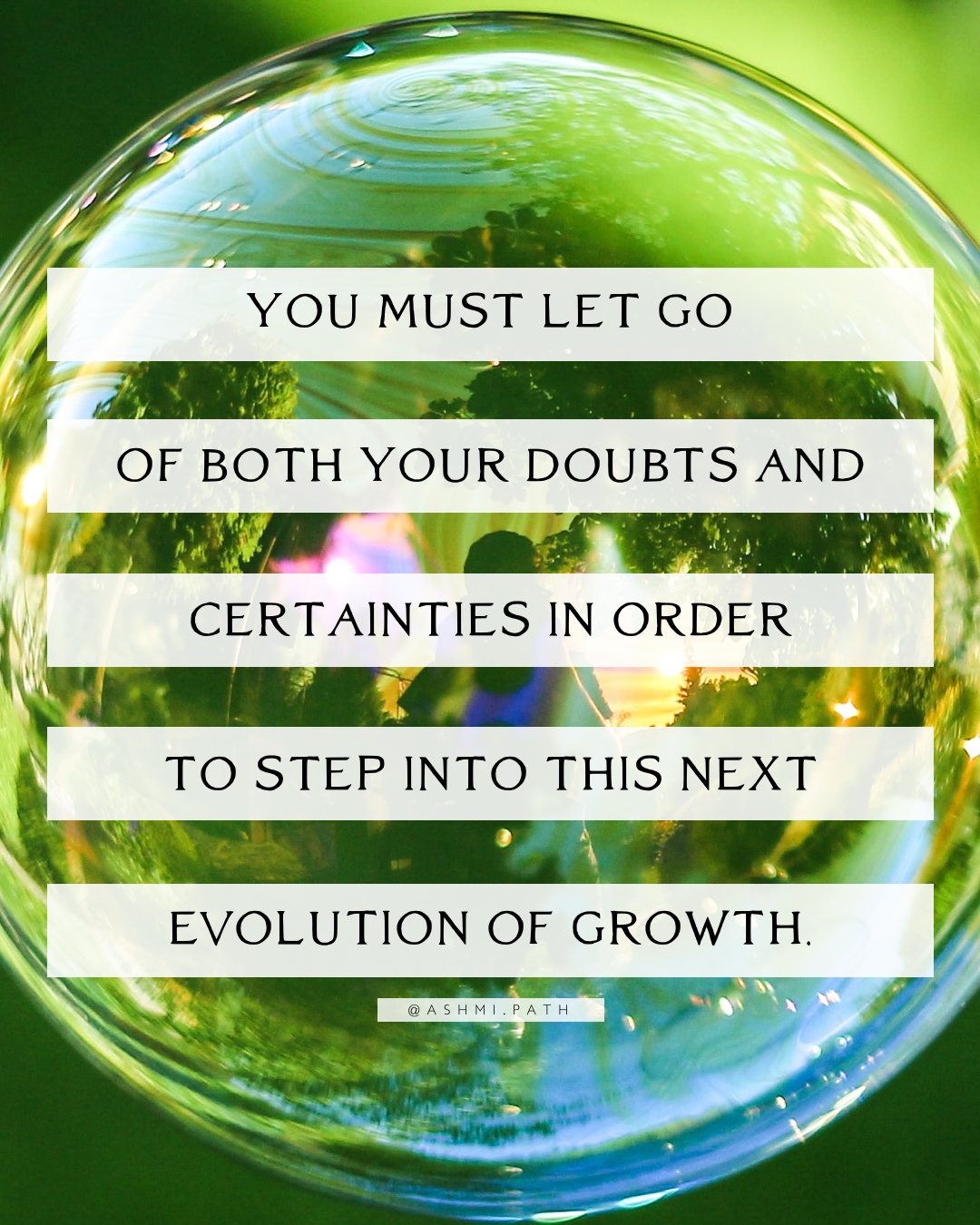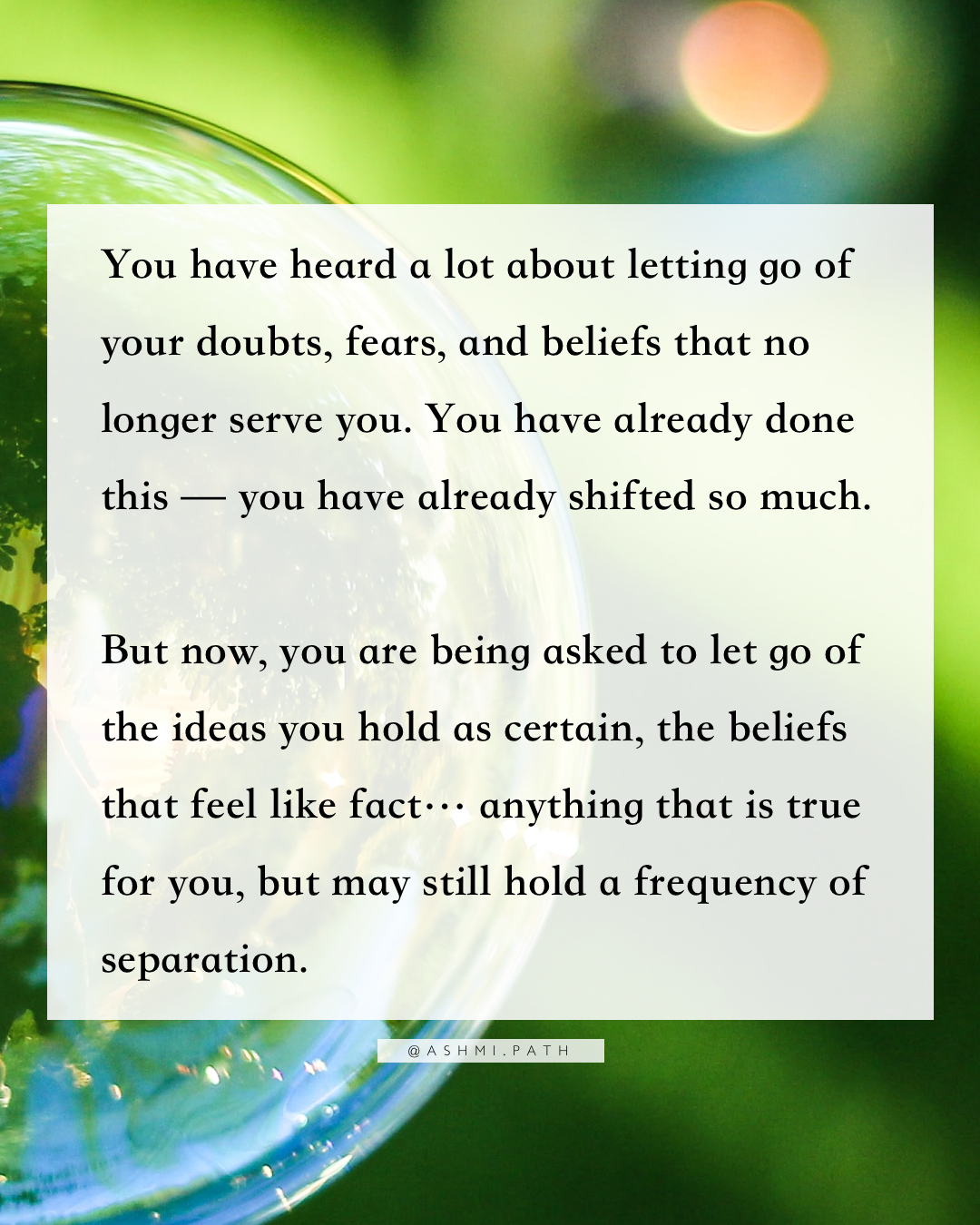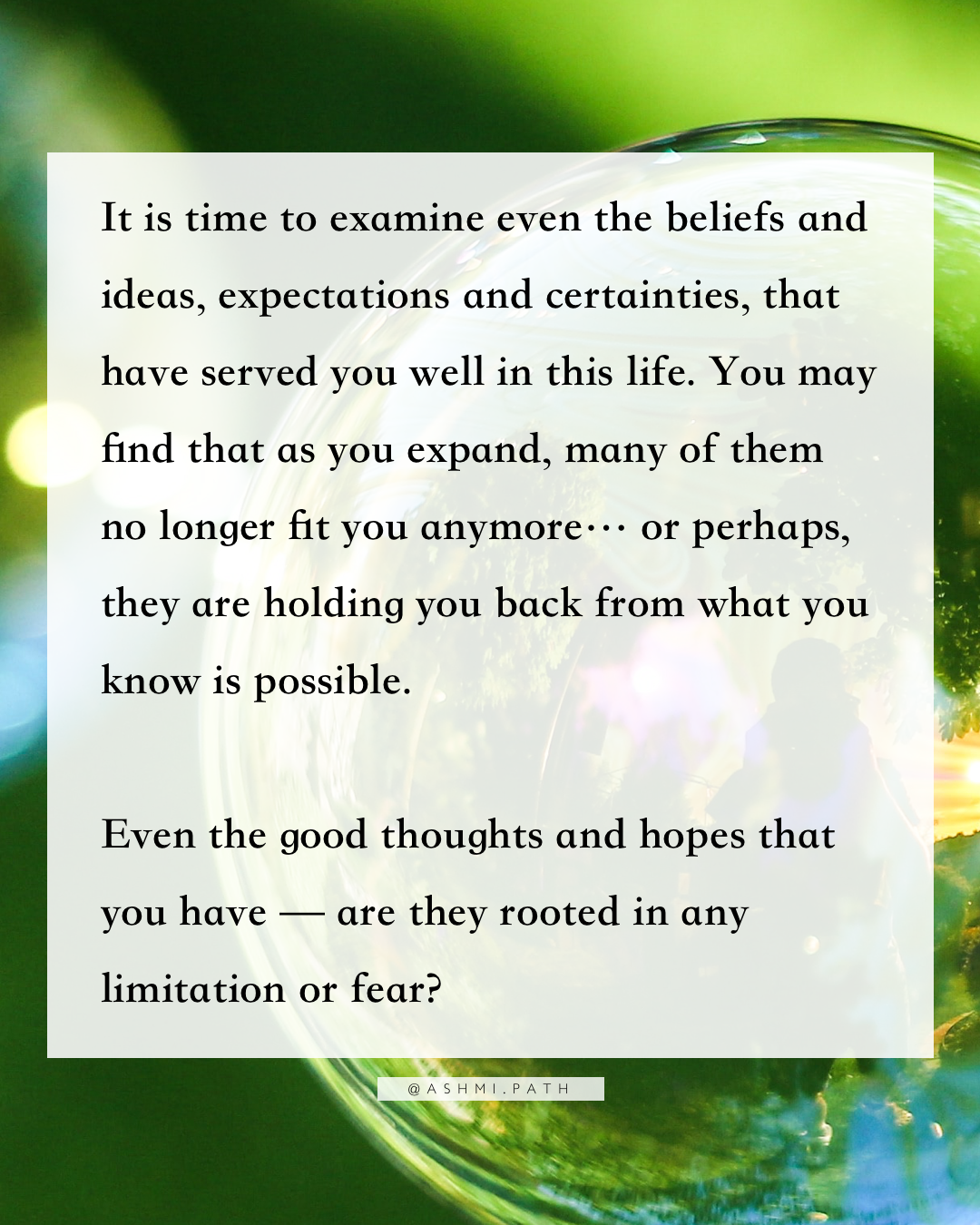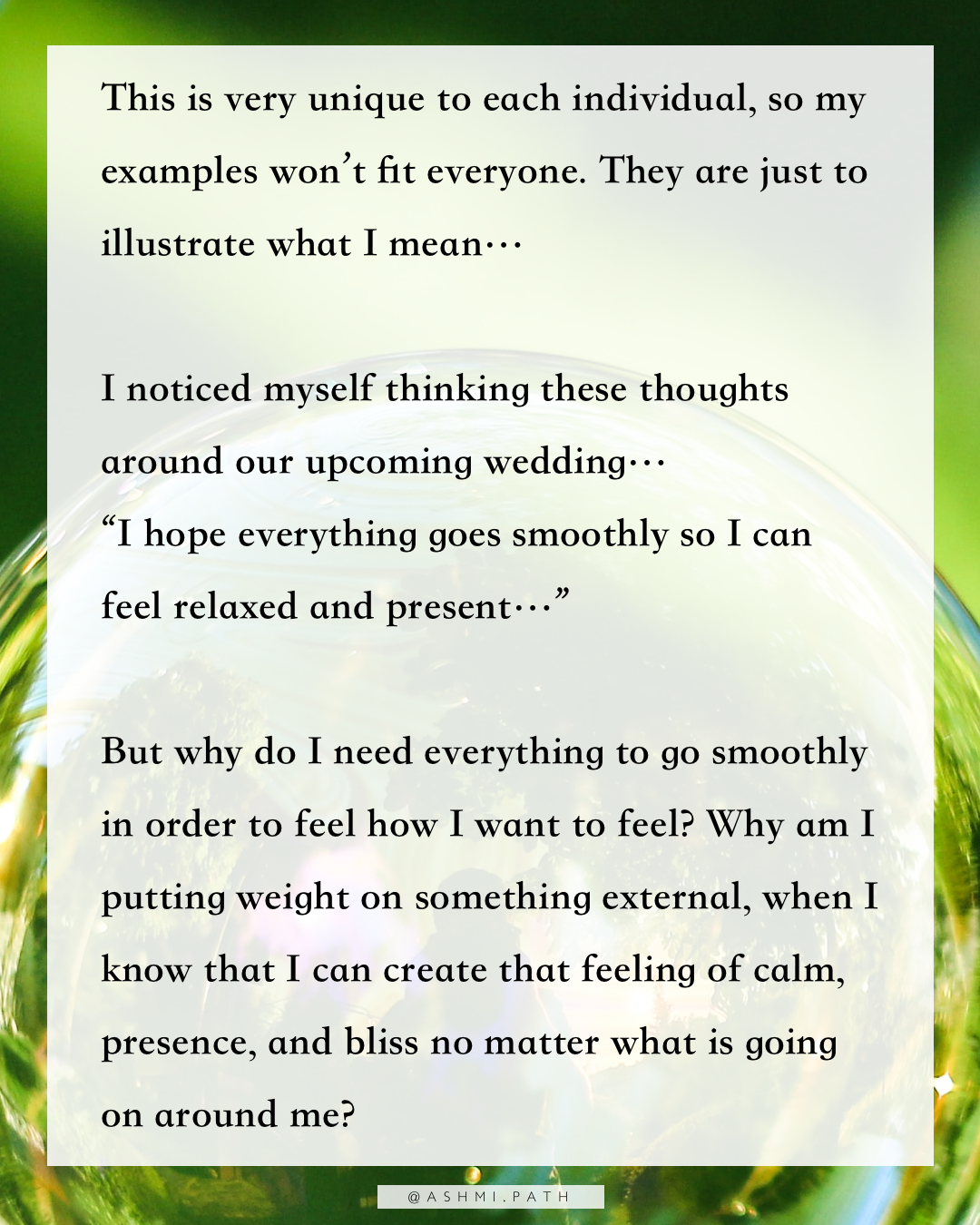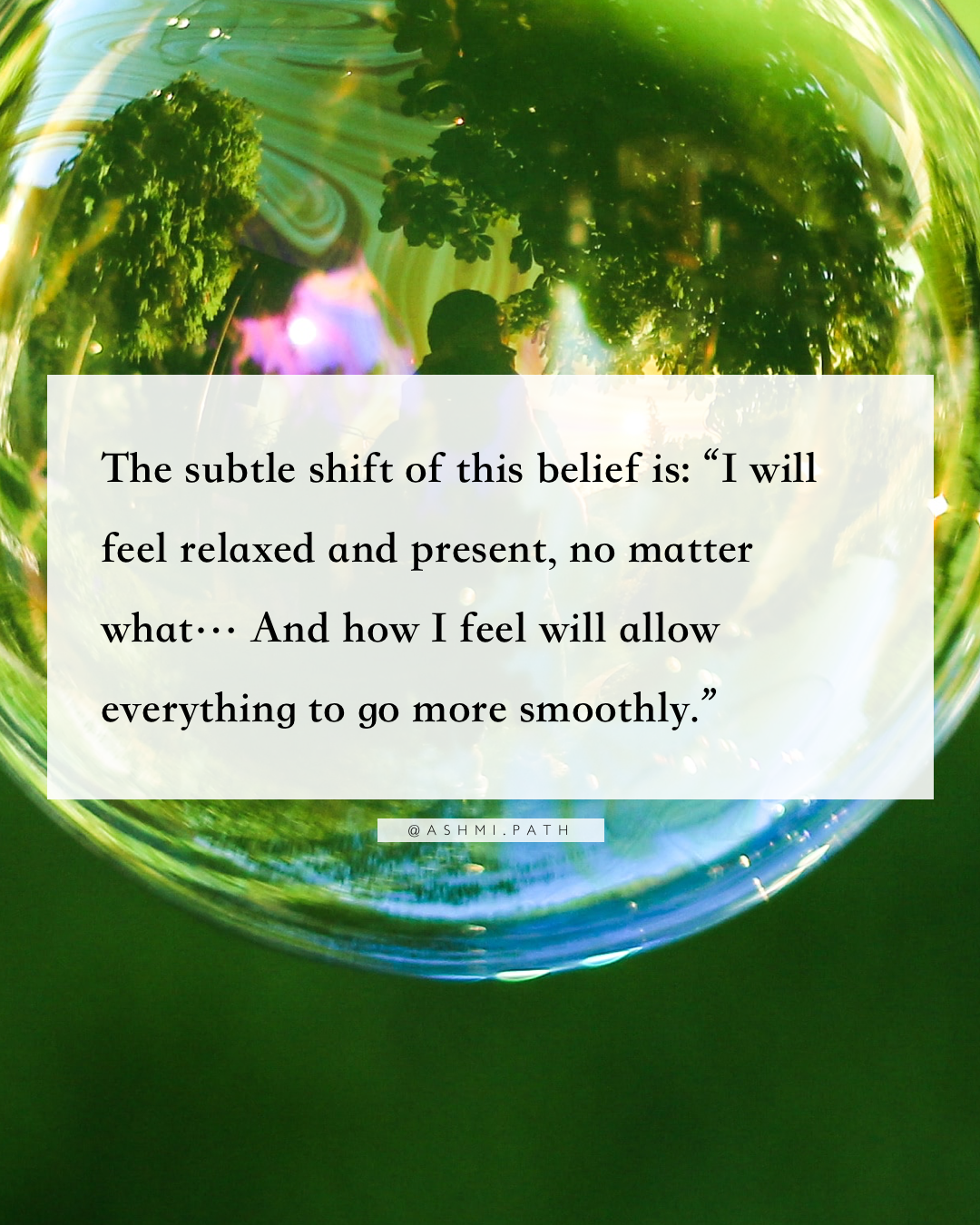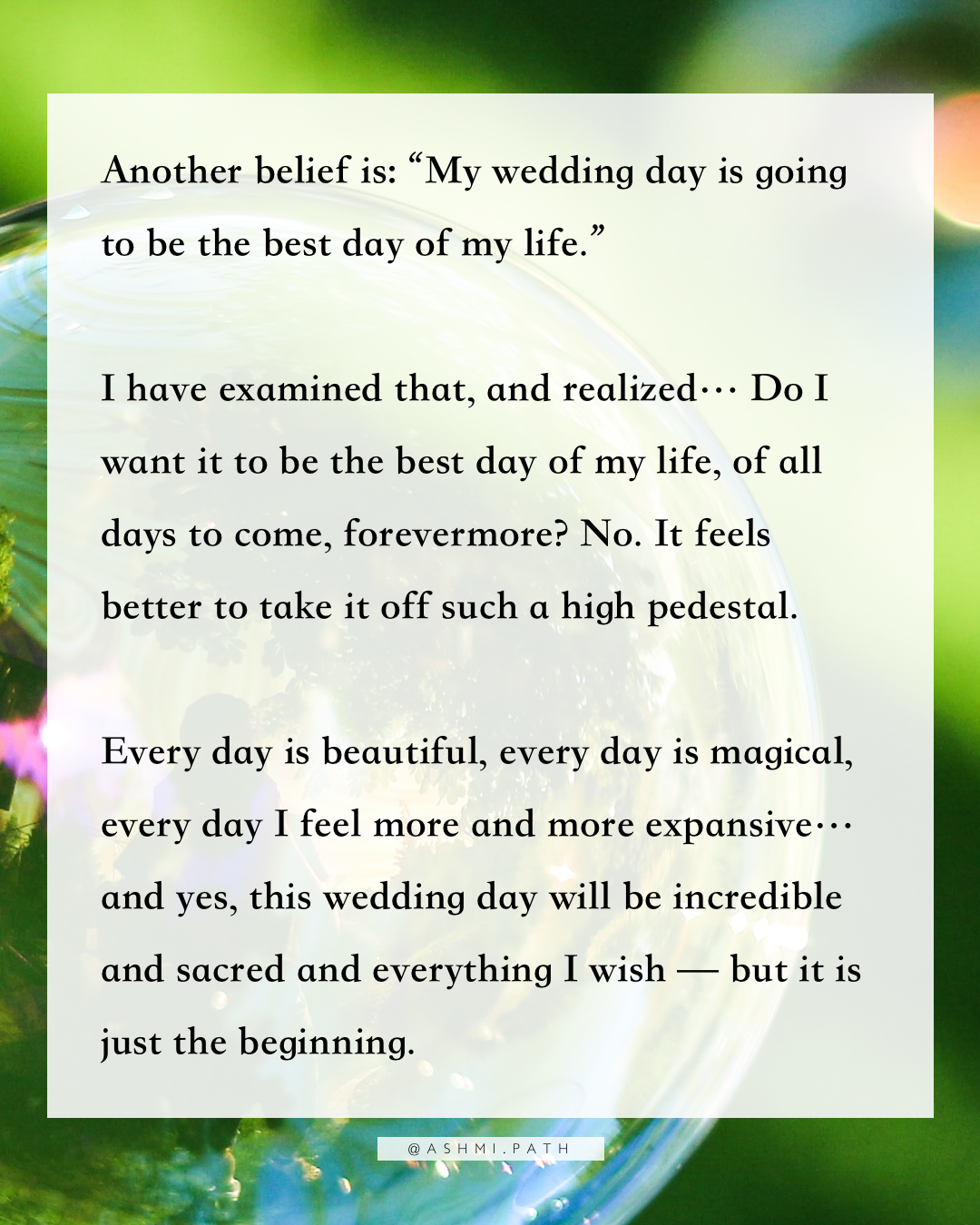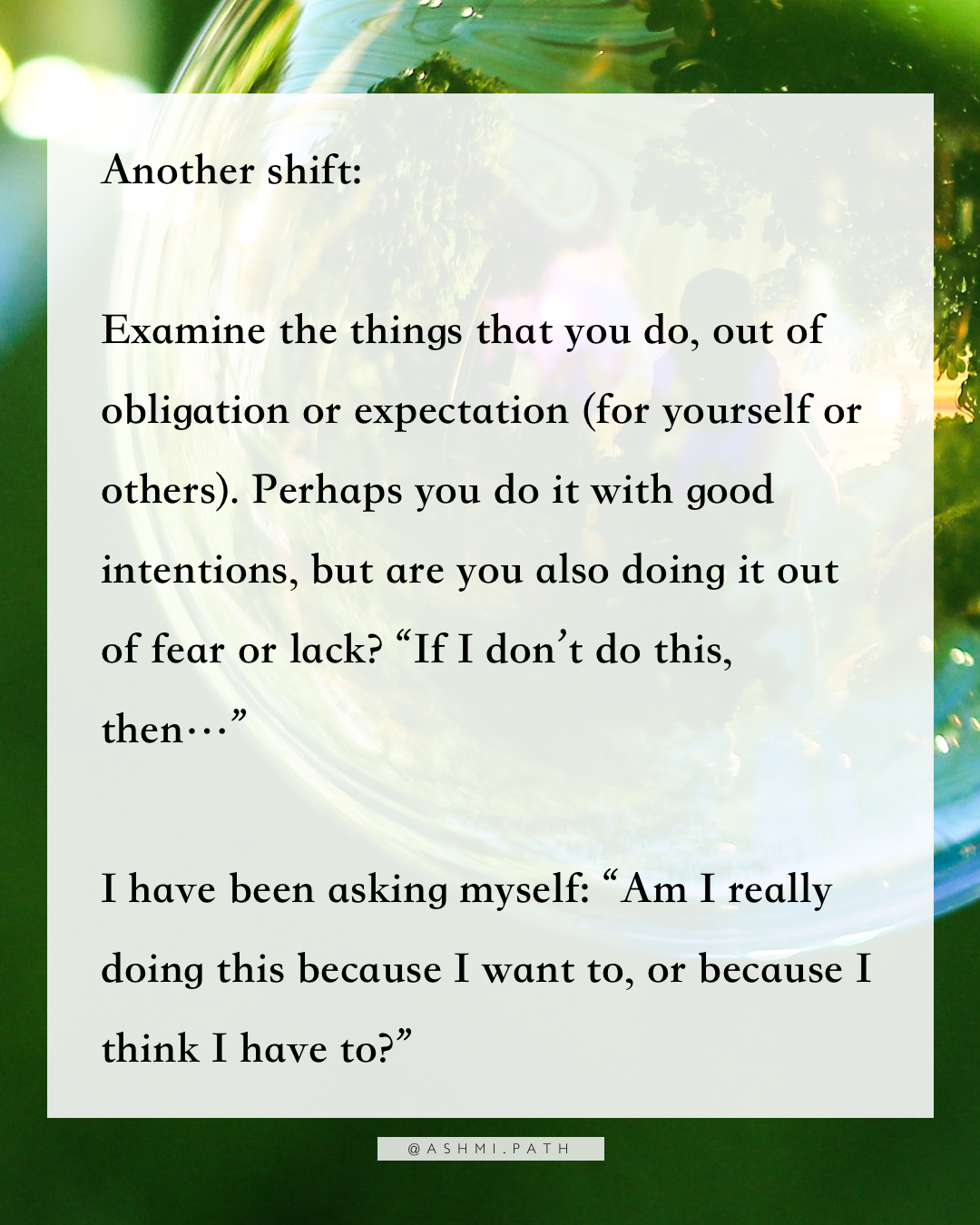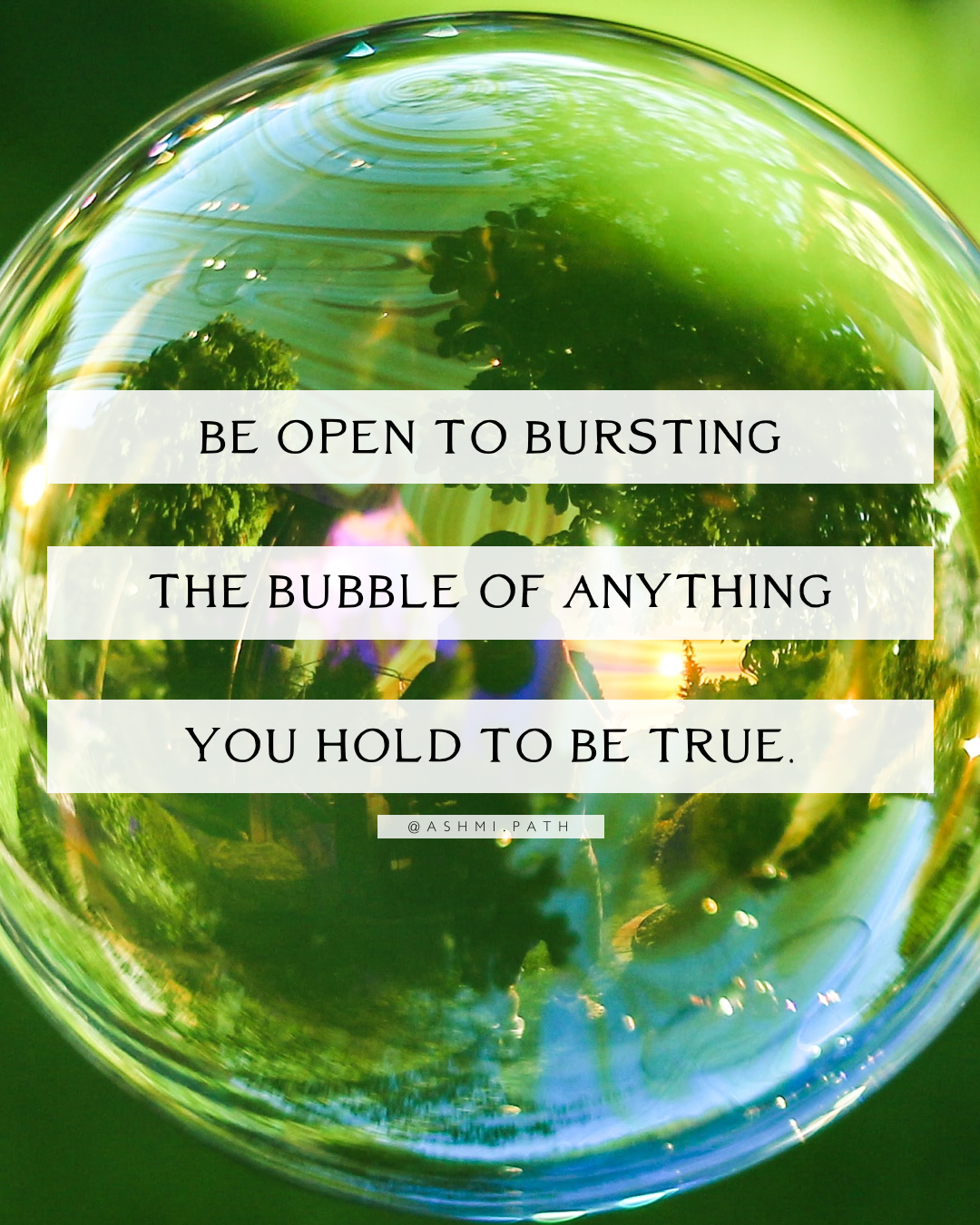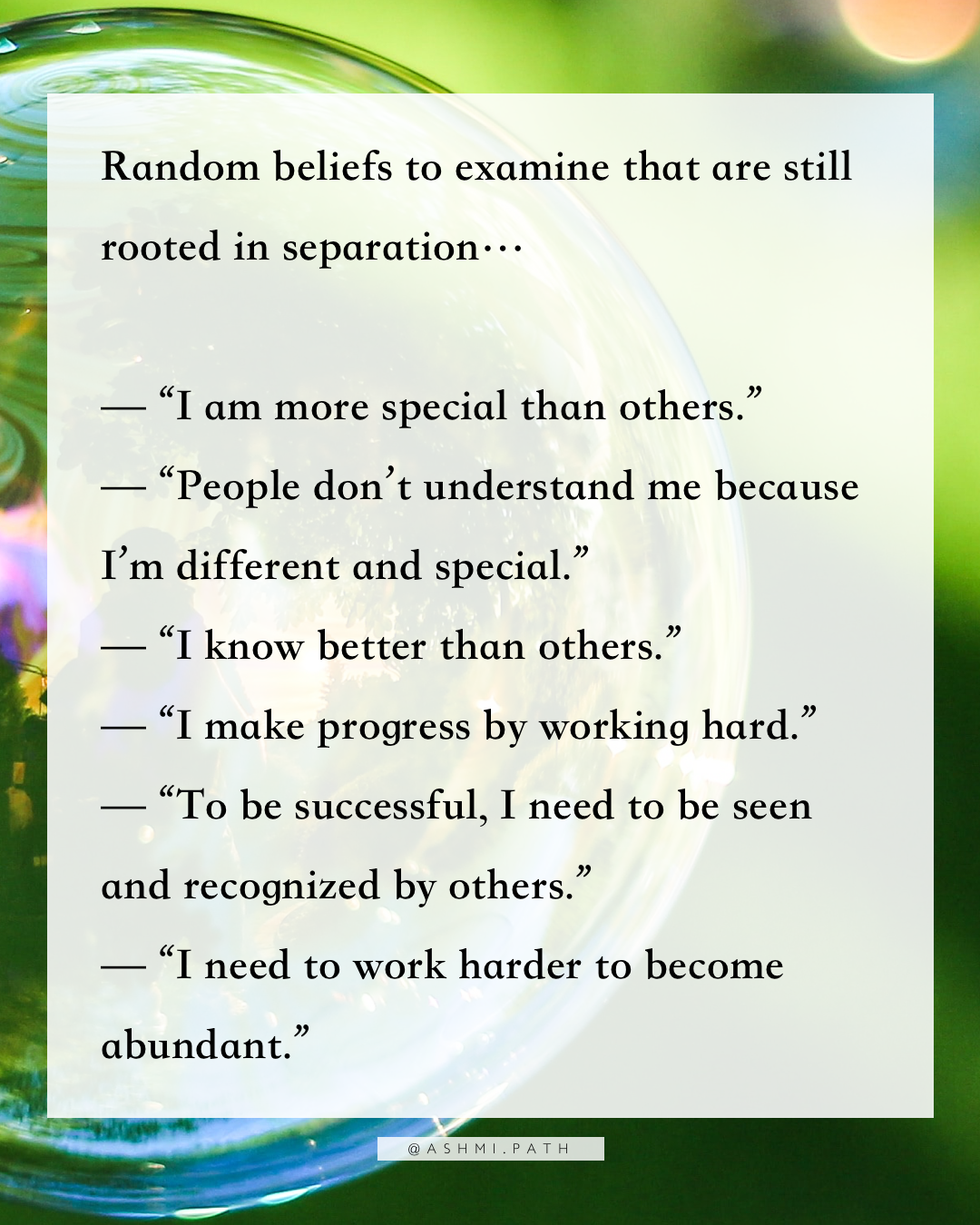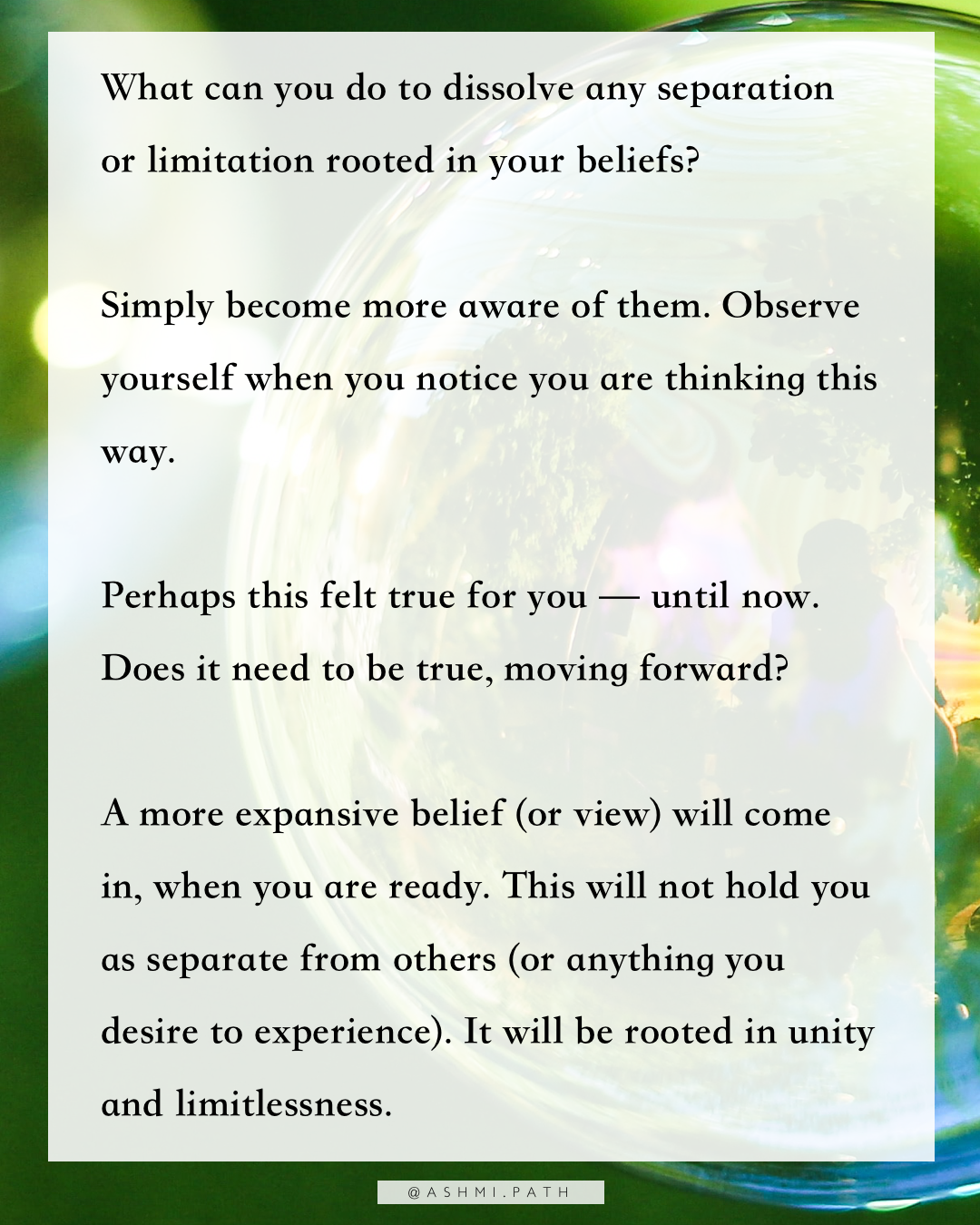 YOU MUST LET GO OF BOTH YOUR DOUBTS AND CERTAINTIES IN ORDER TO STEP INTO THIS NEXT EVOLUTION OF GROWTH.
You have heard a lot about letting go of your doubts, fears, and beliefs that no longer serve you. You have already done this — you have already shifted so much.
But now, you are being asked to let go of the ideas you hold as certain, the beliefs that feel like fact… anything that is true for you, but may still hold a frequency of separation.
It is time to examine even the beliefs and ideas, expectations and certainties, that have served you well in this life. You may find that as you expand, many of them no longer fit you anymore… or perhaps, they are holding you back from what you know is possible.
Even the good thoughts and hopes that you have — are they rooted in any limitation or fear?
This is very unique to each individual, so my examples won't fit everyone. They are just to illustrate what I mean…
I noticed myself thinking these thoughts around our upcoming wedding…
"I hope everything goes smoothly so I can feel relaxed and present…"
But why do I need everything to go smoothly in order to feel how I want to feel? Why am I putting weight on something external, when I know that I can create that feeling of calm, presence, and bliss no matter what is going on around me?
The subtle shift of this belief is: "I will feel relaxed and present, no matter what… And how I feel will allow everything to go more smoothly."
Another thought is: "My wedding day is going to be the best day of my life."
I have examined that, and realized… Do I want it to be the best day of my life, of all days to come, forevermore? No. It feels better to take it off such a high pedestal.
Every day is beautiful, every day is magical, every day I feel more and more expansive… and yes, this wedding day will be incredible and sacred and everything I wish — but it is just the beginning.
Another shift:
Examine the things that you do, out of obligation or expectation (for yourself or others). Perhaps you do it with good intentions, but are you also doing it out of fear or lack? "If I don't do this, then…"
I have been asking myself: "Am I really doing this because I want to, or because I think I have to?"
BE OPEN TO BURSTING THE BUBBLE OF ANYTHING YOU HOLD TO BE TRUE.
Random beliefs to examine that are still rooted in separation…
— "I am more special than others."
— "People don't understand me because I'm different and special."
— "I know better than others."
— "I make progress by working hard."
— "To be successful, I need to be seen and recognized by others."
— "I need to work harder to become abundant."
What can you do to dissolve any separation or limitation rooted in your beliefs?
Simply become more aware of them. Observe yourself when you notice you are thinking this way.
Perhaps this felt true for you — until now. Does it need to be true, moving forward?
A more expansive belief (or view) will come in, when you are ready. This will not hold you as separate from others (or anything you desire to experience). It will be rooted in unity and limitlessness.
Written with love,
Ashmi