"Should I Follow my Heart or Make the Practical Choice?"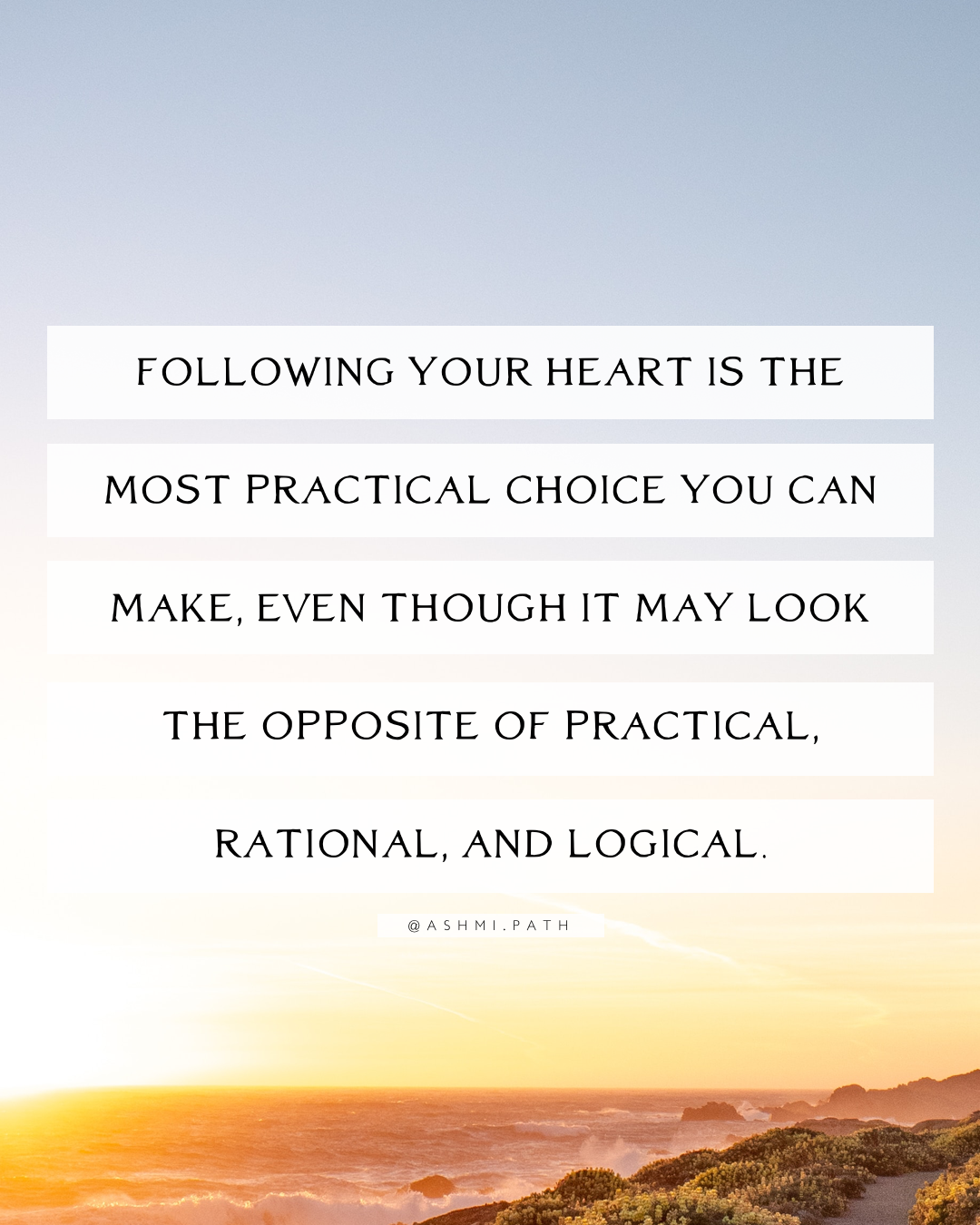 A little story...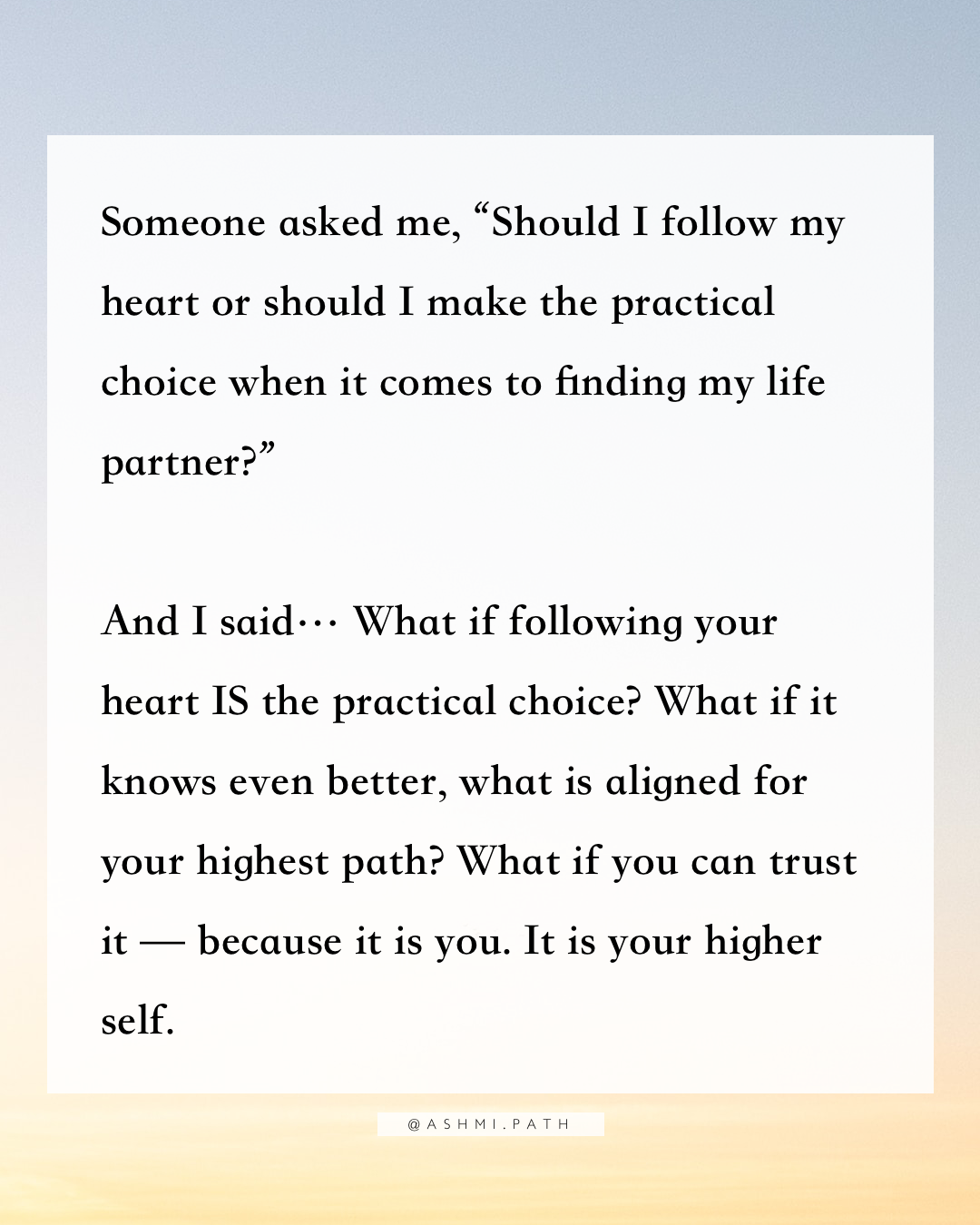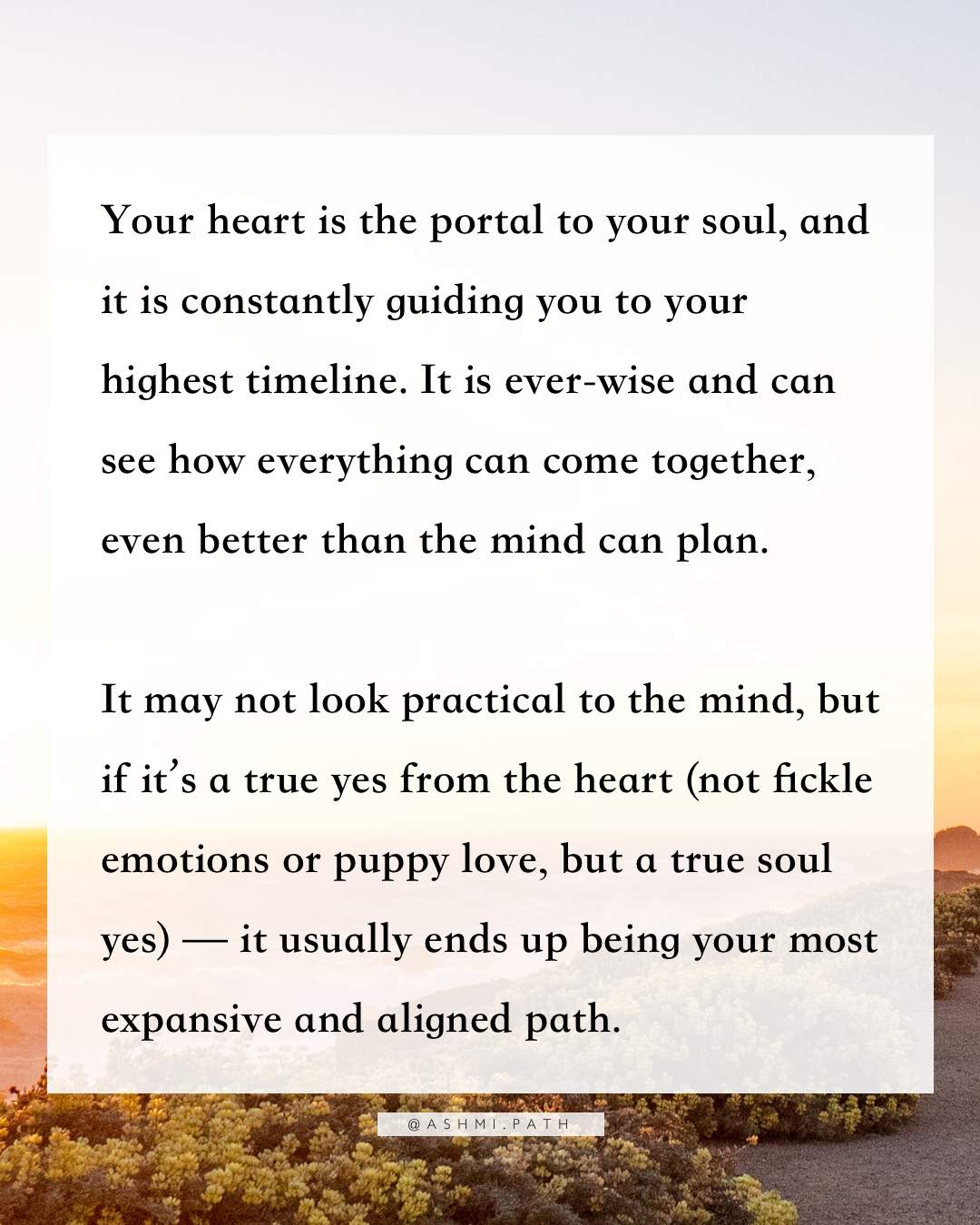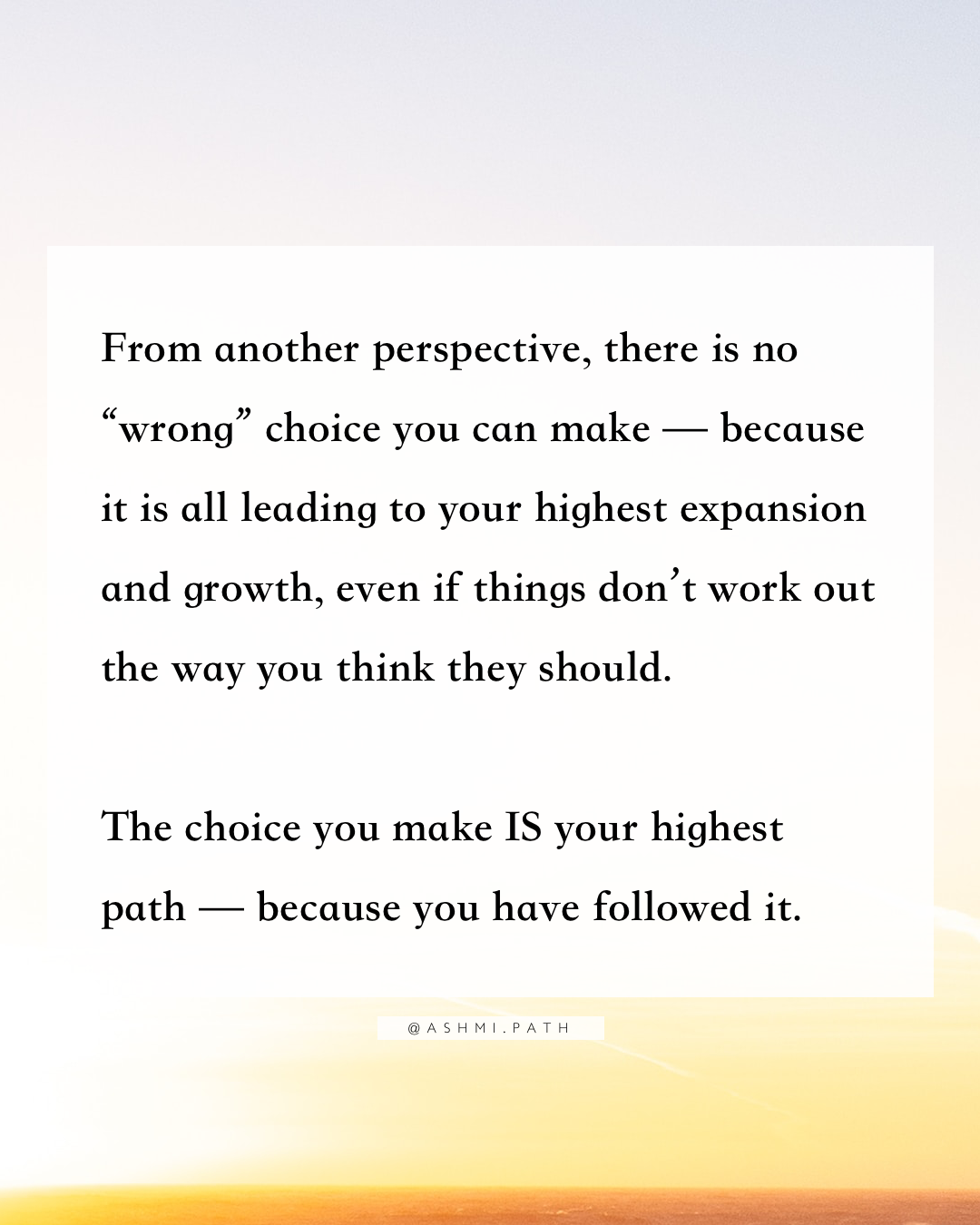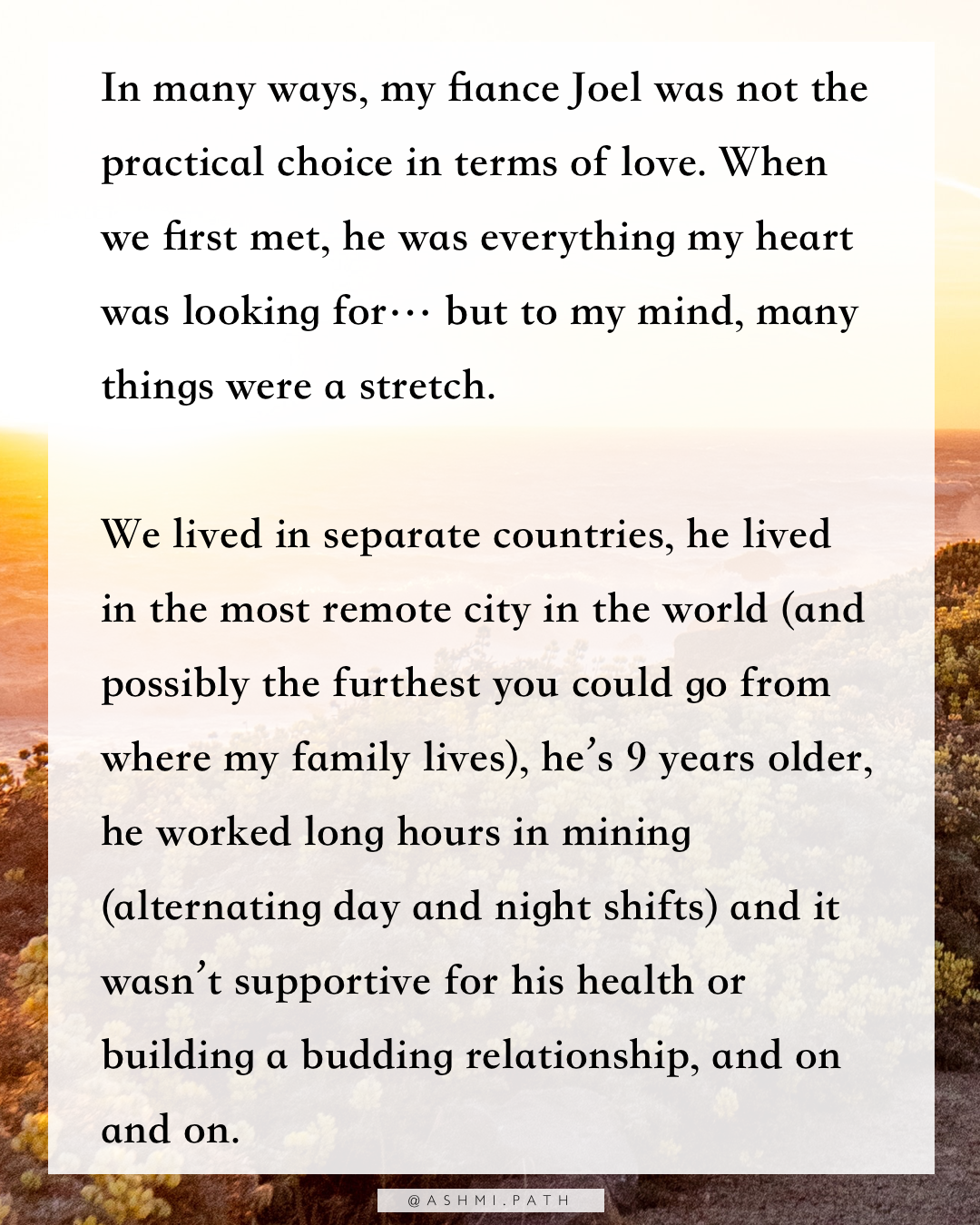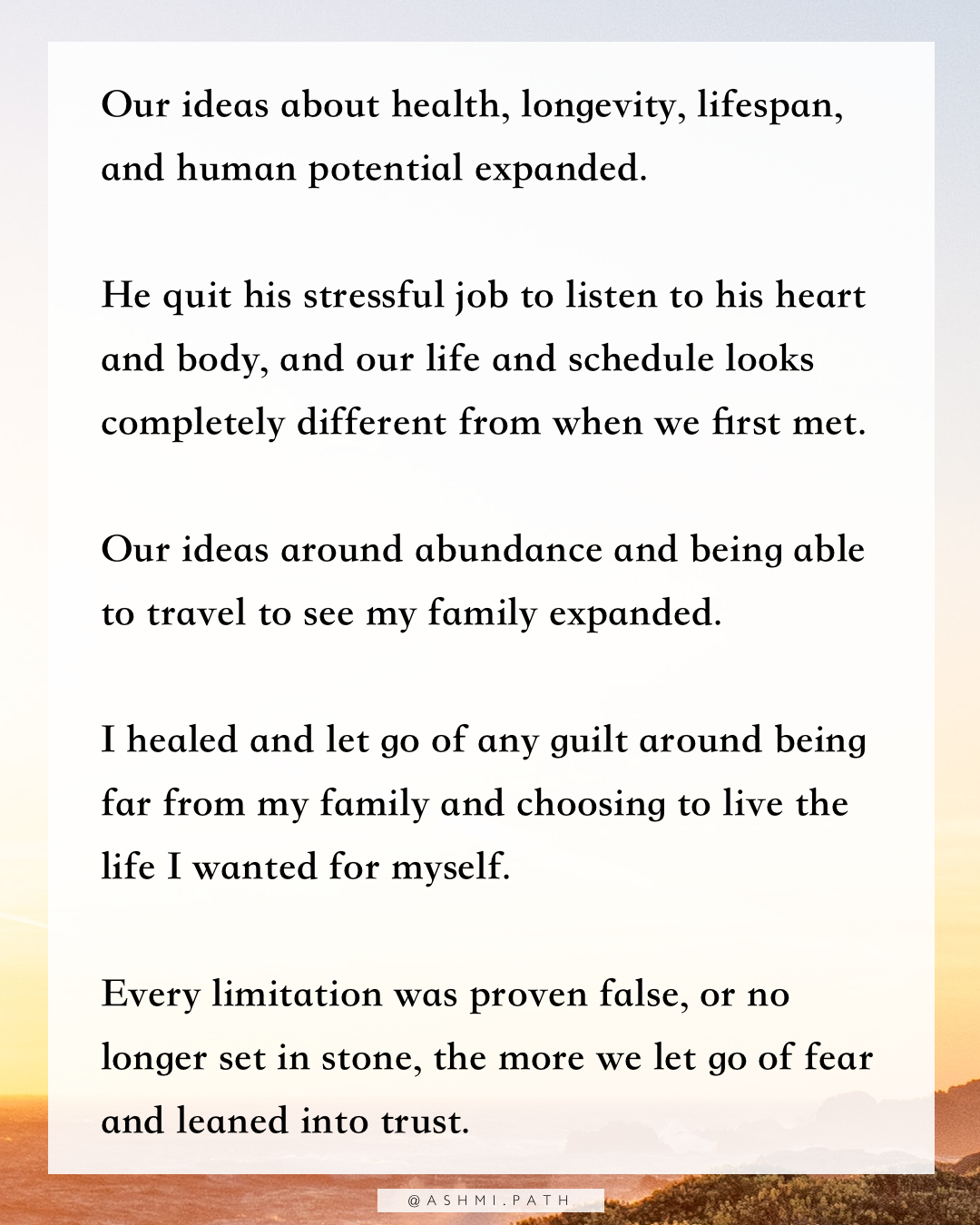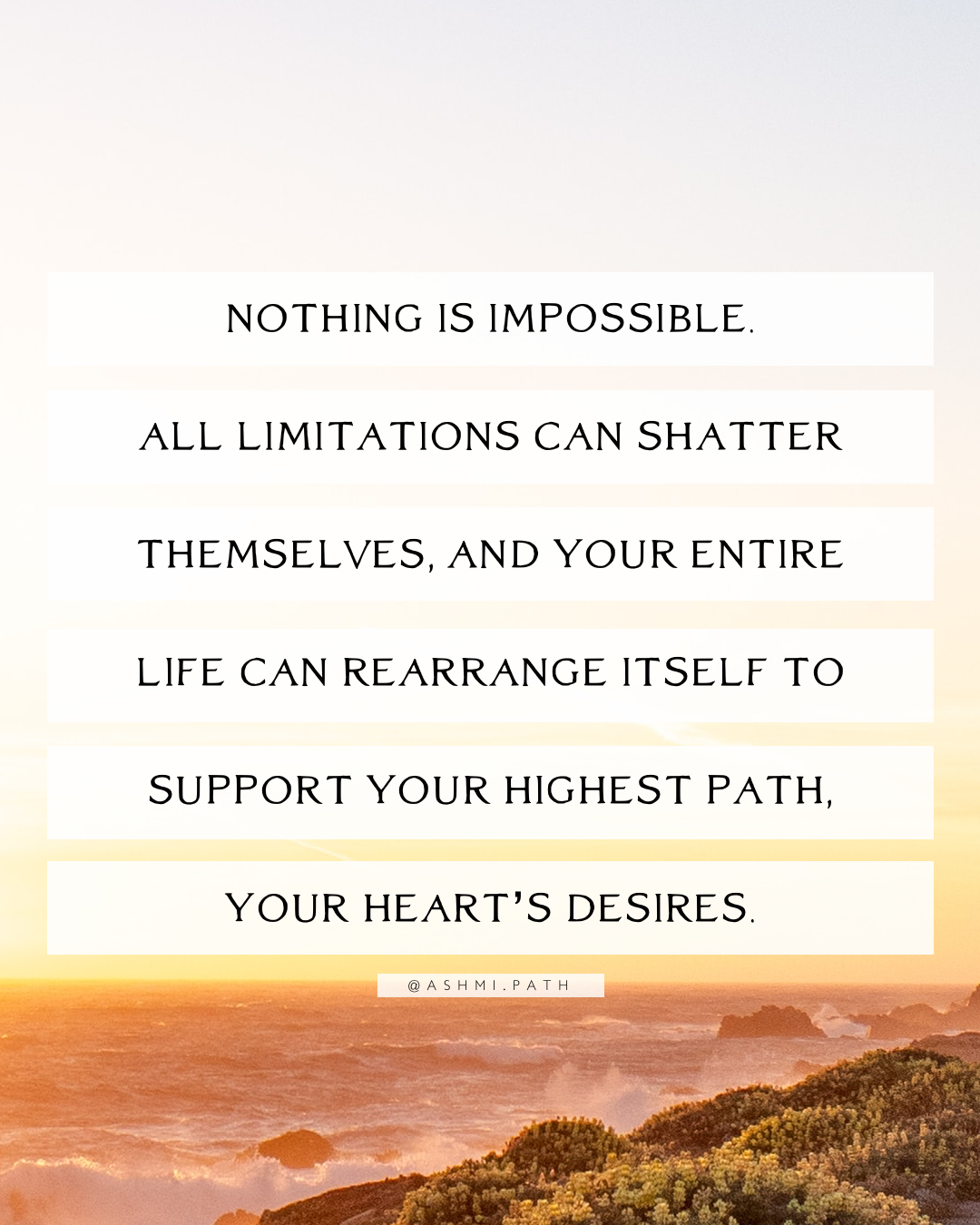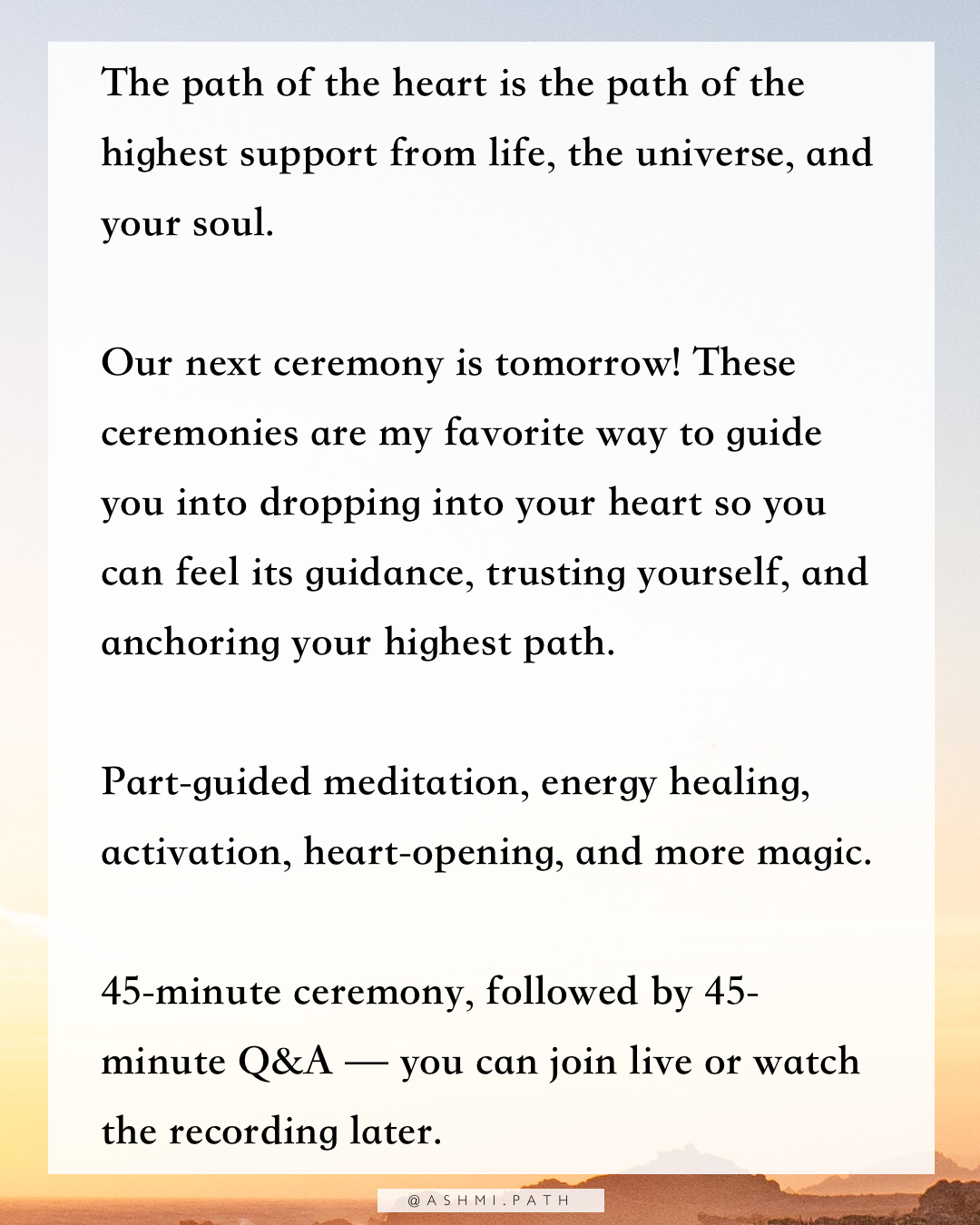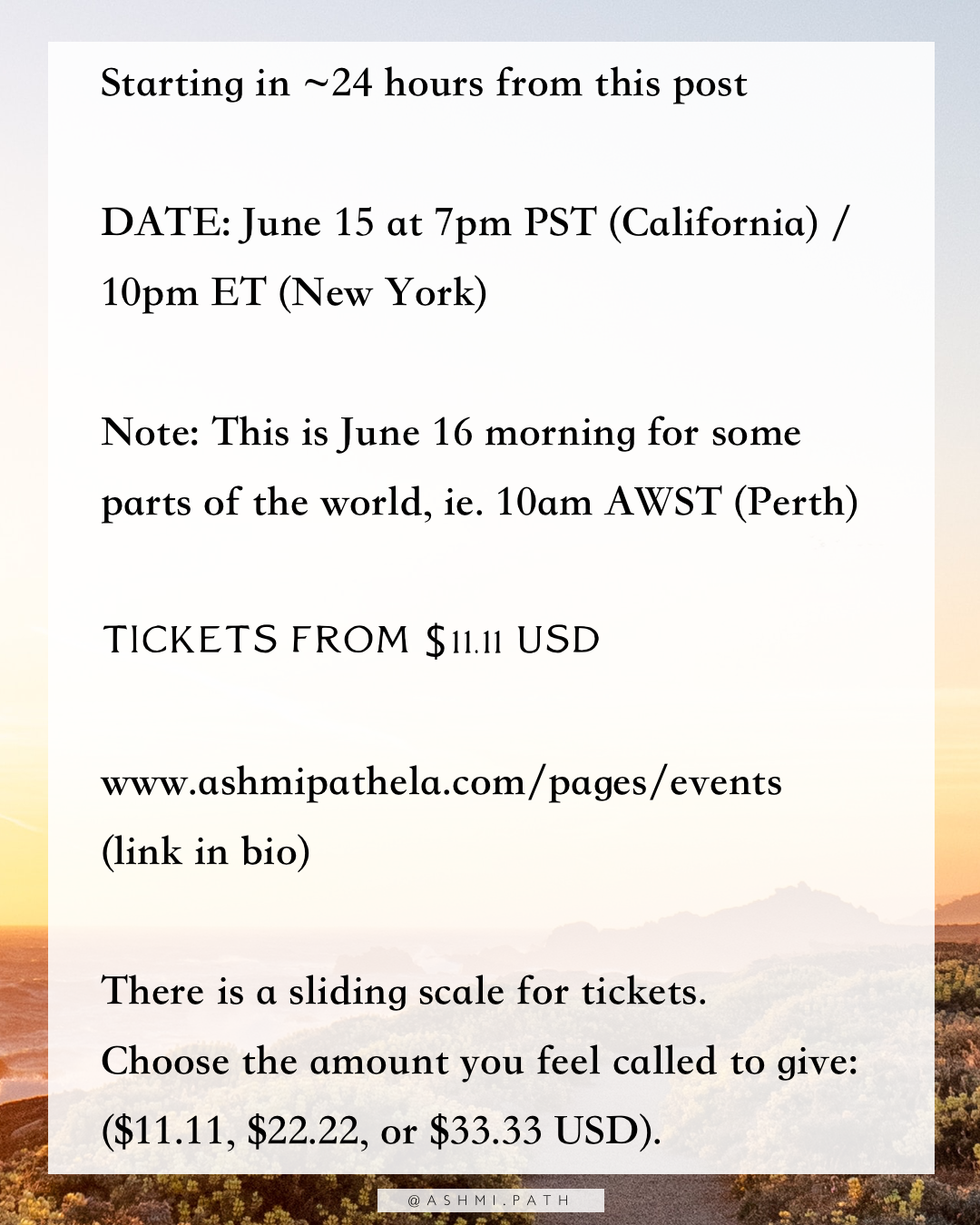 FOLLOWING YOUR HEART IS THE MOST PRACTICAL CHOICE YOU CAN MAKE, EVEN THOUGH IT MAY LOOK THE OPPOSITE OF PRACTICAL, RATIONAL, AND LOGICAL.
Someone asked me, "Should I follow my heart or should I make the practical choice when it comes to finding my life partner?"
And I said… What if following your heart IS the practical choice? What if it knows even better, what is aligned for your highest path? What if you can trust it — because it is you. It is your higher self.
Your heart is the portal to your soul, and it is constantly guiding you to your highest timeline. It is ever-wise and can see how everything can come together, even better than the mind can plan.
It may not look practical to the mind, but if it's a true yes from the heart (not fickle emotions or puppy love, but a true soul yes) — it usually ends up being your most expansive and aligned path.
From another perspective, there is no "wrong" choice you can make — because it is all leading to your highest expansion and growth, even if things don't work out the way you think they should.
The choice you make IS your highest path — because you have followed it.
In many ways, my fiance Joel was not the practical choice in terms of love. When we first met, he was everything my heart was looking for… but to my mind, many things were a stretch.
We lived in separate countries, he lived in the most remote city in the world (and possibly the furthest you could go from where my family lives), he's 9 years older, he worked long hours in mining (alternating day and night shifts) and it wasn't supportive for his health or building a budding relationship, and on and on.
But all those practical concerns were non-issues from the beginning, because I saw him and felt him so clearly from the heart… and somehow, I knew the strangely shaped puzzle pieces would rearrange themselves to help us create a life even better than what we could imagine.
The practical concerns faded further over the years. As we got together, our ideas around any limitations expanded.
Our ideas about health, longevity, lifespan, and human potential expanded.
He quit his stressful job to listen to his heart and body, and our life and schedule looks completely different from when we first met.
Our ideas around abundance and being able to travel to see my family expanded.
I healed and let go of any guilt around being far from my family and choosing to live the life I wanted for myself.
Every limitation was proven false, or no longer set in stone, the more we let go of fear and leaned into trust.
NOTHING IS IMPOSSIBLE. ALL LIMITATIONS CAN SHATTER THEMSELVES, AND YOUR ENTIRE LIFE CAN REARRANGE ITSELF TO SUPPORT YOUR HIGHEST PATH, YOUR HEART'S DESIRES.
The path of the heart is the path of the highest support from life, the universe, and your soul.
Our next ceremony is tomorrow! These ceremonies are my favorite way to guide you into dropping into your heart so you can feel its guidance, trusting yourself, and anchoring your highest path.
Last day to join: Softening to Receive — Online Guided Ceremony
Part guided meditation, energy healing, activation, heart-opening, and more magic.
45-minute ceremony, followed by 45-minute Q&A — you can join live or watch the recording later.
DATE: June 15 at 7pm PST (California) / 10pm ET (New York)
Note: This is June 16 morning for some parts of the world, ie. 10am AWST (Perth)
TICKETS
www.ashmipathela.com/pages/events
There is a sliding scale for tickets.
Choose the amount you feel called to give: ($11.11, $22.22, or $33.33 USD).
Paid members can access the Zoom link and all ceremony recordings here: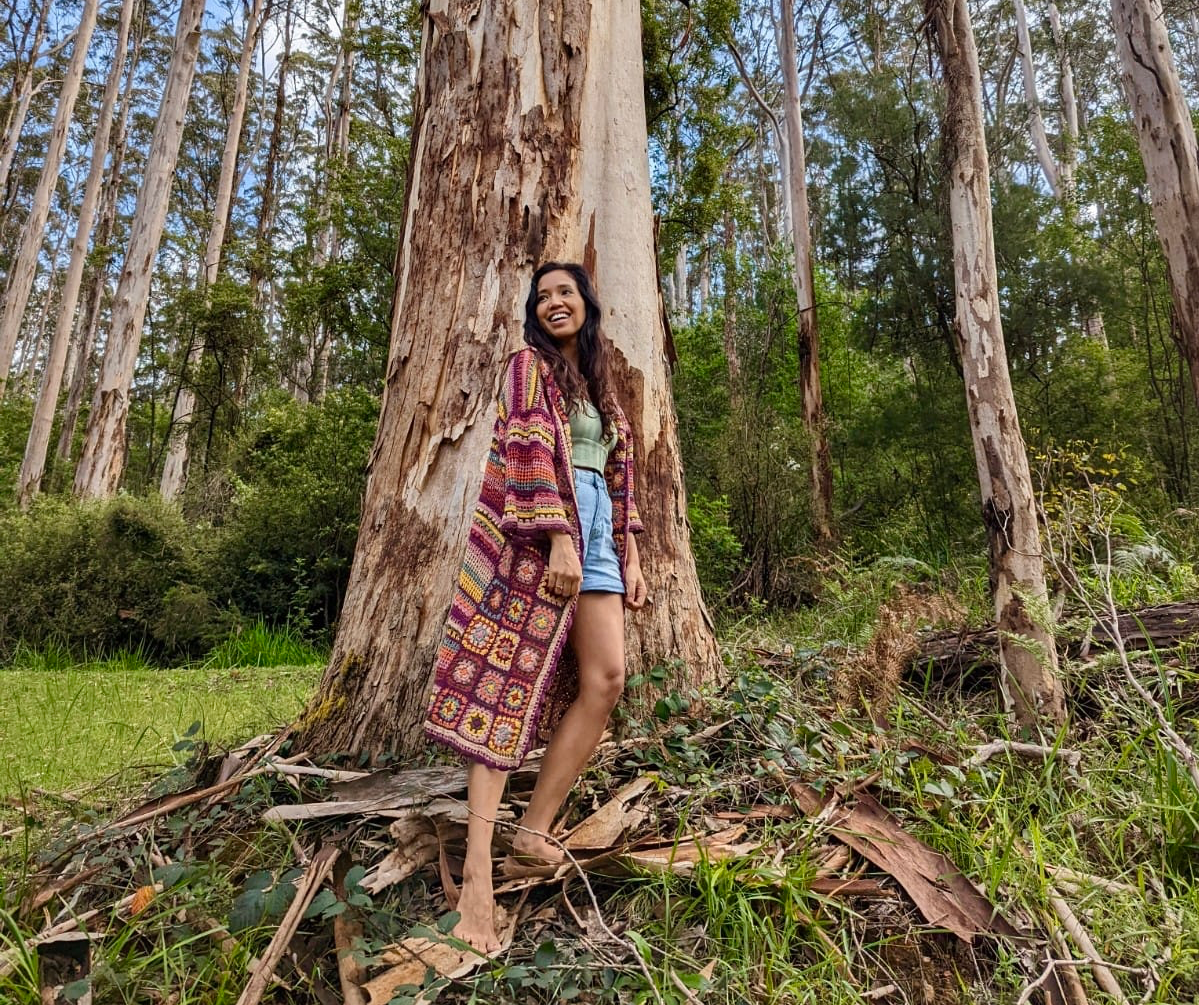 Written with love,
Ashmi