There is a Higher Timeline Available Now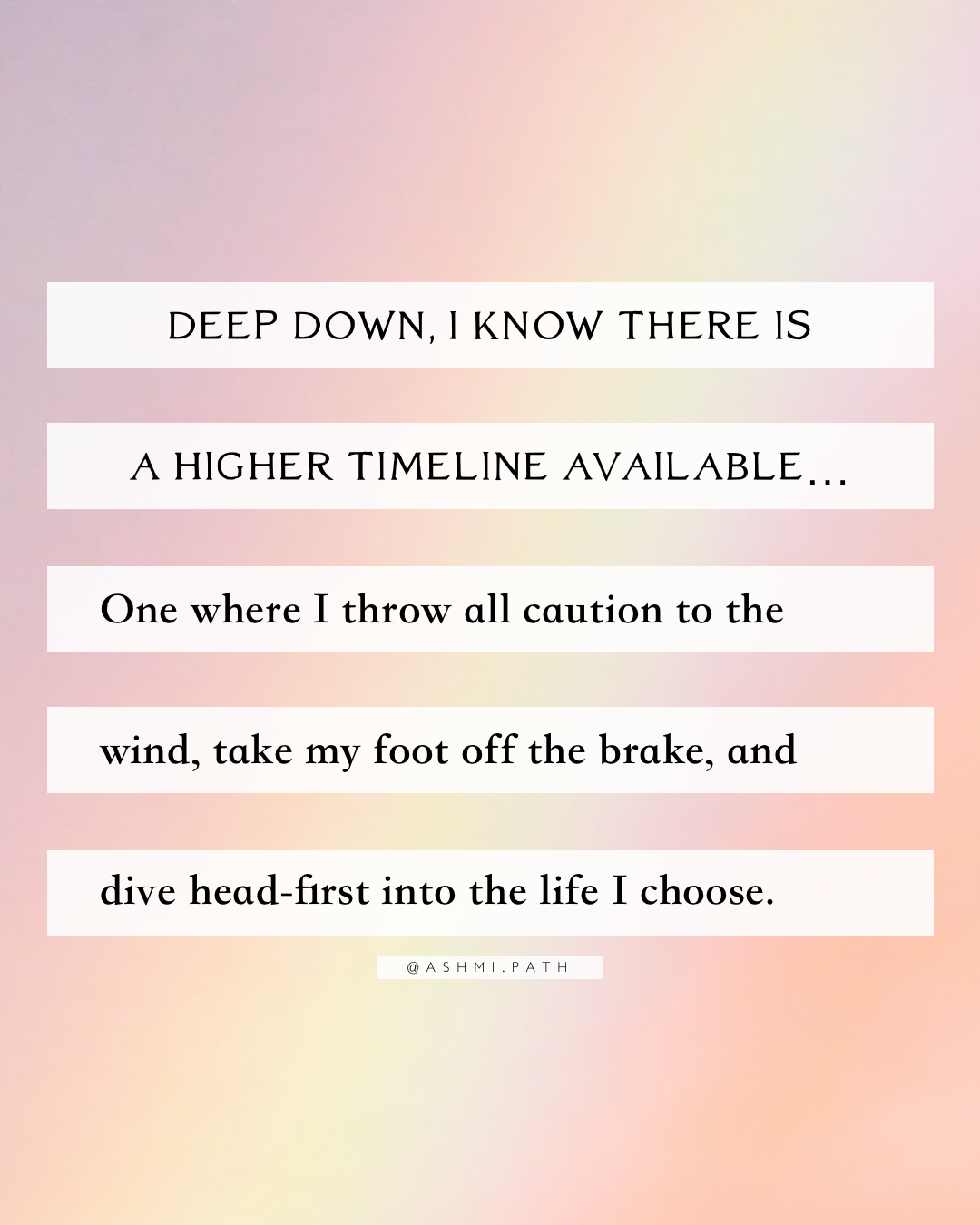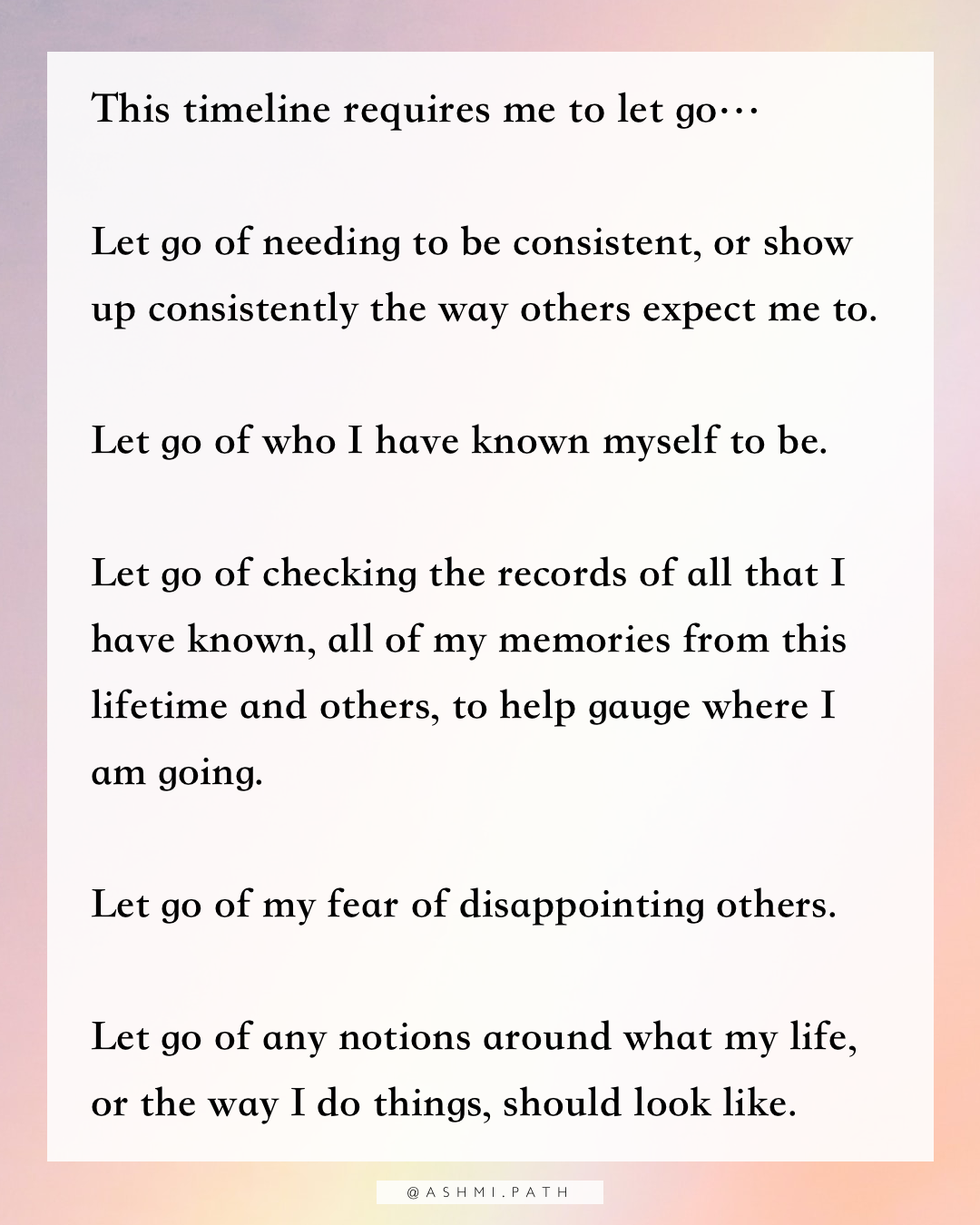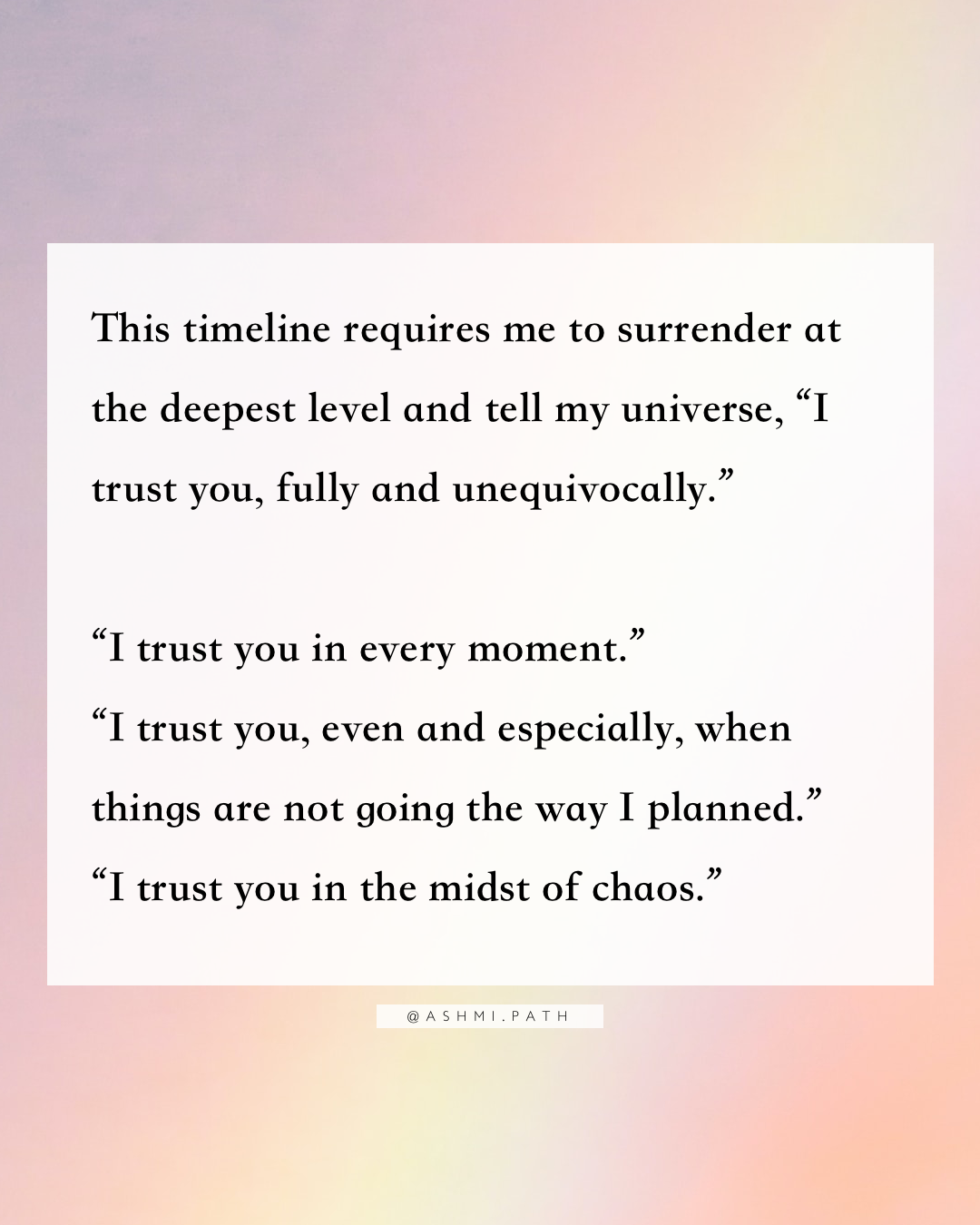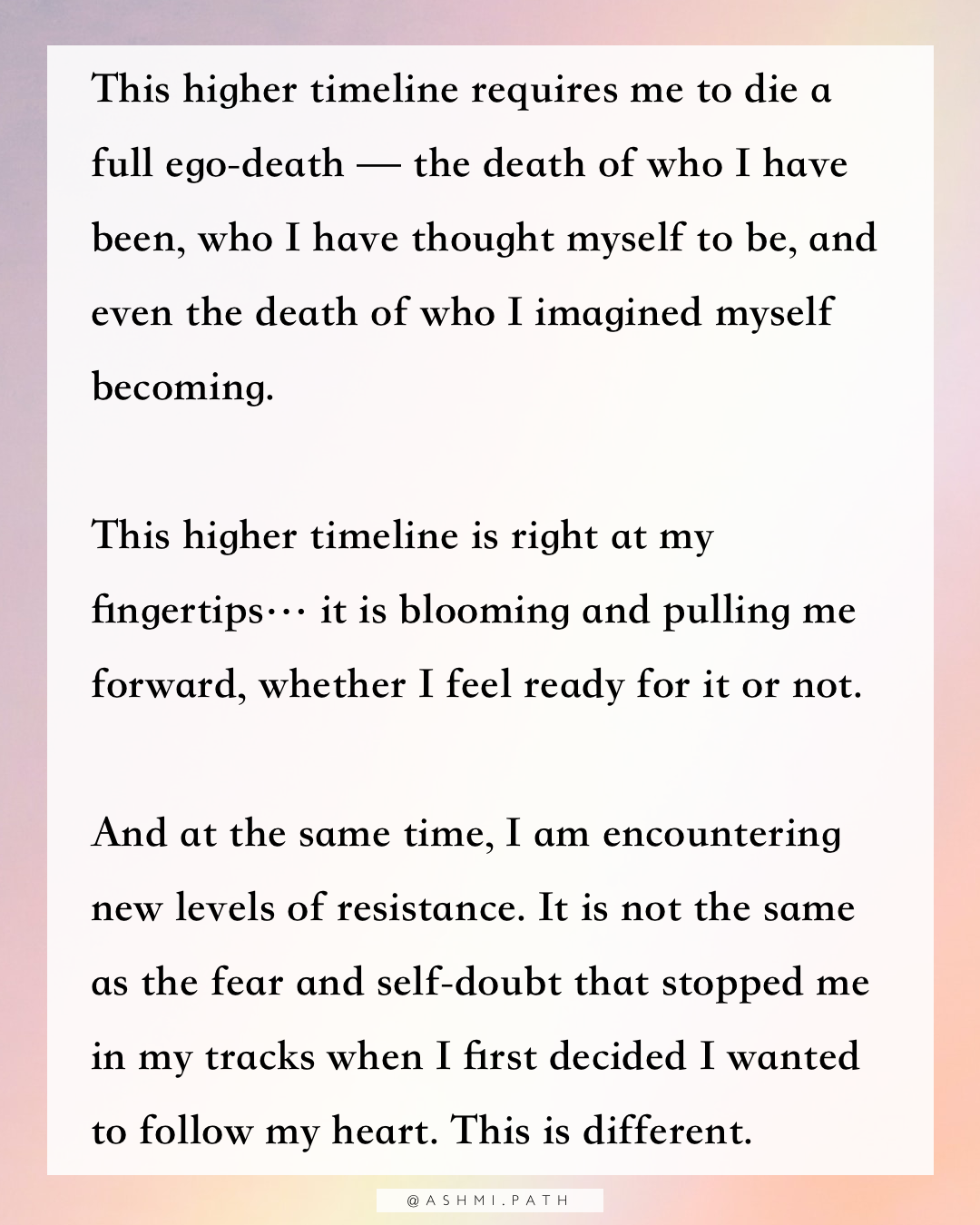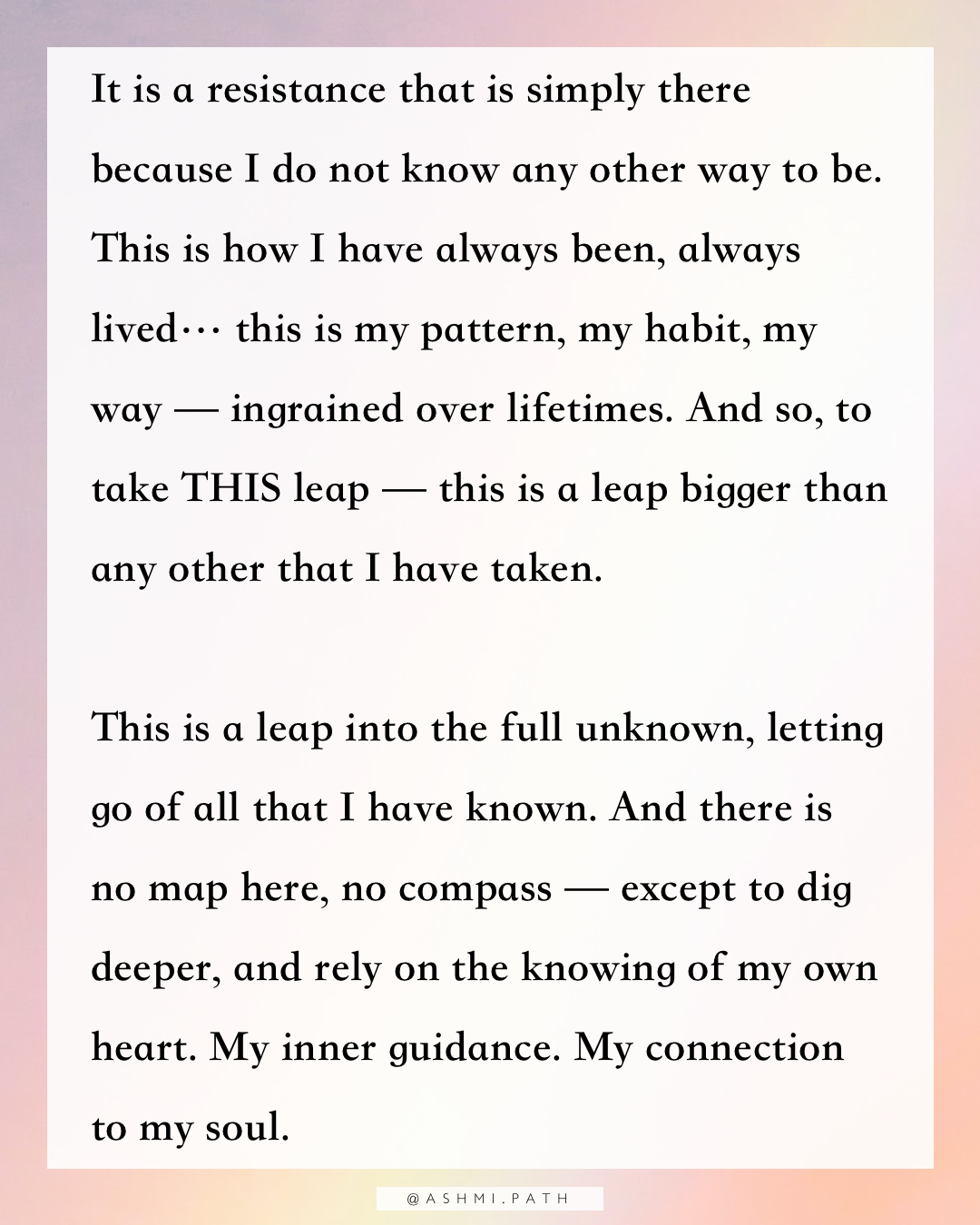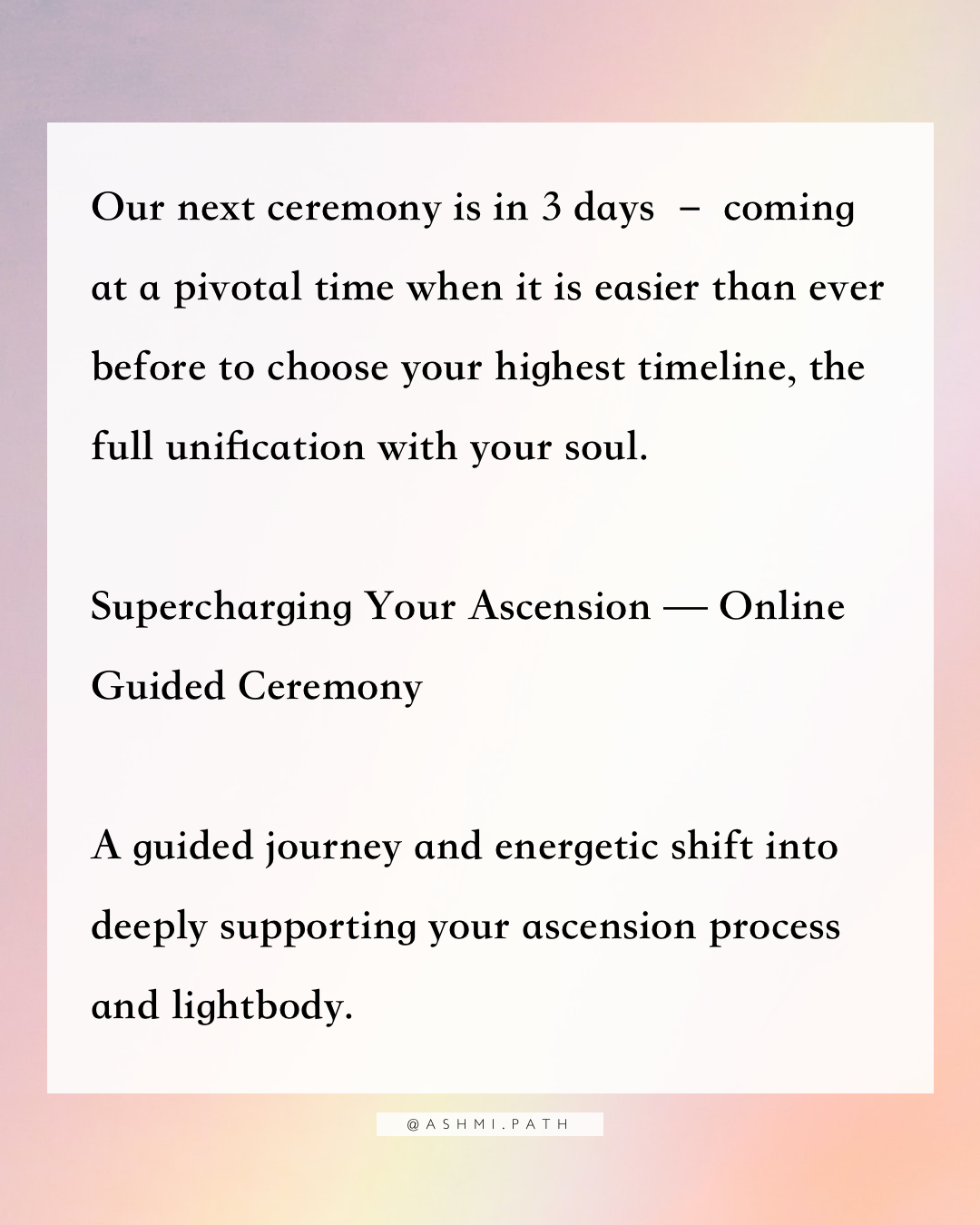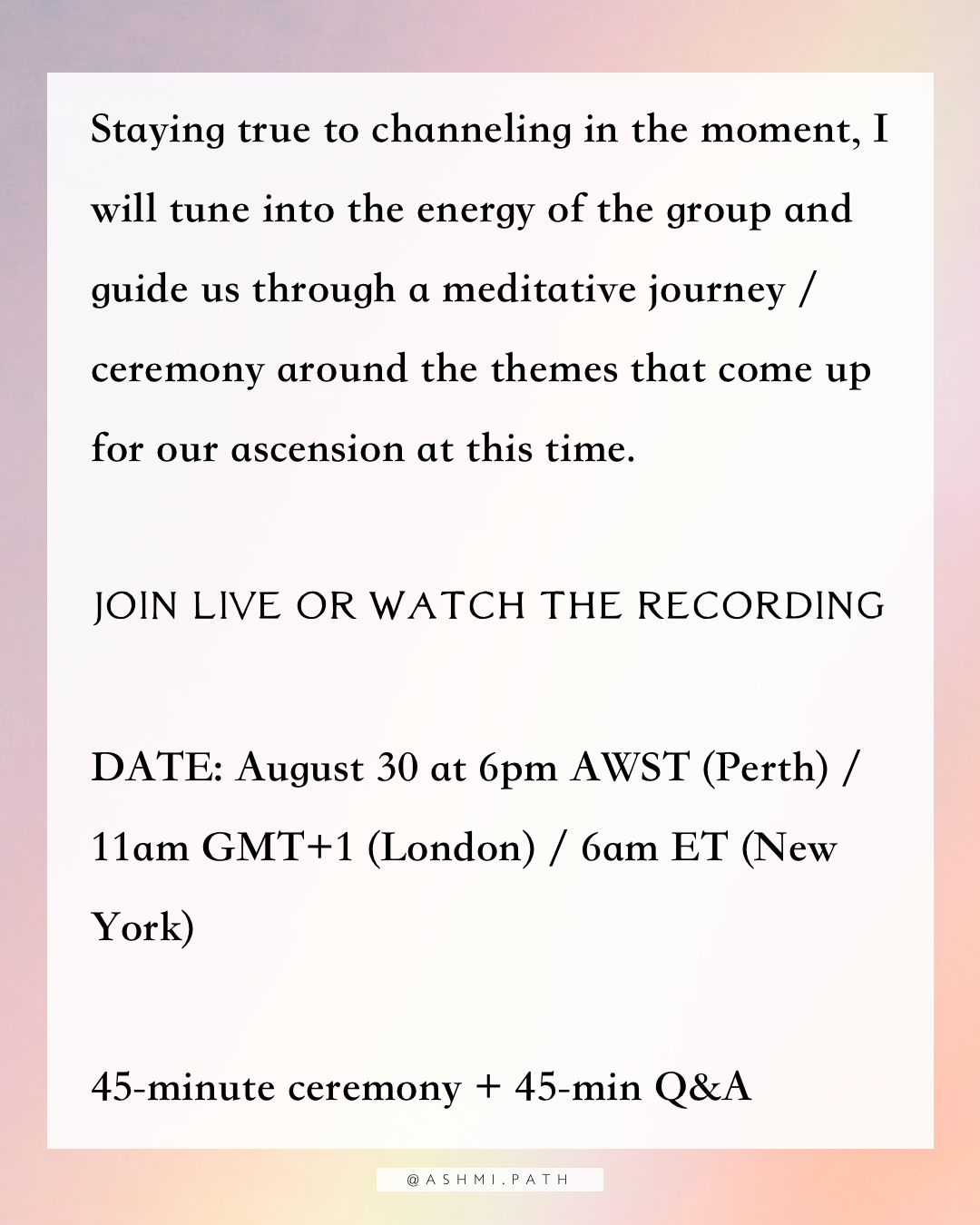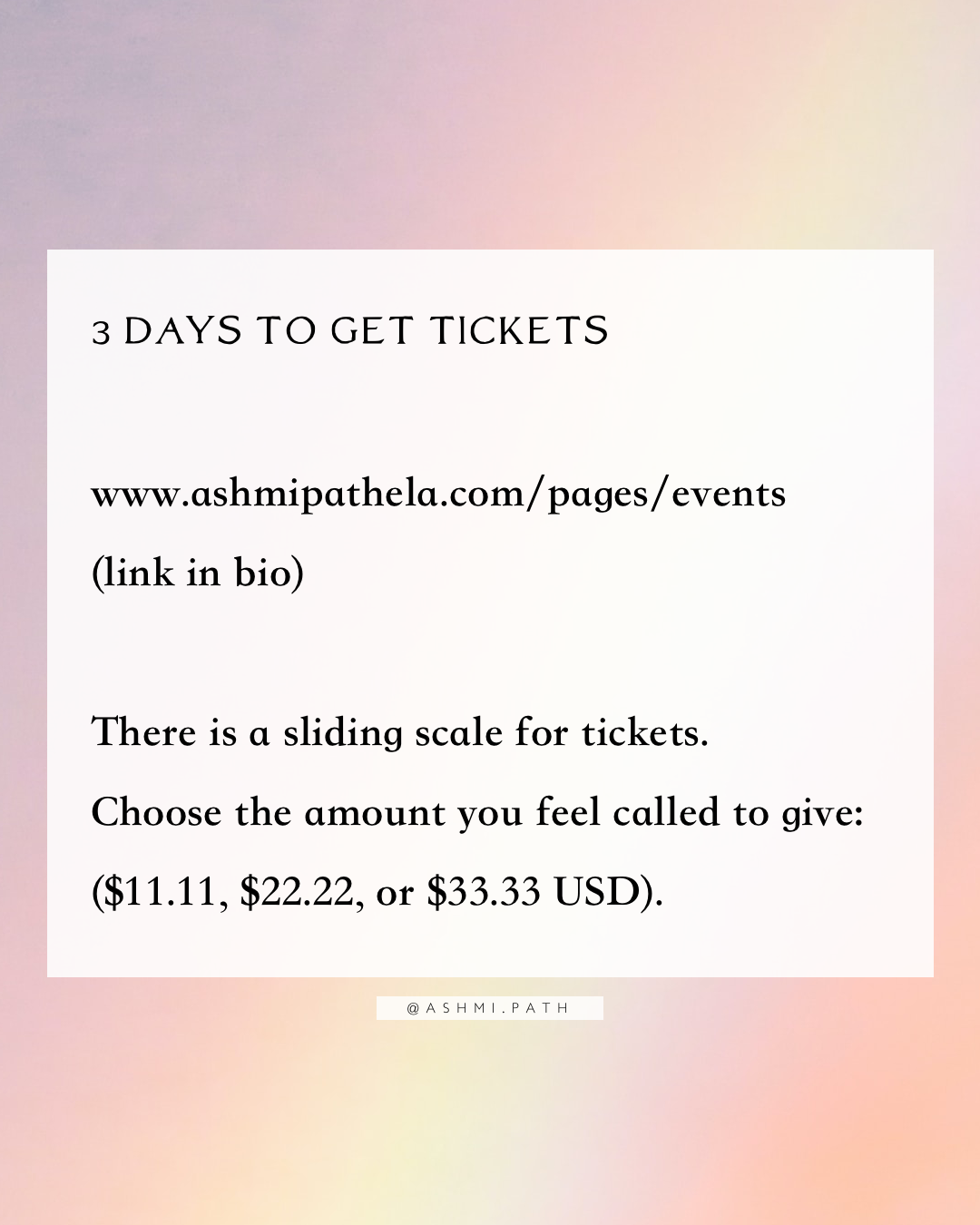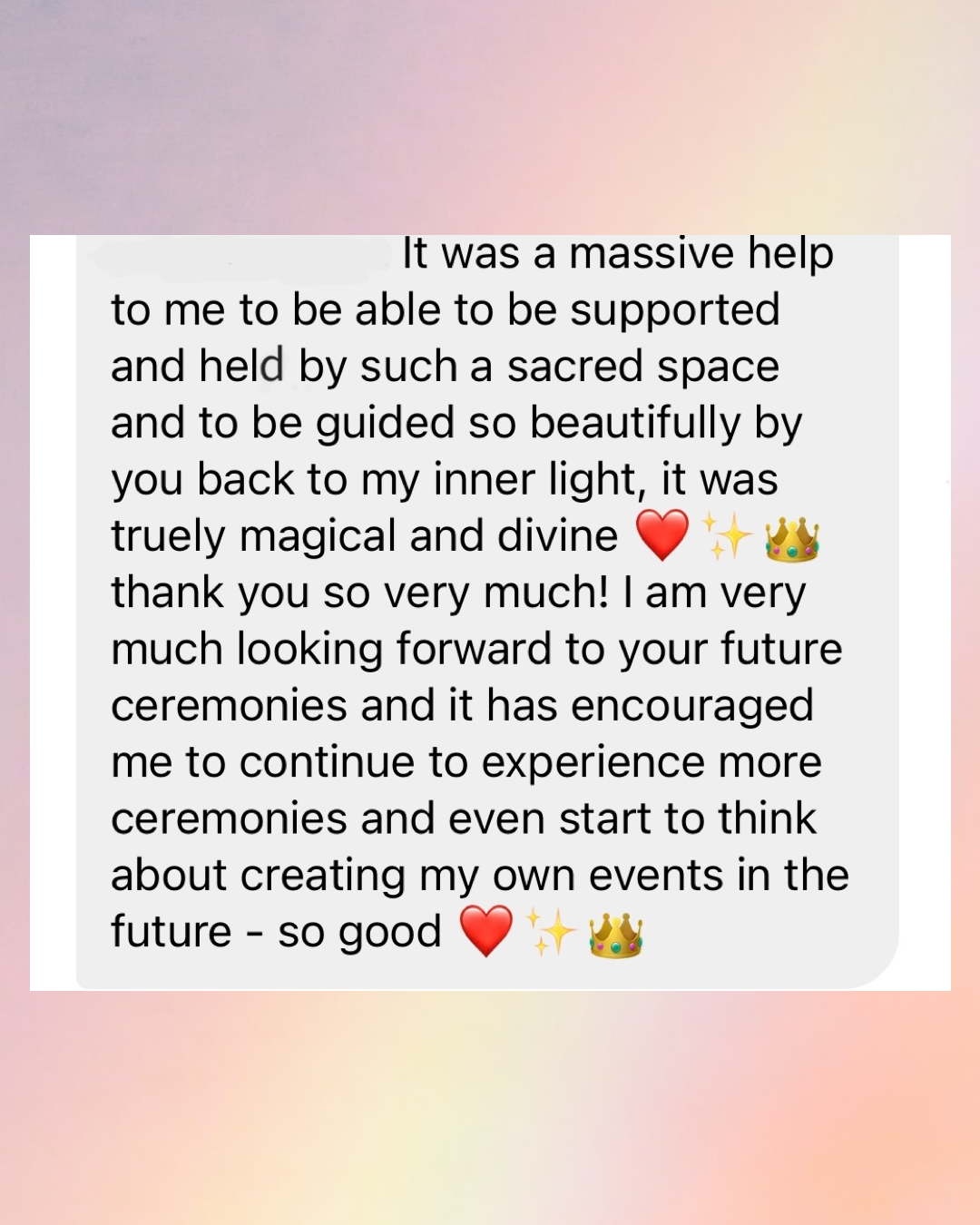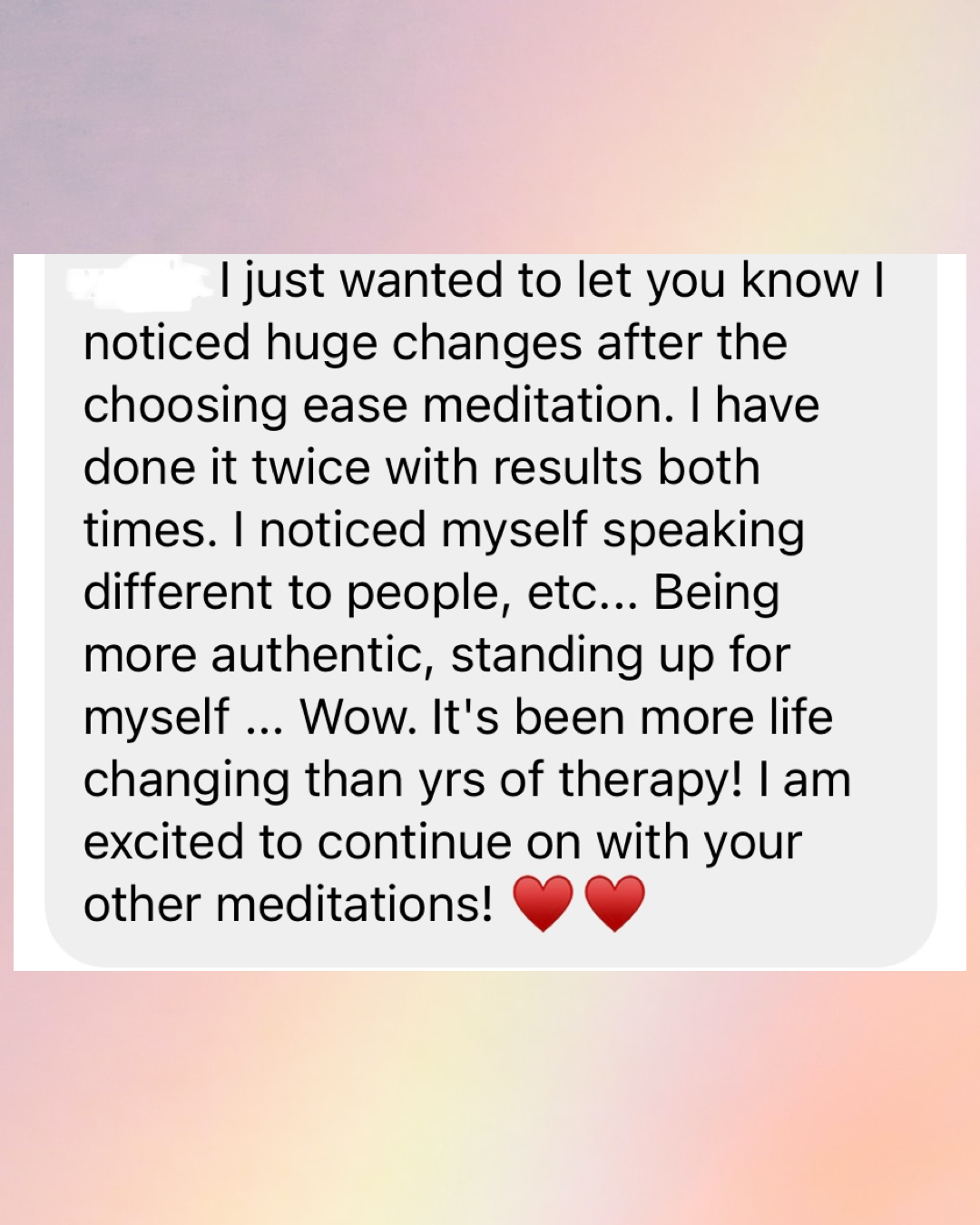 You are always stepping into the higher timeline - this is a natural process. But sometimes, the leap feels bigger and more obvious than others. Some, you have been making your way towards for many months – and it is now right here, in front of you... waiting for you to choose it.
~~~
DEEP DOWN, I KNOW THERE IS A HIGHER TIMELINE AVAILABLE…
One where I throw all caution to the wind, take my foot off the brake, and dive head-first into the life I choose.
This timeline requires me to let go…
Let go of needing to be consistent, or show up consistently the way others expect me to.
Let go of who I have known myself to be.
Let go of checking the records of all that I have known, all of my memories from this lifetime and others, to help gauge where I am going.
Let go of my fear of disappointing others.
Let go of any notions around what my life, or the way I do things, should look like.
This timeline requires me to surrender at the deepest level and tell my universe, "I trust you, fully and unequivocally."
"I trust you in every moment."
"I trust you, even and especially, when things are not going the way I planned."
"I trust you in the midst of chaos."
This higher timeline requires me to die a full ego-death — the death of who I have been, who I have thought myself to be, and even the death of who I imagined myself becoming.
This higher timeline is right at my fingertips… it is blooming and pulling me forward, whether I feel ready for it or not.
And at the same time, I am encountering new levels of resistance. It is not the same as the fear and self-doubt that stopped me in my tracks when I first decided I wanted to follow my heart. This is different.
It is a resistance that is simply there because I do not know any other way to be. This is how I have always been, always lived… this is my pattern, my habit, my way — ingrained over lifetimes. And so, to take THIS leap — this is a leap bigger than any other that I have taken.
This is a leap into the full unknown, letting go of all that I have known. And there is no map here, no compass — except to dig deeper, and rely on the knowing of my own heart. My inner guidance. My connection to my soul.
Our next ceremony is in 3 days – coming at a pivotal time when it is easier than ever before to choose your highest timeline, the full unification with your soul.
Supercharging Your Ascension — Online Guided Ceremony
A guided journey and energetic shift into deeply supporting your ascension process and lightbody.
Staying true to channeling in the moment, I will tune into the energy of the group and guide us through a meditative journey / ceremony around the themes that come up for our ascension at this time.
JOIN LIVE OR WATCH THE RECORDING
DATE: August 30 at 6pm AWST (Perth) / 11am GMT+1 (London) / 6am ET (New York)
The recording will be emailed to all after, and it never expires!
Format: 1.5 hour group video call on Zoom
Guided ceremony/meditation: 45 minutes
Open sharing and Q&A: 45 minutes
You are welcome to join via video or just listen in, whatever feels best to you! Ceremonial cacao is optional  — you can find it at a natural food store near you.
TICKETS
www.ashmipathela.com/pages/events
There is a sliding scale for tickets.
Choose the amount you feel called to give: ($11.11, $22.22, or $33.33 USD).
As always, this ceremony is included for members ~ you can get the membership for access to this ceremony and all previous recordings, bonuses, and more at ashmipath.com.
GET THE MEMBERSHIP TO RECEIVE THIS CEREMONY + BONUSES
THIS CEREMONY IS INCLUDED FOR THOSE WHO ARE PAID MEMBERS — You can find the Zoom link and ceremony recordings here: https://www.ashmipath.com/tag/monthly-ceremonies/
Written with love,
Ashmi