What this Space is About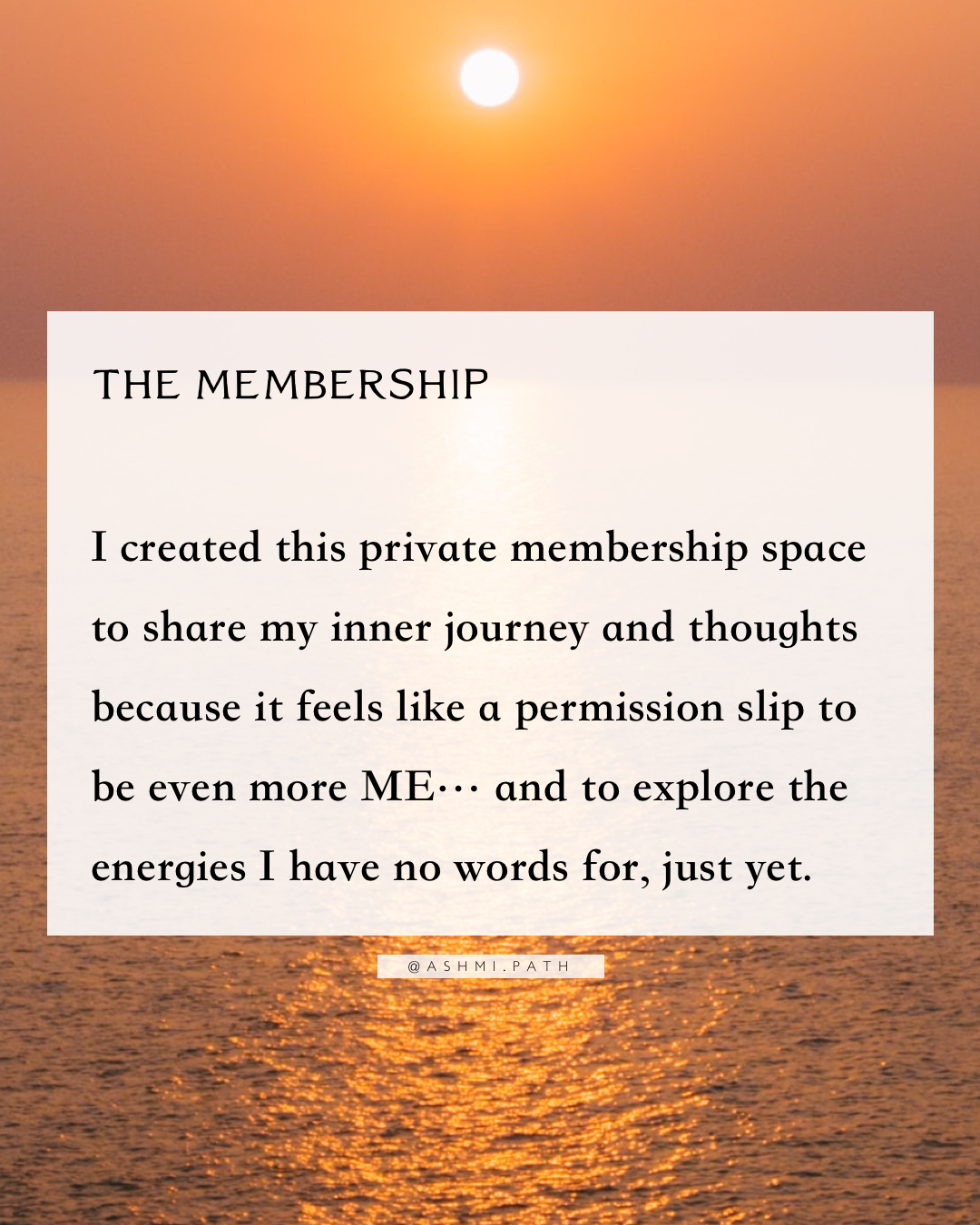 Hello friends! This is just a note to all, on what to expect in the private membership space...
I created this private membership space to share my inner journey and thoughts because it feels like a permission slip to be even more ME… and to explore the energies I have no words for, just yet.
For a long time, I felt like I am here to "teach"… I am here to inspire, to be a "wayshower" of a new paradigm… But now, I feel like I am melting into simply being ME, to continue exploring the expansion of my heart and consciousness — instead of just writing about what I already know.
I identified so long with this "purpose" of being a lightworker, a wayshower, a teacher — it feels a bit weird to let it dissolve and create room for me to keep shifting, keep exploring, keep expanding upon the idea of who I am.
Who am I, when I do not need to teach anything?
Who am I, when I do not need to 'do' anything but be me?
From another perspective, of course we are all lightworkers. You are reading these words for a reason, you are here for a reason. And whether you identify with the human term or not, you were a lightworker since before you were born — because you are OF THE LIGHT.
Deep down, you know there is so much more to life… that you are here for a reason… that something must change, something is changing, in the world. And you are here for it.
YOU ARE A LIGHTWORKER, AND YOU ARE SO MUCH MORE.
Who are you, outside of these human concepts? Outside of the concepts of spirituality, the attachment to ascending and evolving, even the idea that you are here for a mission?
Who are you, when you let it all melt away and just BE with what is here?
THERE IS SOMETHING BEAUTIFUL HERE. The unspoken dance of the universe, the balance and harmony of it all, the energy of love. The power, the magic, the flow of death and rebirth that never ends.
Take away the human concepts, the labels, the attachments — and you will find something even more sacred underneath. It is the bubbling river of life, the brilliant light that shatters all illusions… reminding you just how connected you are to it all.
In this private membership space, I feel inspired to share more of ME, just as I am… And this space will expand, as I expand.
Some things I want to create and share for members here include:
— Shorter guided meditations/ceremonies across various themes (videos)
— Energetic practices and activations to shift and clear ourselves
— Heart expansions and drop-in practices
— I would LOVE to record videos of me speaking from the heart, channeling whatever comes through for the group
— A safe space to share our journeys and chat with each other in the comments
— And of course, more of my unfiltered thoughts and intuitive messages
I don't want to add more noise, more things "to do"… I simply want to share my energy from the frequency that I'm exploring now. This is a space to BE, PLAY, and allow the expansion to happen naturally… A space to relax and trust that you are already on your most magical path.
Thank you so much for being here!
Written with love,
Ashmi