You Are Not Here to Teach or Guide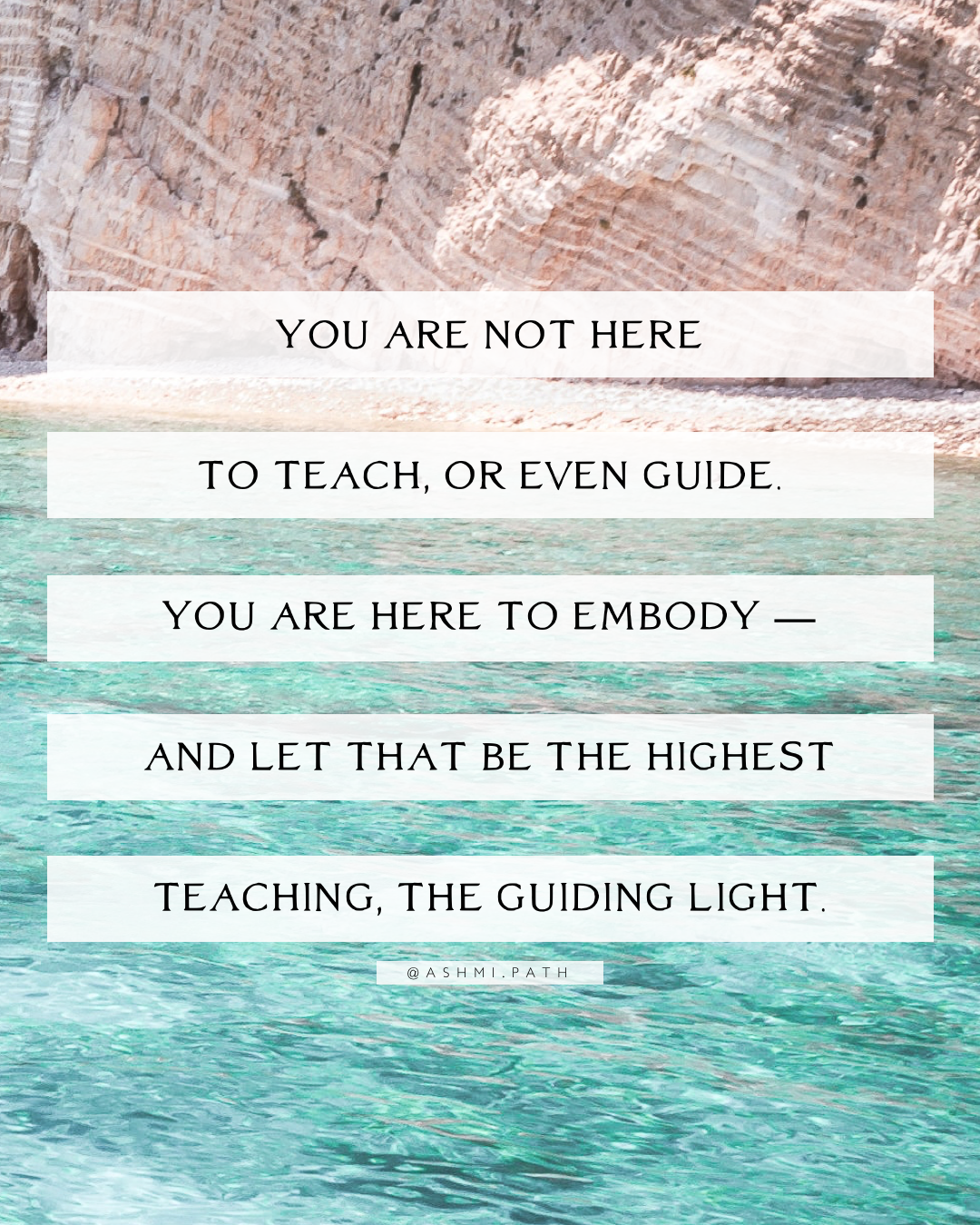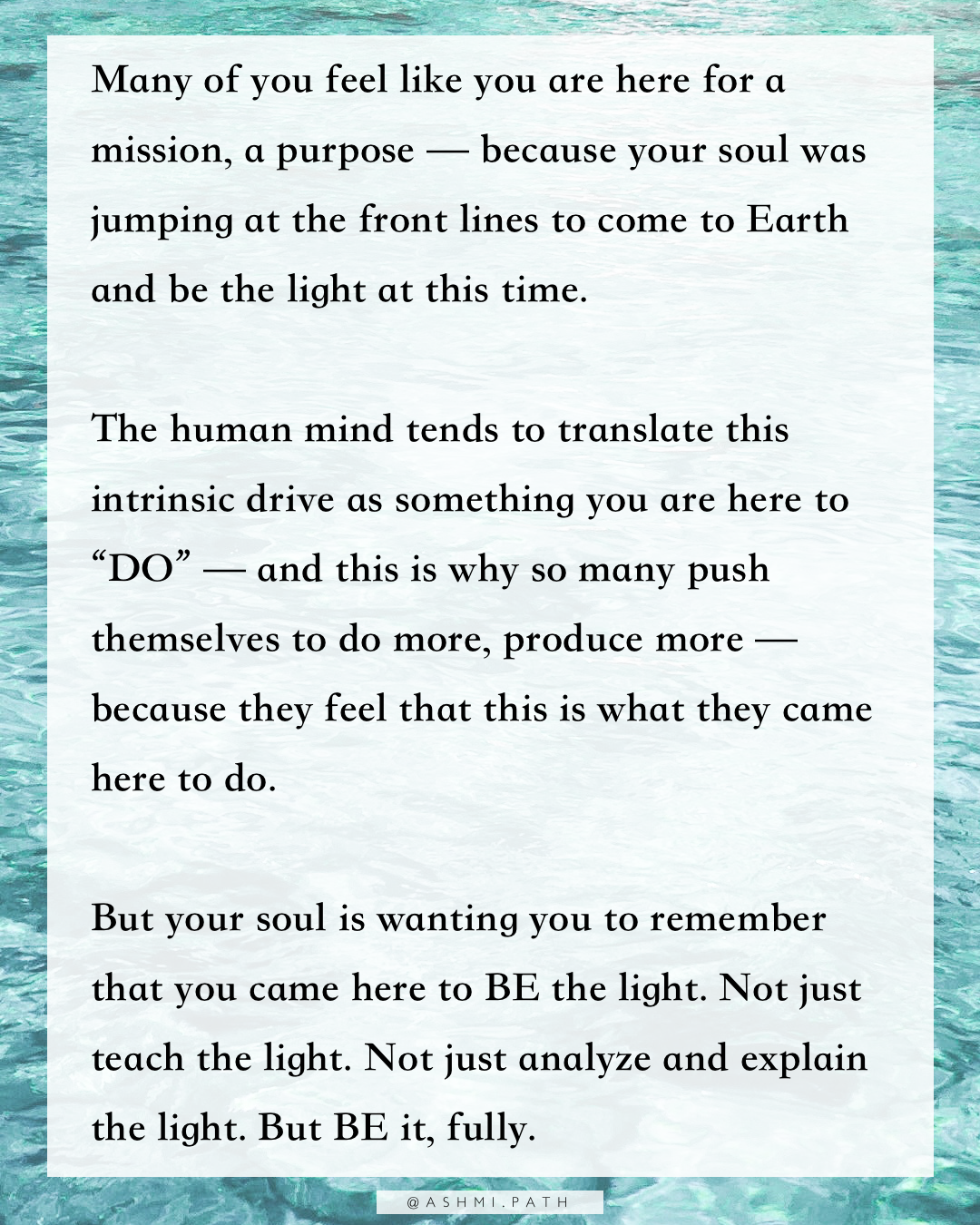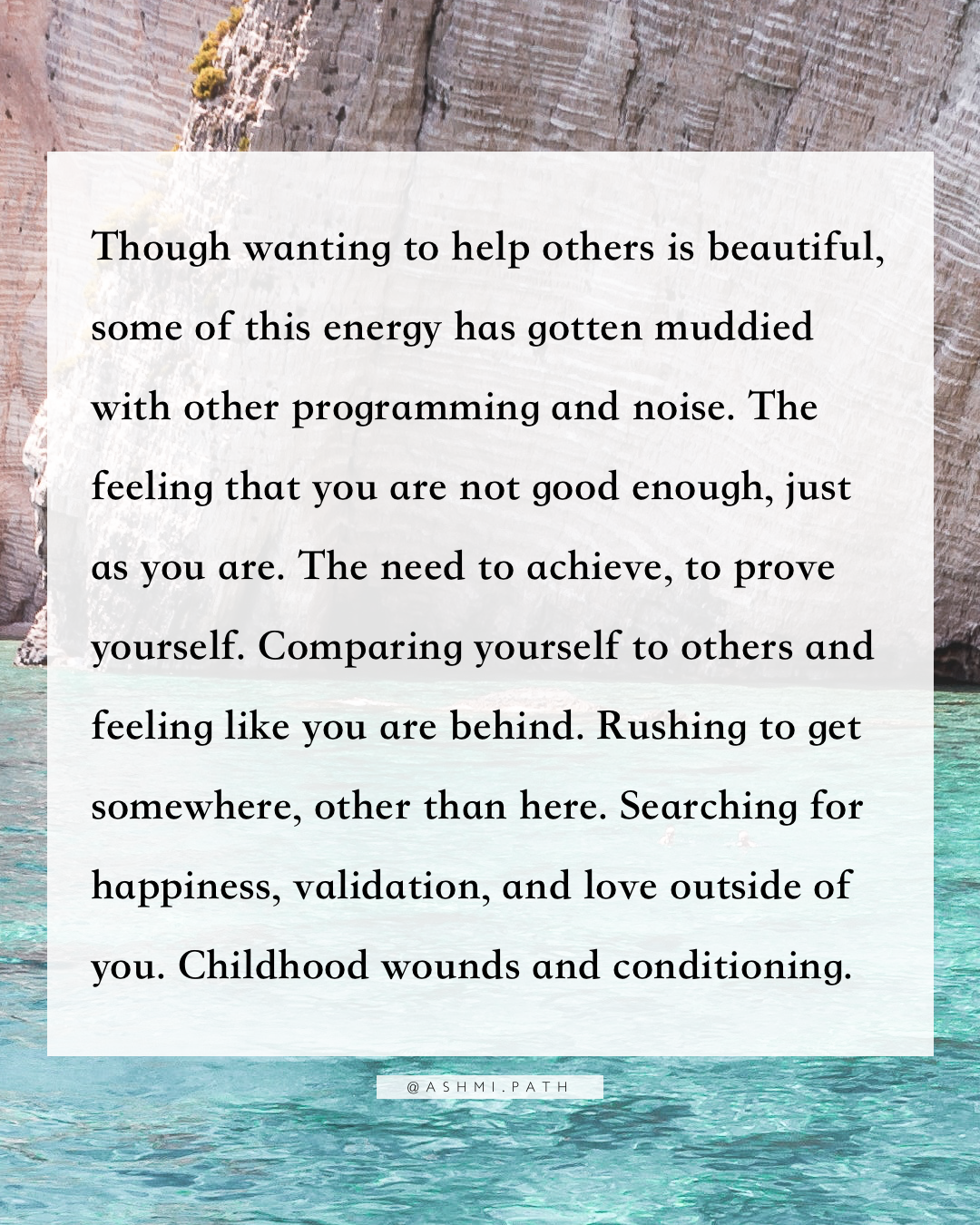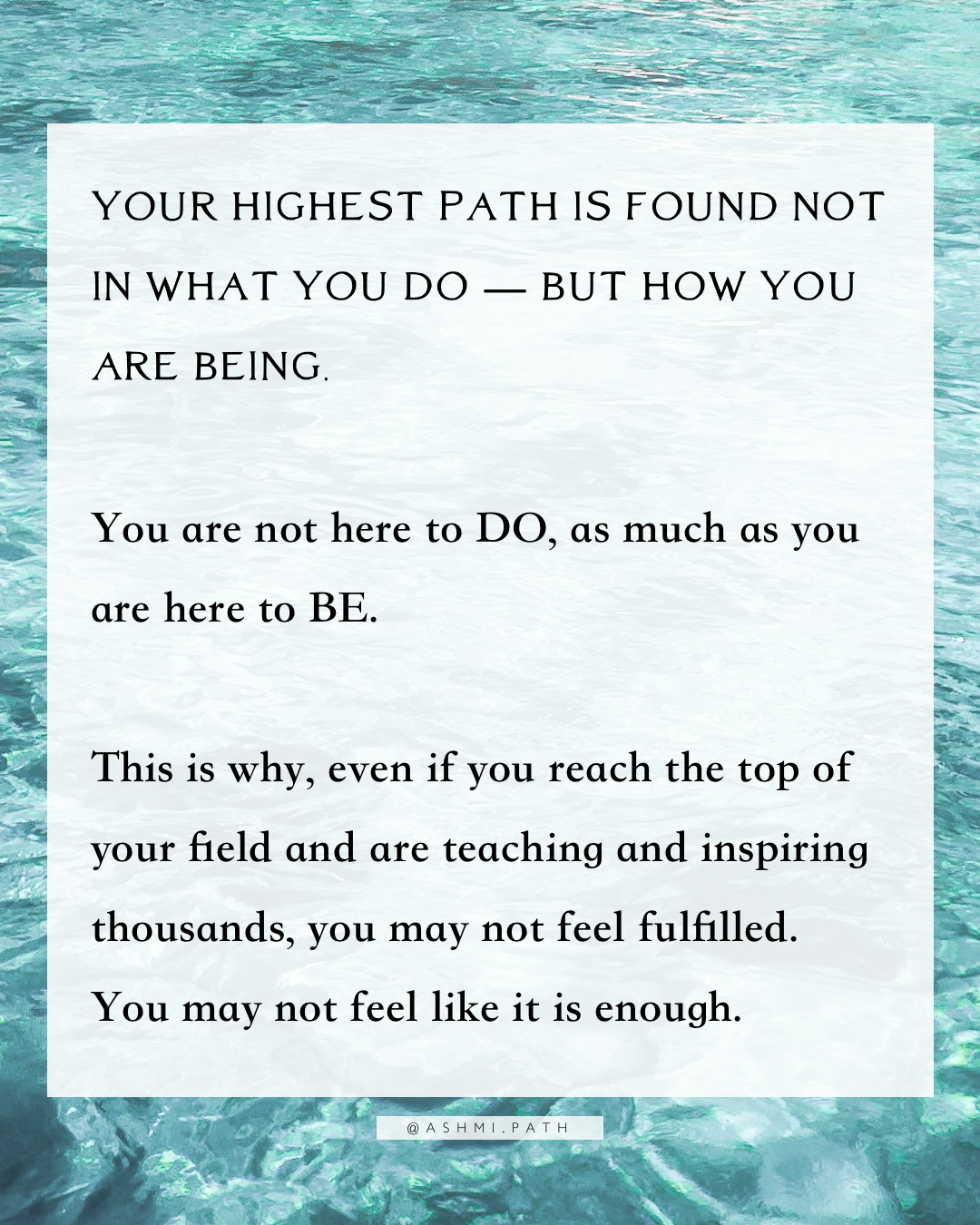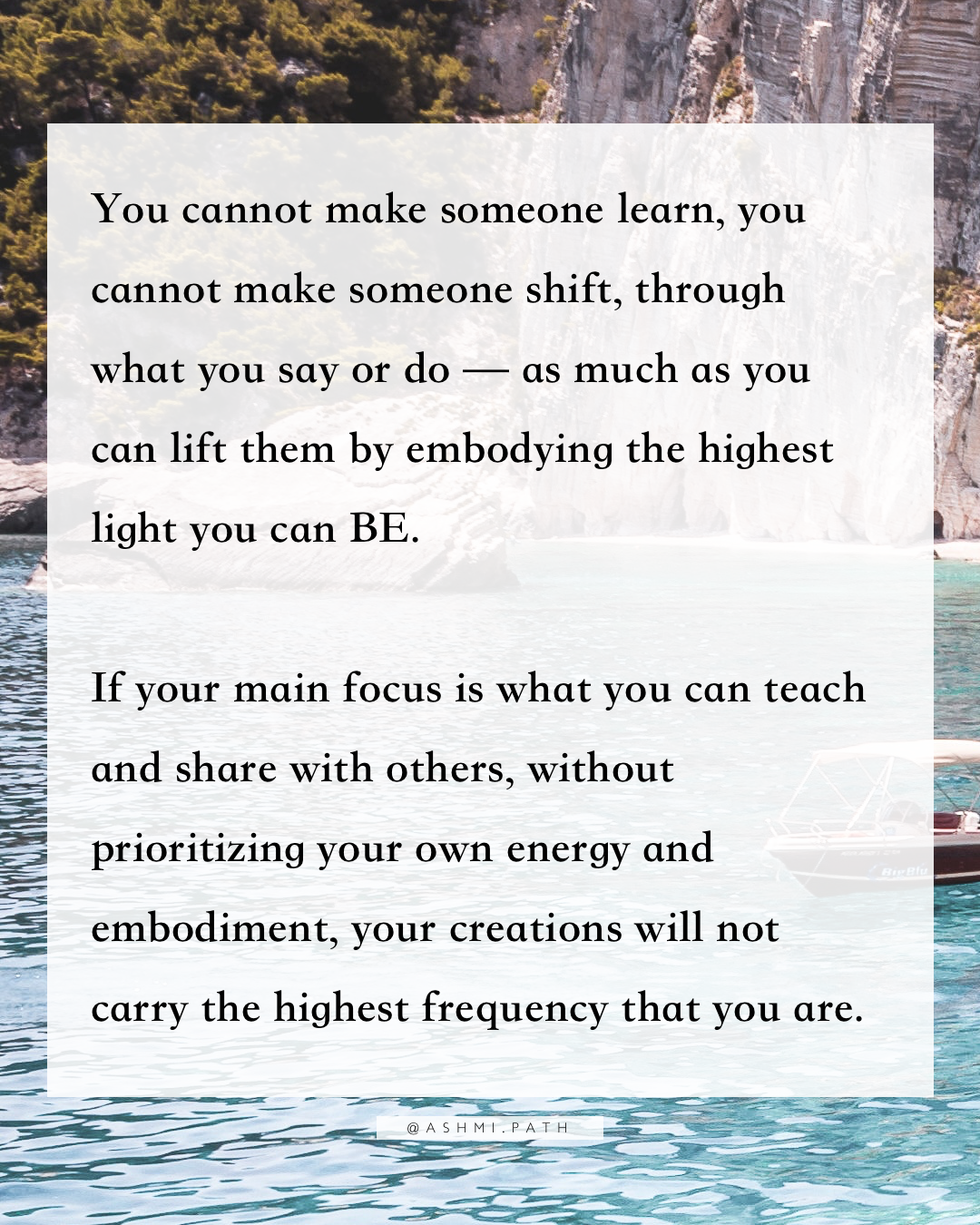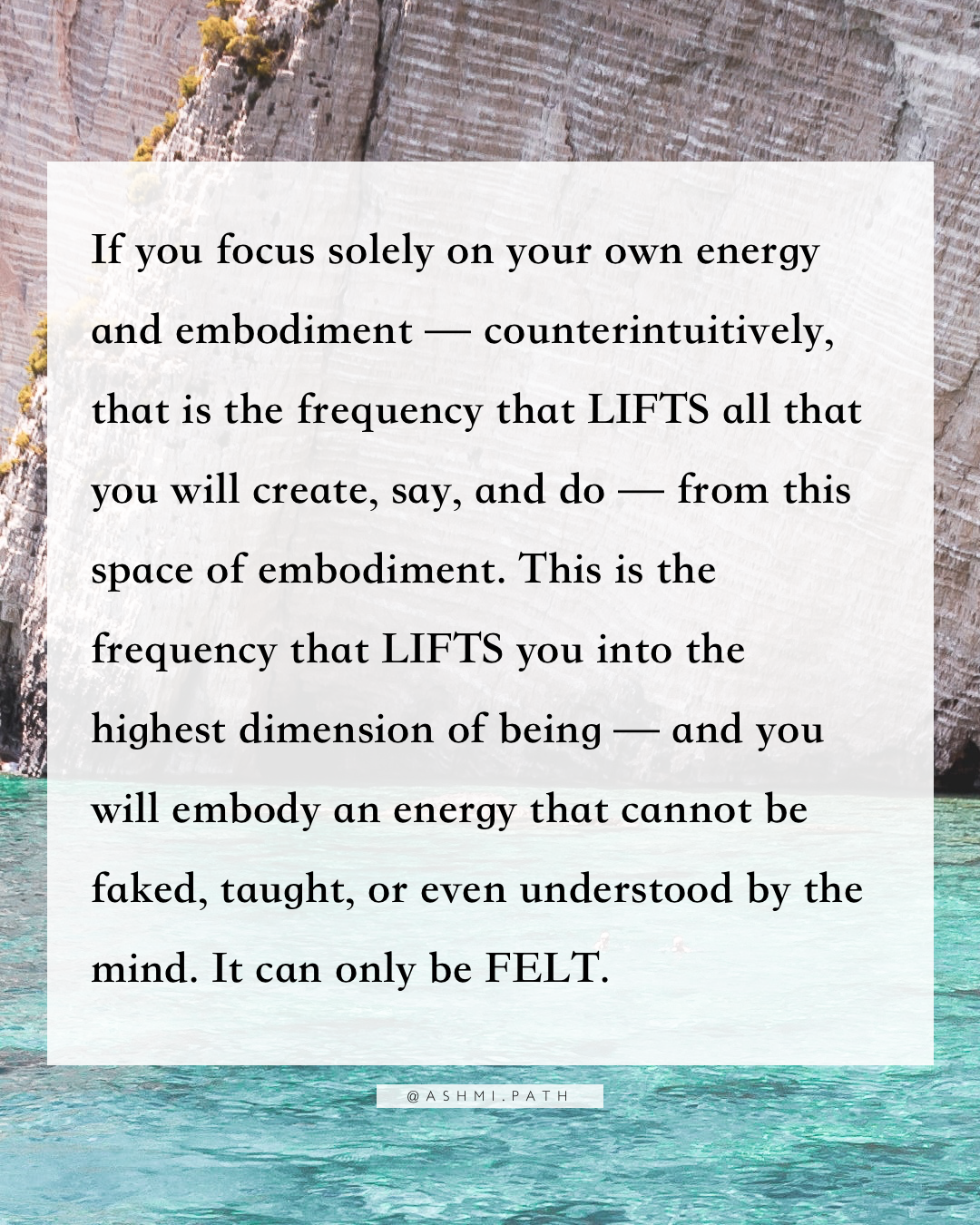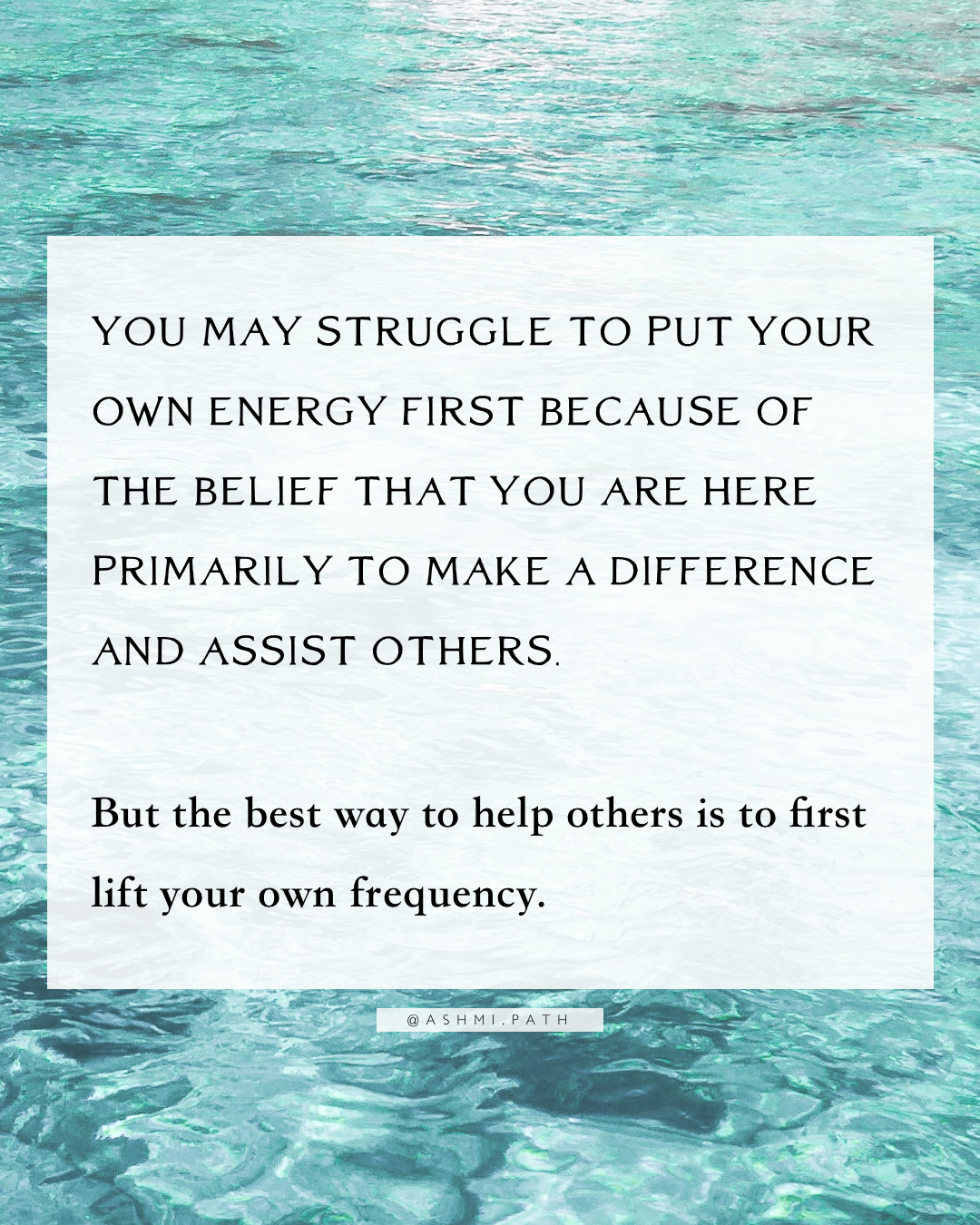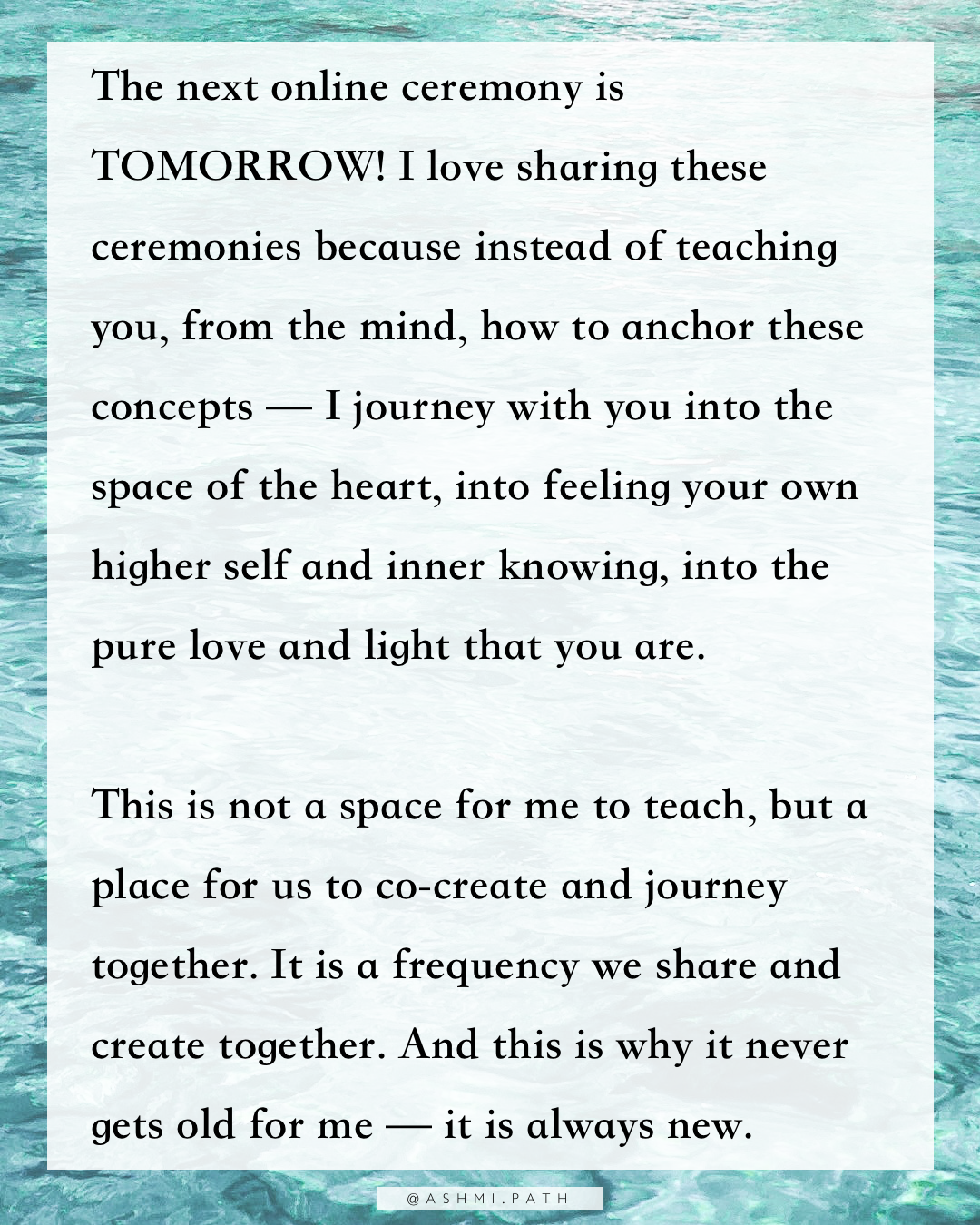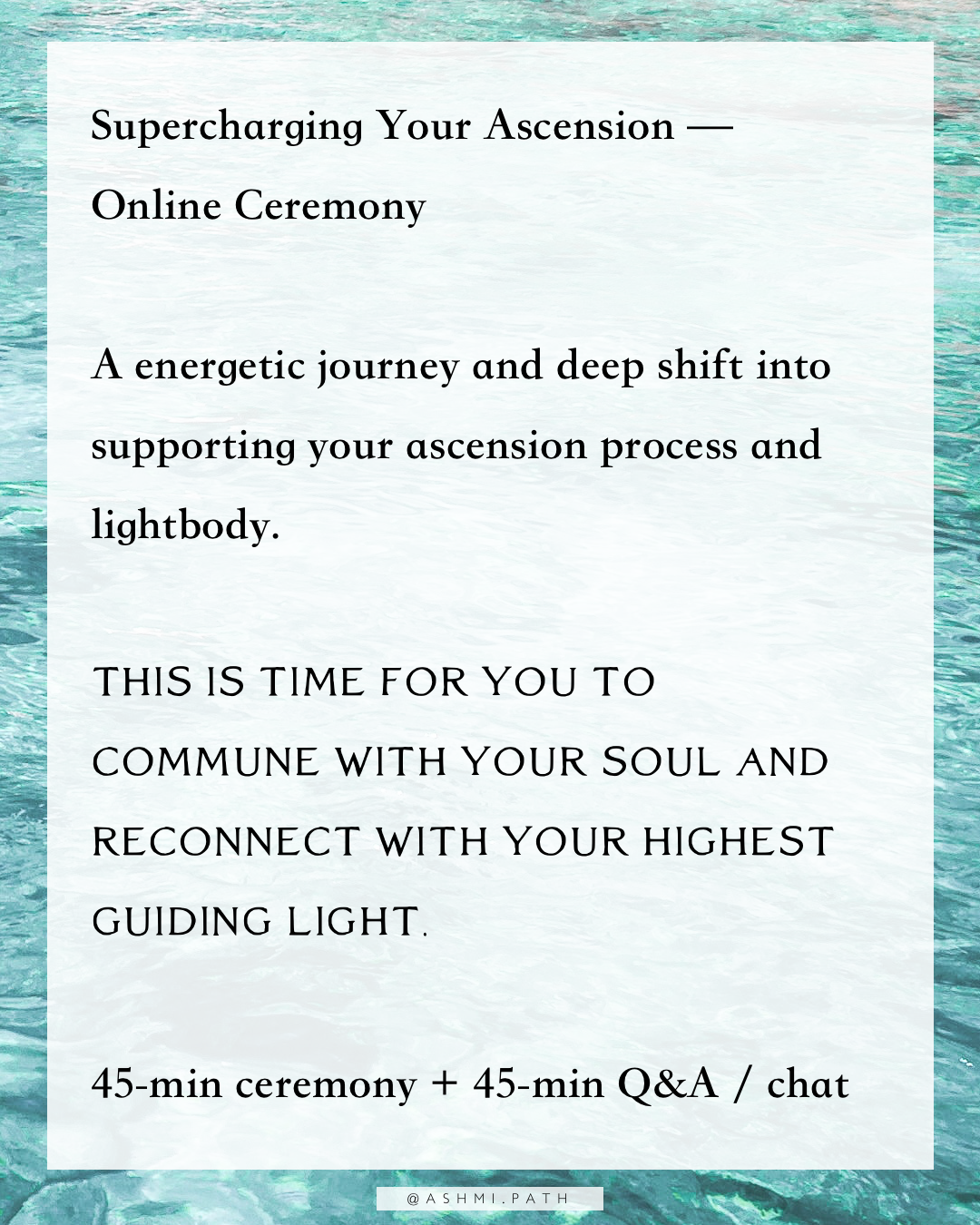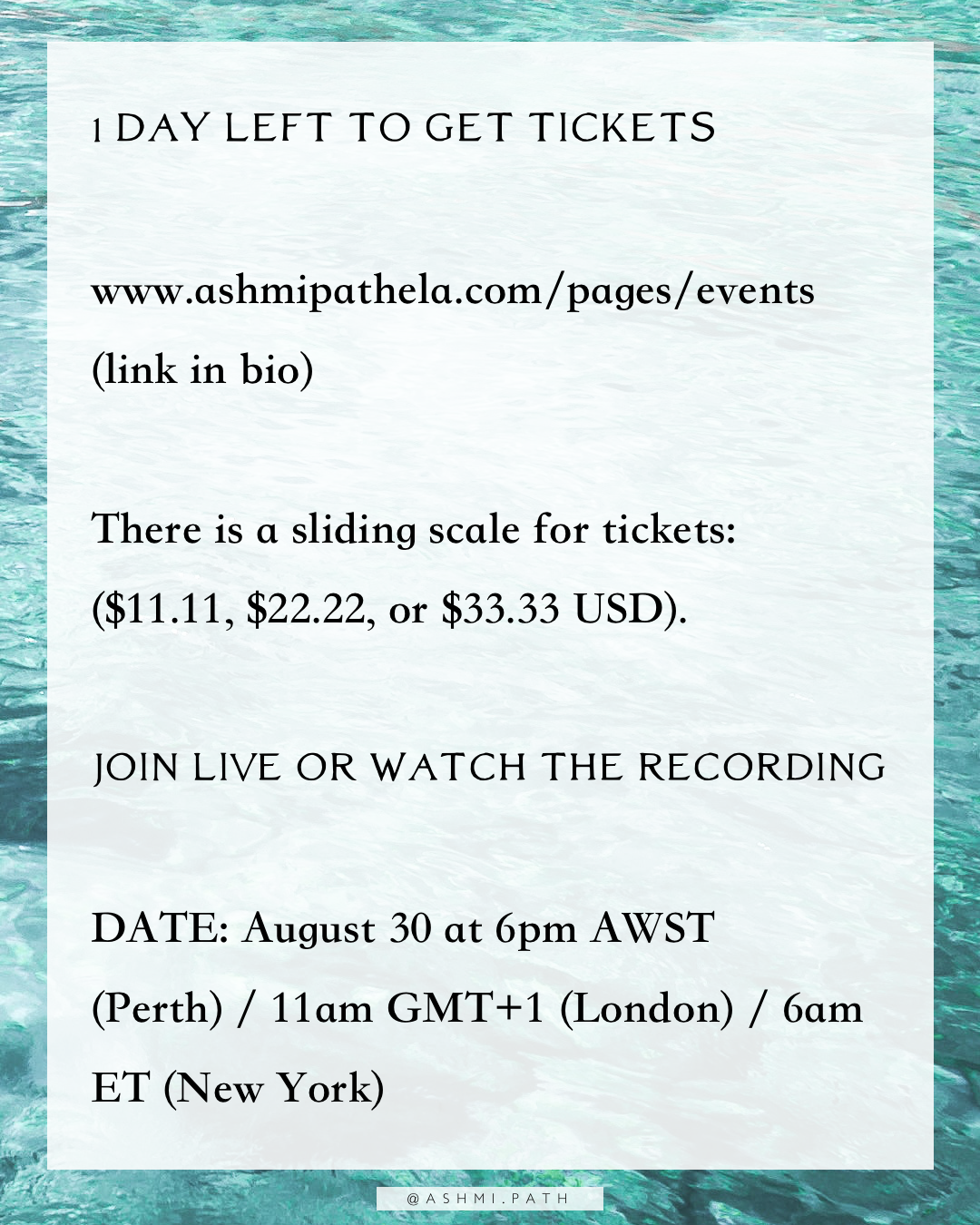 YOU ARE NOT HERE TO TEACH, OR EVEN GUIDE. YOU ARE HERE TO EMBODY — AND LET THAT BE THE HIGHEST TEACHING, THE GUIDING LIGHT.
Many of you feel like you are here for a mission, a purpose — because your soul was jumping at the front lines to come to Earth and be the light at this time.
The human mind tends to translate this intrinsic drive as something you are here to "DO" — and this is why so many push themselves to do more, produce more — because they feel that this is what they came here to do.
But your soul is wanting you to remember that you came here to BE the light. Not just teach the light. Not just analyze and explain the light. But BE it, fully.
Though wanting to help others is beautiful, some of this energy has gotten muddied with other programming and noise. The feeling that you are not good enough, just as you are. The need to achieve, to prove yourself. Comparing yourself to others and feeling like you are behind. Rushing to get somewhere, other than here. Searching for happiness, validation, and love outside of you. Childhood wounds and conditioning.
YOUR HIGHEST PATH IS FOUND NOT IN WHAT YOU DO — BUT HOW YOU ARE BEING.
You are not here to DO, as much as you are here to BE.
This is why, even if you reach the top of your field and are teaching and inspiring thousands, you may not feel fulfilled. You may not feel like it is enough.
You cannot make someone learn, you cannot make someone shift, through what you say or do — as much as you can lift them by embodying the highest light you can BE.
If your main focus is what you can teach and share with others, without prioritizing your own energy and embodiment, your creations will not carry the highest frequency that you are.
If you focus solely on your own energy and embodiment — counterintuitively, that is the frequency that LIFTS all that you will create, say, and do — from this space of embodiment. This is the frequency that LIFTS you into the highest dimension of being — and you will embody an energy that cannot be faked, taught, or even understood by the mind. It can only be FELT.
YOU MAY STRUGGLE TO PUT YOUR OWN ENERGY FIRST BECAUSE OF THE BELIEF THAT YOU ARE HERE PRIMARILY TO MAKE A DIFFERENCE AND ASSIST OTHERS.
But the best way to help others is to first lift your own frequency.
The next online ceremony is TOMORROW! I love sharing these ceremonies because instead of teaching you, from the mind, how to anchor these concepts — I journey with you into the space of the heart, into feeling your own higher self and inner knowing, into the pure love and light that you are.
This is not a space for me to teach, but a place for us to co-create and journey together. It is a frequency we share and create together. And this is why it never gets old for me — it is always new.
Supercharging Your Ascension — Online Ceremony
A energetic journey and deep shift into supporting your ascension process and lightbody.
THIS IS TIME FOR YOU TO COMMUNE WITH YOUR OWN SOUL AND RECONNECT WITH YOUR HIGHEST GUIDING LIGHT.
Staying true to channeling in the moment, I will tune into the energy of the group and guide us through a meditative journey / ceremony around the themes that come up for our ascension at this time.
JOIN LIVE OR WATCH THE RECORDING
DATE: August 30 at 6pm AWST (Perth) / 11am GMT+1 (London) / 6am ET (New York)
The recording will be emailed to all after, and it never expires!
Format: 1.5 hour group video call on Zoom
Guided ceremony/meditation: 45 minutes
Open sharing and Q&A: 45 minutes
You are welcome to join via video or just listen in, whatever feels best to you! Ceremonial cacao is optional  — you can find it at a natural food store near you.
1 DAY LEFT TO GET TICKETS
www.ashmipathela.com/pages/events
There is a sliding scale for tickets.
Choose the amount you feel called to give: ($11.11, $22.22, or $33.33 USD).
As always, this ceremony is included for members ~ you can get the Zoom link and recording here: https://www.ashmipath.com/tag/monthly-ceremonies/
Written with love,
Ashmi